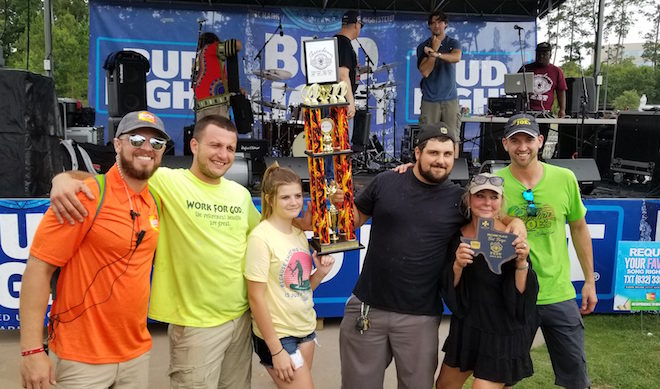 Food & Drink
The Burgers behind the Throwdown Texas Burger and Music Festival
By |
On Saturday, June 10, 2018, competitors brought their A-Game to Town Green Park in The Woodlands and came to win the title of "Best Burger" at the 3rd Annual Throwdown Texas Burger and Music Fest. Eight local celebrity judges had the task of tasting and rating each burger on presentation, taste and uniqueness. 
The Greek Squad's Chef Jessy Mallas won first place and an impressive trophy. Jessy submitted a new twist on his already popular Cilantro Burger to the competition: a tri-blend burger with roasted pico, jalapeño infused bacon, pepper jack cheese, and a chipotle sauce on a sourdough bun. Jessy shared that the inspiration came from trying chipotle mayo one day; he really liked it and wanted to create a burger that could take the flavor of the mayo.
After winning the burger competition, Chef Jessy Mallas shared, "Man, I can't even describe my feeling right now. I've been competing in cooking competitions for a while. I've won 3rd and 2nd places, but this is my first time taking 1st! I'm still in shock."
Jessy mainly is known for his Greek gyros and this past May, he placed 2nd at Texas Taco and Margarita Festival with his shredded asada steak, a house made mango pico, sweet chili sauce, cilantro and lime…the man is on a roll!
The 2nd place burger was awarded to Slappy's Creole Cuisine, Owner Dana Parks and their team for "Lambinator" burger sliders with grilled lamb chops smothered in grilled Vidalia onions with melted feta cheese on Leindenheimer bread. The win was an impressive feat for a food truck that has only been in business for three months and has already accomplished a 5 star Yelp rating.
When Dana was asked what her inspiration for the burger was, she replied, "I was inspired by a dish I had earlier in the week at the original Carrabba's in River Oaks – their Lamb Chops were amazing."
Dana's parents owned a restaurant in Louisiana. They both passed away last year, so she opened a food truck in their memory and uses all their recipes.  
Moyz Street Food owners, Adrian Diaz Carrillo and Ali Ayala, earned 3rd place with a ground pork pattie marinated with honey, ginger, serrano peppers, salsa, soy sauce on a brioche bun, topped with spinach, applewood and cherry wood smoked bacon, cheddar cheese, chipotle aioli and sliced apples. The over-the-top burger will be available at Moyz Street Food located at 25330 Richards Rd in Spring, Texas. The inspiration for their burger was their family. Adrian has had this burger in the back of his mind and has been wanting to make it for years.
The remaining competitors presented some impressive burgers, including Brazilian Joe's American/Brazilian fusion food truck. Owner Jordan Fowell described his entry as "succulent Brazilian cheese bread as the buns, very flavorful and filling, with a housemade beef pattie, candied jalapenos, caramelized onions, provolone cheese, fresh basil leaf and a cherry tomato garnish."
The Burger Joint offered up the "Bacony Bacon Burger" with bacon, american, cheese bacon aioli, serrano peppers, lettuce tomato, house pickles on a standard white bun, while Laredo Taco Company gave something different with their Quesadilla Burger with a beef patty, refried beans, mustard, and american cheese served inside a quesadilla style tortilla.
Oh My Gogi, owner Nathan Chang and his team presented the Gogi Burger made with a grilled Hawaiian bun, grilled onions, cheese, Korean style beef, teriyaki sauce, spicy aioli and all topped off with kim chi. Oh My Gogi has been making the lists of best food trucks in Houston – and even best food trucks in America – for a very good reason: they are consistently innovative and outstanding. They recently they won 1st Place for their Gogi Taco at an Inspire Productions event on May 5, The Texas Taco, Tequila and Margarita Festival.
Festival attendees had access to more than 10 handcrafted burgers, ice cold beer and cocktails, kids zones and artisan vendors at the 3rd Annual Throwdown Texas Burger and Music Fest.  If burgers were not your thing, tacos, gyros, chicken tenders, frito pies, loaded fries, corn dogs, twister fries, creole po-boys, and funnel cakes were also available from the line of food trucks on-site.
Some notable artisan food vendors were Bundt Cake-Holic's Vidal and Patty Jackson with their festival favorite alcohol infused cakes plus newcomer Chip Sweetooth of Spring, Texas with all natural cookies and brownies that can also be ordered online. Bullnettle Ridge local honey, Hotline Pepper Products Hot Sauces, Leviti Cakes, Kicpops, and Thirsty's Sweet Tea also sold their delicious foods and goods at the festival.
In addition to burgers and food vendors, the Throwdown offered a great variety of entertainment from the likes of Summer Ashley, Oliver Penn, Black Dog (Led Zeppelin tribute band), VHT (Van Halen Tribute band) and local country star Mike Donnell.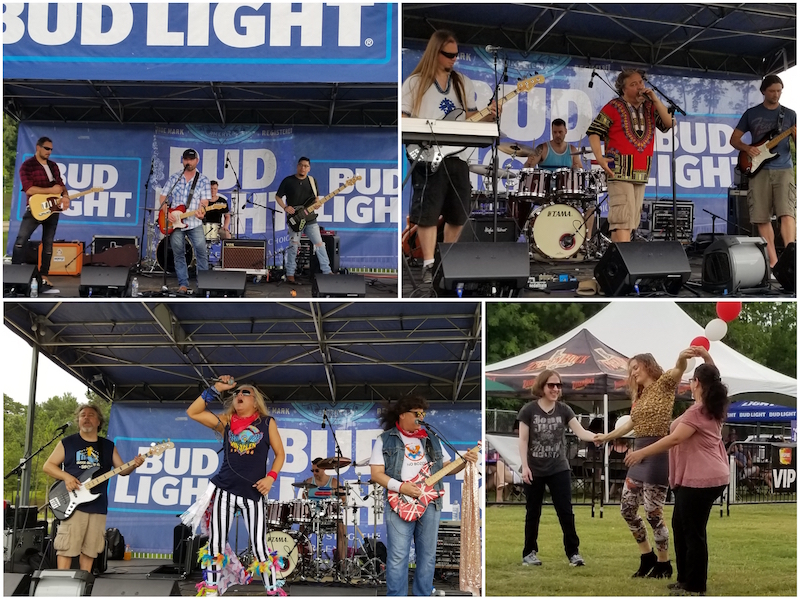 Inspire productions has an impressive line up of festivals for the rest of the year including the Tribute to Conroe Music Festival on August 11, the Texas Taco, Tequila Festival in Conroe on September 8, The Woodlands Octoberfest on September 15, plus many more! Learn more about Inspire Productions and the full line up of festivals for "an experience to remember" on social media and their website at InspireProd.com.  
Nick Rama is a food writer, contributor of Hello Woodlands, and shares his restaurant experiences on Nick's Local Eats at NicksLocalEats.com and the Q Up The Burgers Facebook page. Nick enjoys helping the small business owner, supporting his community with fundraising for food banks, and plans tasting events with locally owned mom and pop restaurants.