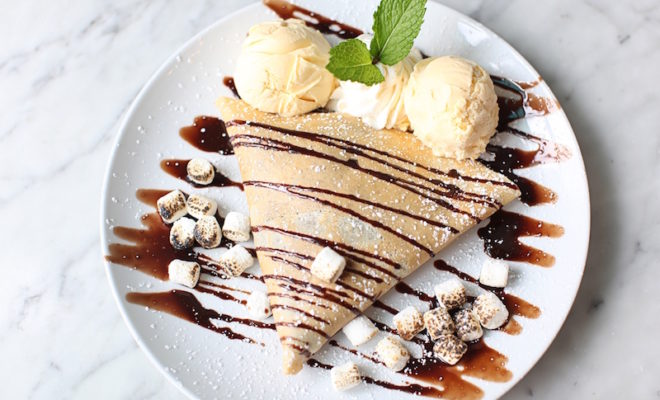 Photo by Julie Soefer
Food & Drink
Sweet Paris Crêperie & Café to Open in Market Street
By |
HOUSTON, TEXAS – Sweet Paris Crêperie & Café has announced its newest location will open in The Woodlands in late fall 2018. The new location in Market Street on Six Pines Drive will be the seventh for Sweet Paris. Sweet Paris, founded in 2012, offers an extensive selection of sweet and savory crêpes, salads and paninis. Market Street opened in 2004 and recently announced a major renovation to its green space, landscaping, lighting, outdoor seating and logo.
The two founders of this stylish restaurant, Allison and Ivan Chavez, have made it their personal mission to "revive the art of eating crêpes". They've traveled the world searching for flavors and new ways to bring this popular street food to the market. They feel that a crêpe is a canvas, and a perfect delicious crêpe is the result of artistic cooking and using the best and freshest high-quality ingredients. Vegan, gluten and dairy free batter is available upon request. The menu has grown to include waffles, salads, paninis, soups, milkshakes and hot drinks.
"We are excited to announce that Sweet Paris will have a new home in The Woodlands," said Allison Chavez, co-founder. "We plan to open a gorgeous new store in the Market Street lifestyle center in The Woodlands this fall. With the center's recently announced renovation, our timing could not be more perfect! We believe Sweet Paris will enhance the guest experience at Market Street alongside world class brands."
The appeal of Sweet Paris is seen in its food and its charming French, industrial décor. The fresh simplicity of the design allows the food to be the star. It's a conducive space for families, friends and lovers to indulge in a beautiful setting for breakfast, lunch, snacks, dinner or dessert.
The crêpe menu is rounded out by sweet and savory selections. Breakfast crêpes are served daily until 3 p.m., including The Croque Madam – scrambled eggs, gruyère cheese, smoked ham & béchamel sauce; La Canadienne – poutine cheese, scrambled eggs, potatoes, bacon and maple syrup; The Feast – scrambled eggs, feta, ricotta, mozzarella, tomatoes, spinach and mushrooms; The Alaskan – smoked salmon, pickled red onions, capers, scrambled eggs, topped with dill and sour cream; including other favorites. Le Mexicain with scrambled eggs, queso fresco, refried beans, cumin and cinnamon spiced carnitas topped with chipotle sauce, avocado and cilantro brings south-of-the-border taste to the menu. Lastly, a soon-to-be town favorite, The Houstonian, with mozzarella cheese, bacon, sausage, potatoes, two scrambled eggs & fresh jalapeños.
If making the world a sweeter place is another mission of the founders, the selection of sweet crêpes is heaven sent. There are the signature Nutella crêpes with "just" Nutella, or strawberries or bananas can be added. Easily the star stoppers are the Apple Cinnamon Crème Brûlèe with torched vanilla cream with caramelized apples, Dulce de Leche served with choice of fruits and the Instagram handsdown favorite, S'mores with Nutella, featuring torched marshmallows, graham crackers and semisweet chocolate.
The savory crêpes include a Chicken Enchilada and Chicken Carbonara, Ham and Gruyère with smoked ham, aged gruyère, Dijon mustard, fresh oregano and béchamel sauce; Turkey, Grapes & Brie – roasted turkey, French brie, red grapes, spring mix, walnuts and Dijon mustard vinaigrette; Truffled Caprese – mozzarella, basil-infused cherry tomatoes and truffle oil; and The Vegan – portabello mushroom, black bean purée, corn salsa and chipotle sauce.
Salads, seasonal soups and paninis are sunny additions to the menu. A fresh Spinach Quinoa is a vegan option, and the Salade De Chèvre is a new take on bistro fare made with spring mix, goat cheese, walnuts, almonds, cherry tomatoes, dried cranberries, parmesan crisps and Dijon vinaigrette.
Also on the menu is a selection of milkshakes. The Nutella Graham, Very Berry, Reese's and Toasted Coconut Dulce De Leche are fun for kids and grown-ups alike. In addition to menu items, Nutella Hot Chocolate, coffees, wine, champagne and mimosas, beer and hard cider will be available.
The new 2,285 square foot restaurant will be open daily, seats 82 inside & out, features a beautiful patio and is located in Market Street at 9595 Six Pines Drive, Suite 450, The Woodlands, Texas 77380.
New locations are also opening in College Station in July (fifth location) and then Highland Village (sixth location). The Woodlands will be Sweet Paris's seventh location.
Follow Sweet Paris on Instagram (@SweetParis), Facebook (@SweetParisCrepes) and Twitter (@TheSweetParis).