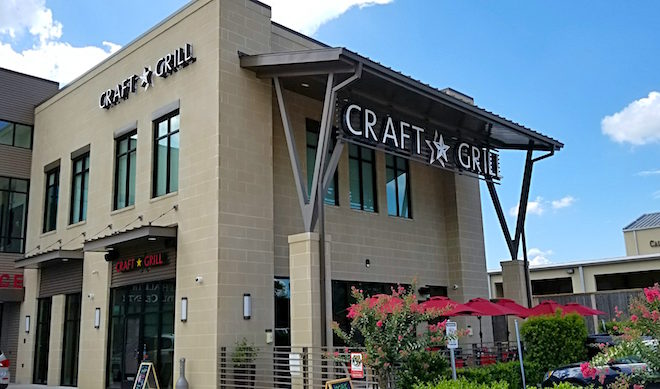 Food & Drink
Southern American Comfort Food at Craft Grill
By |
Southern American comfort food served in a family friendly environment is exactly what The Woodlands, Tomball and Spring has been craving, and Craft Grill, located at 25219 Kuykendahl, is perfectly situated to meet the casual dining demand in this community. The restaurant recently celebrated their second year in business, is lead by General Manager Jennifer LeBlanc and has become the go to spot for families and craft beer aficionados alike.
The main dining room has tall ceilings and brick walls which one would think would provide for some seriously loud acoustics, but surprisingly, you don't have to yell your order to the wait staff or to be heard by your dining companions. During the planning and design phase, Co-Founders Joe Copus and Chris O'Donnell made sure to install extra-thick sound absorbing insulation on the ceiling to create a comfortable dining experience for all. The duo are very detail oriented in their approach to the design of their restaurant, even installing USB and plug outlets in the Tap Room underneath the bar top so guests can charge their cell phones, laptops or tablets. The purse hooks under the bar top are a nice addition for the ladies. Joel and Chris' approach to design extended to the barstools – they thoughtfully chose extra-thick padded swivel barstools with arms and footrests so guests can just relax comfortably and enjoy themselves, perhaps while watching the game on one of the many large screen televisions.
The wall of windows separating the Tap Room from the Dining Room has an interesting back-story. The 120 year old working windows were reclaimed from a mansion owned by the late Doris Duke in Somerset, New Jersey and discovered online by Co-Founders Patti Copus and Connie O'Donnell. Besides being rare and beautiful, they help lend a grounding historical nod to the past in an otherwise brand-new structure. The wrap-around u-shaped bar, the shape of which invites easy friendly conversation, was built by local craftsmen and pieced together like a patchwork quilt with all sorts of hardwoods. It was left raw and unstained in its natural state which guests find to be a exceptionally warm and inviting feature. Outside on the dog-friendly patio, complete with outdoor televisions and fans, guests smile when they see servers bringing out bowls of water and house-made dogbone-shaped dog biscuits for their canine companions, all complimentary of Craft Grill.
Craft Grill has a great shareable appetizer menu with items such as the 'Bama Balls, Jeaux's Crab Cakes, Blue Ribbon Deviled Eggs, Patti's Campechana, Kyle's Pickles, Fried Green Tomatoes, and if you love queso, you're in for a treat there, too! Tomball, Tx Cheese Fries, Oklahoma Kitchen Sink Nachos, Two Jumbo Soft Pretzels all feature Connie's Queso, a closely guarded secret recipe which makes for a seriously addicting queso blanco not to be missed. Everything fresh and made from scratch, too.
The appetizers and shareable dishes work well with their happy hour cocktails, wine and beer that is available 7 days a week, 3 pm until 6 pm. A reverse happy hour is offered from 9 pm until 10 pm Sunday to Thursday and until 11pm Friday and Saturday nights with a selection of $4 to $8 appetizers and discounted beer, margaritas and cocktails. Craft Grill also has Lunch Specials Monday through Friday from 11 am until 3 pm and Brunch Specials Friday through Sunday from 11 am until 2 pm with Brunch Cocktail Specials.
Craft Grill serves tasty salads like the Mason Jar Salad, the Sunshine Salad, the Southern Salad, the Nuts & Berries Salad, and the new favorite, their Waco Wedge, featuring a quarter-head of fresh iceberg lettuce, halved grape tomatoes, diced red onions, bacon crumbles, house-made blue cheese and blue cheese crumbles, briny little capers and a signature pimento-cheese stuffed deviled egg, all atop a swirl of house-made balsamic vinaigrette. No wonder it's already become so popular.
While enjoying their Chicken Tortilla Soup or their Geaux Tigers! Gumbo, you will notice layers of complexity within both soups that take days to create and develop the flavors. Word on the street is these two soups will cure whatever ails you!
Ever since opening, Craft Grill has become well-known for their hearty burgers, served on either challah buns or gluten-free buns. Chris shared that they grind all burgers in-house using a custom blend of Certified Angus Beef brisket, chuck and rib-eye, and wet-aged for a minimum of 21 days. They also offer a vegetarian bean patty as a meat alternative. All their brisket and pork are smoked in-house on custom built smokers.
Besides the ever-popular All-American Burger, Craft Grill throws down big-time burger love with the Barbecue Beast, the Deep-South, the Rebel, the Texian, and the Signature Burger featuring house-made pimento cheese paired with slow-cooked bourbon bacon jam. And if you just can't decide, they also offer a Trio of Burger Sliders, featuring the All-American, Texian and the Signature Burgers. Other mouth-watering trios include the Pulled Pork Sliders and the Chicken and Biscuits.
When it comes to fish dishes, Craft Grill has you covered there, too, whether you like Salmon, Mahi-Mahi, Grouper, Australian Sea Bass, Catfish, Shrimp, Crab or even Crawfish. Some of the current best-sellers are the Crawfish Redfish, blackened redfish topped with crawfish in a creamy sauce atop smoked gouda grits, the Marco Island Mahi-Mahi, blackened mahi-mahi with sautéed spinach, smoked pineapple, mango and papaya salsa, and the South of the Border Salmon, blackened salmon encrusted with roasted pumpkin seeds and served with grilled sweet corn, avocado, Cotija cheese and fresh house-made salsa verde. And of course, when it comes to down-home Southern cooking, our Shrimp and Grits, with its rich, dark made from scratch roux and smoked Gouda cheese grits always gets rave reviews from the Louisiana natives, which is always the finest compliment one could ever hope for.
Have a hunger as big as the great state of Texas? Look no further than the Big Tex Chicken Fried Steak at Craft Grill, featuring Certified Angus steak, garlic mashed potatoes and house-made sawmill bacon gravy. There's also COD's Texas Cheesesteak, three different cuts of steak, a bone-in double-cut in-house smoked Pork Chop and Smoked Brisket Quesadillas drizzled with Dr. Pepper Barbecue Sauce, Mississippi Come-Back Sauce and fresh pico de gallo. Speaking of specialty sauces, salsas and gravies, Craft Grill makes over thirty different ones every day of the week, all from scratch, of course.
And if it's yard bird you're after, Craft Grill has some excellent choices for you to discover and savor, such as The Keys Chicken and Rice, Dixie Chick, Spring Chicken Club, Chicken Fried Chicken, or the Georgia Mango Chicken featuring grilled or blackened chicken, mangos (peaches when in season), toasted pecans, goat cheese crumbles, sautéed sweet potato spirals, avocado and fresh house-made salsa verde. The Chicken 'n Waffle at Craft Grill will definitely entice all your senses with its aroma of the fresh-made Belgian waffle, rosemary-infused syrup and mild or spicy fried chicken tenders.
When it comes to families, Craft Grill is on top of their game. By offering high chairs, booster seats, slings for car seats, coloring pages, crayons, plastic kid cups and meals designed with children in mind such as the Craft Grill Kids Burger, Grilled 3-Cheese Sammy, Georgia Mac 'n Cheese with Bacon, Grilled Chicken Breast, Fried Chicken Tenders, Chicken Fried Steak Tenders and Pasta and Veggies, they make it easy for everyone to find something to enjoy on the dinner menu.
And of course, no trip to Craft Grill would be complete without some sweet treat for dessert like the Ice Cream Waffle Sundae, Chocolate Chip Texas Sheet Cake Brownie, Homemade 'Nanner Puddin', Jenn's Pecan Sundae and the clear house favorite, the Arkansas Fried Apple Hand Pie. The cooks and bakers, under the direction of Craft Grill Kitchen Manager, Jaime Salgado, make the pie dough, roll it out, shape it, stuff it full of apples they cook in-house, bake it and serve it piping hot, drizzled with salted caramel syrup and served with vanilla ice cream and guests just go crazy for it every time.
Now it's time for Craft Grill Beer 101, the Bar area and menu has an impressive 30 draught craft beers, which run on Co2 and Nitro system. The beer system that Craft Grill uses for their taps is a beer gas system, so it mixes CO2 and NO2 and the percentages differ depending on the beer. So basically, stouts come out like they are on Nitrous and lagers and ales come out like CO2, thus enhancing the texture and carbonization of each beer, and all according to the exact specs from each brewer.
Nitro pours are typically Guinness, Boddingtons, Belhaven, and beers with that similar consistency allowing the flavor of the beer to (typically) not be affected too much by the different types of gas. Sometimes folks will notice a difference in a draft to bottle situation or vice versa like, some will argue that their beer is better on draft or better in a bottle. The type of gas used shouldn't make a difference in that regard, but where you'll notice a difference is in the head or foam of the beer. While a properly poured beer on CO2 should have a uniform froth up top made of millions of tiny bubbles of similar size, beer on nitro will have a head that is a creamy texture and that head can sometimes end up as the last sip in the bottom of a glass.
What's also impressive is the selection. Current offerings on tap at Craft Grill include beers from 7 Iron, 11 Below, brewed just a few miles away, Hop Fusion, Southern Star, Deep Ellum, Back Pew, Clown Shoes, Live Oak, Lone Pint, Buffalo Bayou, Saint Arnold, Guns and Oil, Revolver, Bearded Fox, Brash, and Dogfish Head breweries to name a few.
Craft Grill's bar area also has a wine machine, which is a Winemotion machine that through technology and science serves high-end wines by the glass. You can pre-load a card and have a bartender serve you just a taste, a small pour or regular pour of some great wines that ordinarily are only sold by the bottle, like Silver Oak, Stags Leap, Prisoner and Jordan. They also have over fifty different wines available by the glass or bottle, something sure to please everyone's palette.
New cocktails from their summer drinks menu include the Summer Crush – Smirnoff Watermelon Vodka, fresh Watermelon puree, triple sec and fresh like juice. Follow by a Beach Bum – Bacardi rum, Captain Morgan's rum, Malibu Coconut Rum, orange and pineapple juices and grenadine.
Some favorites from the bar are the margarita flight (featuring mango habanero, strawberry kiwi, blackberry mint and apple pear) are stellar. The Blood & Oil Hand-Crafted Cocktail was created in honor of Chris and Connie's favorite character from the 'Dallas' TV series, John Ross. The Craft Bloody Mary Mary is not to be missed either – horseradish root infused Tito's vodka, stuffed olives and house made spicy pickled green beans.
THE INTERVIEW
Who owns Craft Grill?
The Craft Grill is a joint partnership between Joe & Patti Copus and Chris & Connie O'Donnell, all good friends for many years.
What made you decide to open a restaurant/bar where you did?
We decided to open Craft Grill in this area because we've lived out here for over 20 years and have loved raising our families here and wanted to give back, serve and invest even more in our community and neighborhoods that we love so much.
What is your restaurant and culinary background?
Chris, Jennifer and Jaime are the leadership dream team at Craft. All three have extensive backgrounds in the culinary world, and became good friends when they worked together for Brinker.   Chris is also a past-president of the Greater Houston Restaurant Association, an organization he has supported for many years. All three have volunteered their time and efforts to support the GHRA's Pro-Start initiative in high school culinary education.
Who is your Chef and mastermind behind the menu?
Our Kitchen Manager is Jaime Salgado, and our menu is a fun, collaborative effort with input not just from Jaime, Jennifer, Joe, Patti, Chris and Connie, but also from our servers, our cooks, our bartenders and from all of our loyal guests. We spend a lot of time listening to our guests, getting feedback and suggestions and creating new dishes based on what our neighbors like. Because we are a small outfit, we are able to make changes quickly and easily, and adjust our menu using seasonal produce available to us as well. Our main focus is upon Southern regional cuisine and we stay consistent and true to our concept and expand our menu selections within that realm.
What can someone expect the first time they come to Craft Grill?
We want them to feel welcomed into a warm and friendly Texas hospitality type of atmosphere where they can just relax and take it easy for a while, and enjoy some awesome Southern comfort food specialties and drinking some ice-cold Texas craft beer, a nice glass of wine or a chilled cocktail beverage.
Some of your original managers and staff are still with you – very rare in the restaurant industry these days. What do you attribute to that?
Most of the credit for that would go to Chris and Jennifer. They are in charge of hiring and training, and they both possess an uncanny knack for discerning excellent character traits in folks who apply to work with us, and they have done an incredible job hiring the best staff around. We get so many compliments all the time about our Craft Grill Crew members, not just that they are proficient in their skills, but that they are genuinely kind and caring individuals that work hard to try and make true connections with our guests. We couldn't be any prouder of our crew and all that they bring to our restaurant every day.
I heard you are now serving brunch? What are your hours for brunch?
We started serving Brunch and it has just taken off. Guests just love the Smoked Beef Brisket Omelet, Avocado Toast, French Toast (or as we call it Pain Perdu), Praline Pecan Waffle, Breakfast Burger, CFS & Egg and of course, all our crazy-good Brunch cocktails, served at discounted prices. Our Mimosa Flight with the four different organic purees of Apple-Pear, Kiwi-Strawberry, Blackberry-Mint and Passion Fruit-Lemongrass has become a fast favorite. We offer Brunch every Friday, Saturday and Sunday, from 11am until 2pm. We also offer our regular menu during those hours as well.
Anything else you would like to tell people about Craft Grill?
Yes, we do a very brisk To-Go business already, as well as offering Gift Cards and we have been expanding into Catering for over a year now. We have a full liquor license which allows us to offer full-service bartenders and alcohol for catering, as well as our full menu. We can do drop-off events like teacher luncheons at schools, Realtor open houses, graduation parties or do complete set up and delivery and service for events such as wedding receptions with our Craft Grill custom catering van. We would be happy to discuss our services with you and help you plan your next event. Call us at 281-255-2396 and ask to speak with a manager for more information.
Give me five words to describe Craft Grill?
Hand. Crafted. Southern. Comfort. Love.
Learn more about Craft Grill located at 25219 Kuykendahl Rd, Tomball, TX 77375 by calling (281) 255-2396, visiting their website at craftgrillrestaurants.com and follow Craft Grill on Facebook, Instagram and Twitter.
Nick Rama is a food writer, contributor of Hello Woodlands, and shares his restaurant experiences on Nick's Local Eats at NicksLocalEats.com and the Q Up The Burgers Facebook page. Nick enjoys helping the small business owner, supporting his community with fundraising for food banks, and plans tasting events with locally owned mom and pop restaurants.