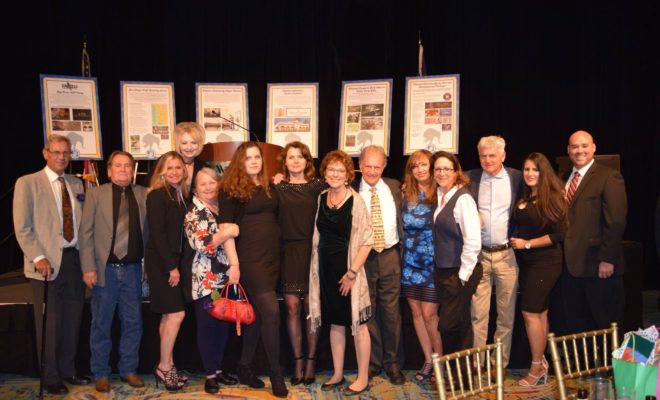 Calendar
"Betting On Courage" Gala raises $325,000 for Children's Safe Harbor
By |
More than 500 guests came together to support a serious topic as Children's Safe Harbor held its 11th annual dinner fundraiser April 1st at The Woodlands Waterway Marriott Hotel.
Themed "Betting On Courage – Under The Big Top", the event raised $325,000 for the child advocacy center that serves children ages two to 18 who have the courage to battle sexual abuse or severe physical abuse.
As guests arrived at The Woodlands Waterway Marriott Hotel and Convention Center, they sipped champagne and cocktails and enjoyed the gala's festive circus ambiance complete with aerial acrobat performers, jugglers and whimsical clowns while previewing the live auction bid boards and fabulous silent auction items. The event began with the National Anthem sung by Haily Strozier, age 11. Following a warm welcome from Victoria Constance, MSPH, PhD, Executive Director of Children's Safe Harbor and Sgt. Dwight Johnson, President of the Board of Directors, gala chairs Mary Neskora and Sally Toppe were honored for their exceptional years of volunteerism and service to our community. Neskora has been the co-chair for this event for 11 years and Sally has worked on the committee for eight years and has been a co-chair for the past three years. Under their leadership, this signature gala event has consistently expanded awareness in the community by both growing the individuals and companies who support the mission of Children's Safe Harbor and by increasing financial revenue every year.
Key to the evening was nationally-recognized guest speaker Erin Merryn, whose presence at the gala was underwritten by Consolidated Communications. Erin is a survivor of childhood sexual assault. She has taken this horrific experience and transformed her life by being an author, activist, speaker, wife, mother, and the force behind Erin's Law, which requires sexual abuse prevention education in schools in 26 states to date. Texas is one of the states that support Erin's Law. She is the feature in the TLC documentary "Breaking the Silence" and author of Stolen Innocence, Living For Today, and An Unimaginable Act. Merryn was named Woman of The Year by Glamour Magazine in 2012 and has been named by People Magazine a HEROES Among Us and one of 15 women changing the world.
During her inspirational speech, Erin Merryn shared that statistics continue to suggest that one in four girls and one in six boys will be sexually abused before their 18th birthday. "Ninety-three percent of the perpetrators are someone the child knows and trusts. It's the silent epidemic that often doesn't get talk about," said Merryn.
Children's Safe Harbor offers specialized services to traumatized children and their families on a centralized campus facility. Children are able to share their experiences of abuse through a unique narrative investigation process called a forensic interview. Specialized medical evaluations and weekly individual, family and group counseling services are all available at no cost to the child victims and their non-offending family members. As a nationally-accredited nonprofit organization serving Montgomery, San Jacinto and Walker counties, it is part of a nationwide effort to protect and enhance the life of every child who has the courage to battle sexual or severe physical abuse by healing the trauma of abuse and facilitating justice for children and their families.
According to Dr. Constance, the central component of the 2017 gala was the continued support of the capital campaign which will fuel the construction of a critically-needed 40, 000 square foot new facility on 17 acres of land in Conroe.
"As we come together in April, which is National Child Abuse Prevention and Awareness Month, it is critical that we continue to help our community understand the cost of sexual violence and trauma for our children," said Dr. Constance, "and this year's gala helped us accomplish just that. We are so proud of its amazing success thanks to our sponsors, volunteers, the board, and the amazing committee. I especially thank our event chairs Mary Neskora and Sally Toppe, who over their years of service have helped over six thousand children get the help they need as they come through the doors of our children's advocacy center."
Mary Neskora added, "Sally and I are thrilled about this year's fundraising success. Our live auction was an incredible increase from last year's gala as we included a San Diego craft brewing scene, an ultimate Houston sports fan and entertainment package, a custom diamond pendant necklace from Donoho's Jewellers, a Big Texas VIP party, a weekend escape to Long Cove on Cedar Creek Lake, and an original artwork by Edgar Medina, who painted the one-of-a-kind canvas during the event."
Mary Neskora and Sally Toppe were joined by gala director Cliff McAden and the committee of Greg Anderson, Susan Becker, Catherine Canavan, Molly Carlson, Jennifer Dosescu, Dana Falloon, Bryan Frenchak, Andi Fry, Liz Grimm, Christine Guidot, Amanda Hill, Cindy Irwin, Yvonne Lee, Ali May, Vicki McShan, Kim Pedercini, Kimberly Richardson, Marina Silver, Julie Verville, Kelsi Walker, and Holly Wright. Guests enjoyed a delicious dinner, and an energized live auction emceed by Johnny Bravo, an exciting casino area, dancing to live music by the Johnny and The Spinsations Band, a wine and liquor ring toss, and a rubber duck pond pull by Kendra Scott.
Children's Safe Harbor is a 501c3 nonprofit corporation. For more information, visit their web site at www.ChildrensSafeHarbor.org or their Facebook page at www.facebook.com/childrenssafeharbor. Donations and volunteers are welcome.