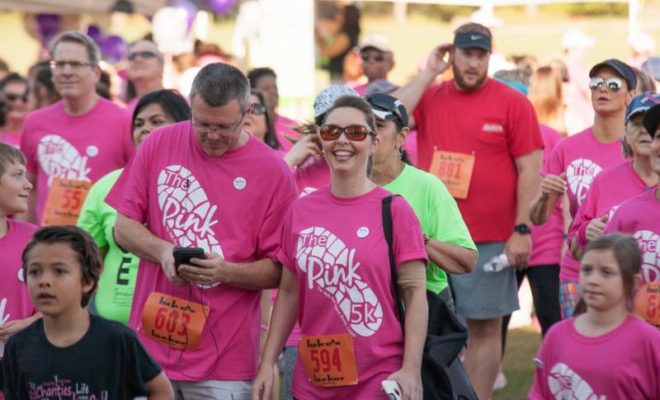 Calendar
Celebrate Mother's Day Weekend at The Pink 5K
By |
The Pink 5K, presented by Terramont Orthodontics, will take place Saturday, May 13 at Rob Fleming Park in Creekside, The Woodlands.
Online registration will be open until 12 pm on Friday, May 13 and onsite registration available on Saturday morning starting at 7:30 a.m.(pending availability). Online registration provides each runner with the official "The Pink 5K" hot pink shirt to wear on race day, bib number, and a customized medal for finishing the race!
Participants can register online at ThePink5K.com individually or as a team. This is a family friendly fun run and walk to raise money for The Breast Cancer Charities of America's programs. Strollers and dogs welcome. Register now at ThePink5K.com to get in on the fun and honor the women in your life!
Sponsors of The Pink 5K official include Stephens & Gatewood Dentistry, Avanti, Sun & Ski, MD Anderson Cancer Center, Yoga Pod, Mona Dental for Kids, Palava, Dr. Emily Graham, Four Seasons Veterinary Clinic, Urgent Clinics Medical Care, Tesla, KIND, HEB, Waste Connections Inc., SpeedPro Imaging, Chick-fil-A, Brooklyn Cafe, The Cheescake Factory, Tara Flannery Photography, JStacy Photography, Speedpro Imaging, Crown Trophy, KSTAR Country Radio, PR Luxury Media/reviewit.Flair.Vida Social Magazines, and Hello Woodlands.
The Breast Cancer Charities of America (BCCA) is a non-profit organization with new global headquarters in The Woodlands, Texas. BCCA is dedicated to educating and empowering women to prevent and survive breast cancer. Through their numerous program services and resources, BCCA is able to partner with over 450 hospitals nationwide to serve women. Learn more at igopink.org