Calendar
Conroe Americana Music Festival Schedule and Information
By |
The Conroe Americana Music Festival, the 3 Day Music Festival will feature over 50 bands in 6 venues, is kicking off today Friday, May 5, 2017 at 6:00pm. The event is a grassroots premier festival featuring a mix of Bluegrass, Rockabilly, Folk, Texas Country, Roots Rock, Blues, and Americana music.
Established through the Conroe Downtown Area Association, the proceeds of the festival will be used to enhance the Historic Downtown Conroe area with improved signing and beautification projects. Learn more about the festival and purchase tickets at conroeamericanamusicfestival.com
DATES AND HOURS
Friday, May 5 : 6:00pm – midnight
Saturday, May 6 : 12pm – midnight
Sunday, May 7 : Noon – 6:00pm
Box office hours : Friday 4PM – 11PM,  Saturday 10AM -11PM,  Sunday 10 AM – 5PM
MAP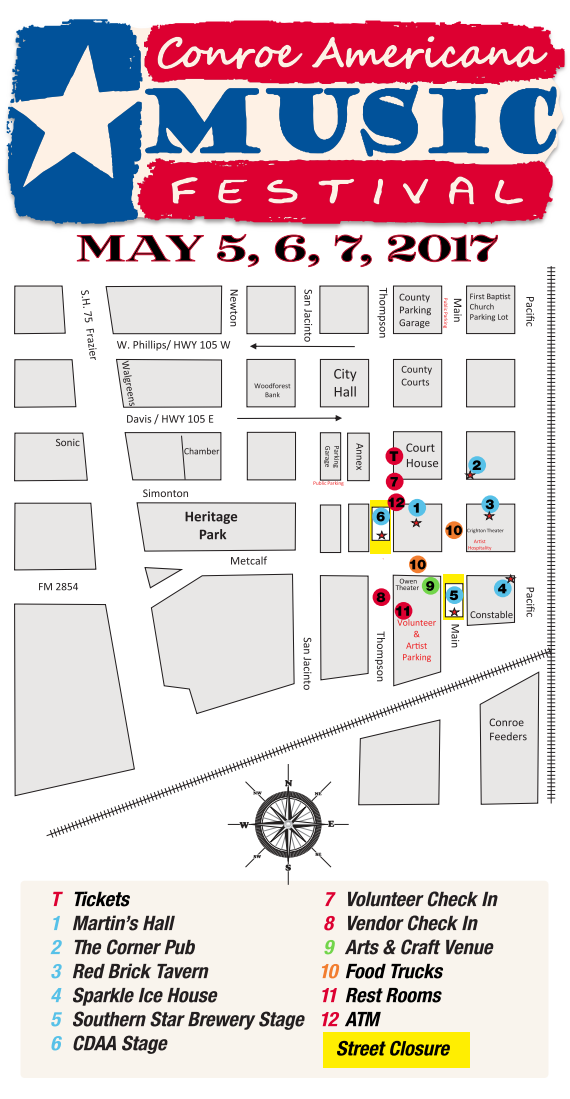 Participating venues: The Red Brick Tavern, Martin's Hall, The Corner Pub Conroe, and Sparkle Ice House
TICKETS
Day Pass: Friday $35.00,  Saturday $50.00, Sunday: $35.00
All Weekend Pass: $75 (save $40)
Beginning Friday, May 5, ticket holders will redeem their electronic tickets for wristbands at the ticket office on the west side of the Montgomery County Courthouse Square in the 300 block of North Thompson Street along with the venue map and a schedule of the band's performances. Only wristbands will allow entry into the music venues during the festival. The streets will be accessible to the general public to explore the vendor booths and the dozen food trucks parked along Main and Metcalf.
Purchase tickets online at conroeamericanamusicfestival.com
We look forward to seeing you there!
View photos and videos from the VIP Conroe Americana Music Festival Dinner on the Hello Woodlands Facebook page!