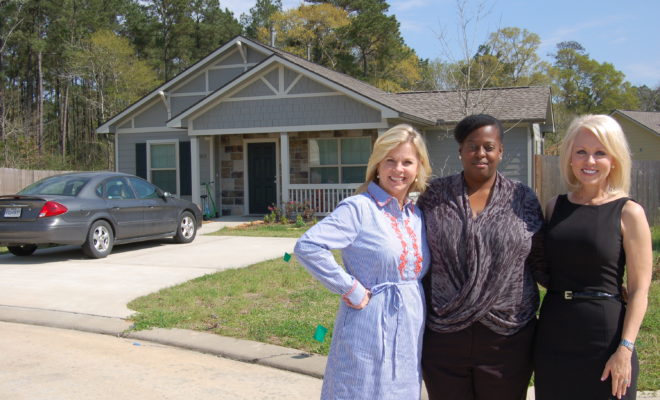 Calendar
Brenda Mizell to be Honored at Habitat for Humanity Gala
By |
In a world of worthy causes and whirlwind events combined with life in general, finding time to give of your self can be a challenge. But for Brenda Mizell, volunteering and supporting Habitat for Humanity MCTX has become a personal priority over the years. Most notable, she launched a fundraising gala for the non-profit six years ago. Mizell will be recognized as the honoree of this year's Habitat for Humanity MCTX gala.
Habitat for Humanity of Montgomery County is a Christian nonprofit organization that provides affordable, sustainable homes to hard-working families and individuals. Because of their work, hundreds of the county's most vulnerable children have a secure place to thrive, and the number of people helped is growing every year.
Set for May 6, 2017 at The Woodlands Waterway Marriott, this year's gala is themed "Run for the Roses – Building Homes and Hope" and will feature a silent auction, bid boards, dancing, dinner, a live auction and a program featuring an inspirational testimony by a new Habitat for Humanity homeowner, Lakesha Evans. LGI is the Presenting Sponsor and Len Cannon of KHOU will serve as emcee.
"We are thrilled to honor Brenda as she has been such an important person to Habitat for Humanity for years," said Kim Lindley, gala chair. "She had the original vision to create this wonderful and powerful fundraising event and so it is humbling to follow in her footsteps. Thanks to the momentum of Brenda, this year we expect 600 people in attendance and to raise over $500,000!"
Mizell, who also serves on the board of directors, added, "Not everyone can work in a nonprofit organization, yet there are many of us who are willing to give of our time and resources to support charitable causes that reflect our personal values and beliefs. For me, Habitat for Humanity is one such organization. To be honored at this year's gala is so personally rewarding, just as it has been witnessing the many families whose lives have been positively changed by Habitat's mission."
According to Isabel Jones, Director of Development for Habitat for Humanity MCTX, many of the families they serve are first-time homeowners. "We know from experience and research that by providing families with the opportunity to invest their time and money to own a home and provide security for their families, not just their lives but the lives of future generations will be changed forever. That's why supporting Habitat for Humanity is a transformational investment in good people who work hard but who do not qualify for a traditional home mortgage."
She continued, "In fact, research on Habitat for Humanity families shows that 25% of children are more likely to graduate from high school and 62% move on to pursue a post-secondary education, while 33% are less likely to become teen moms and 59% are more likely to own their own home within 10 years of leaving their parents' household. In short, homeownership changes families for generations to come."
For more information on the 2017 Habitat for Humanity MCTX gala, please visit habitatmctx.org/galatickets or contact Isabel Jones, Director of Development, at 936-441-4663 or via email at Development@HabitatMCTX.org.