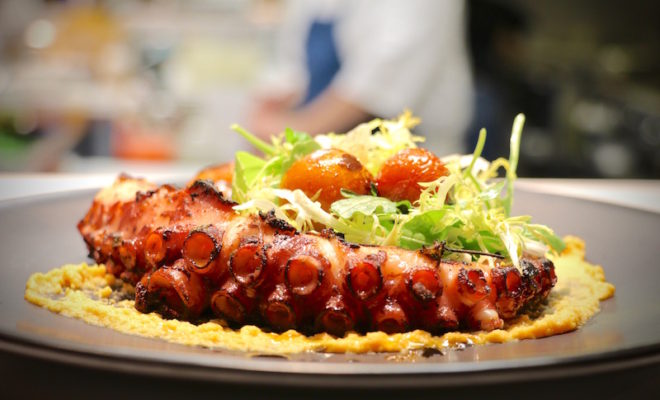 Photography by Hello Woodlands
Business
Broken Barrel Opening Soon in Hughes Landing
By |
Brace yourselves! Prepare for your taste buds to be blown away in The Woodlands, Texas. Broken Barrel is set to open on February 6, perched on the corner of Hughes Landing with a gorgeous view that overlooks Lake Woodlands and sits directly across from Truluck's.
Hello Woodlands, Jennifer Bruse and Rod Prado, with our good friend Holly Price of WoodlandsHits.com had the honor of attending the soft opening and being the very FIRST guests of the new restaurant.
If you haven't met Hilda Ysusi, executive chef and owner, she is truly delightful and has an impressive 10 year history of working in the industry after graduating from the Culinary Institute of America. She excitedly shared that "The Woodlands is a dynamic and growing community, and the more I visited, the more I realized that I wanted to open my first place here. We want to deliver something unique that the Woodlands could call its own."
High ceilings, open spaces, trendy designs yet comforting atmosphere with a view. You'll be able to enjoy a cozy dinner date in a corner, happy hour with co-workers at the bar, fun ladies wine night, festive dinner party, or a relaxing afternoon on their patio with your pooch. So many options! They even have a brand new glass garage door that opens to the patio.
Taking flavors and inspirations from Hilda's past and experience, Broken Barrel features dishes inspired by Asian, Latin and Mediterranean influences with wine, beer and a gin-centric cocktail menu. And, boy were we excited to sample them!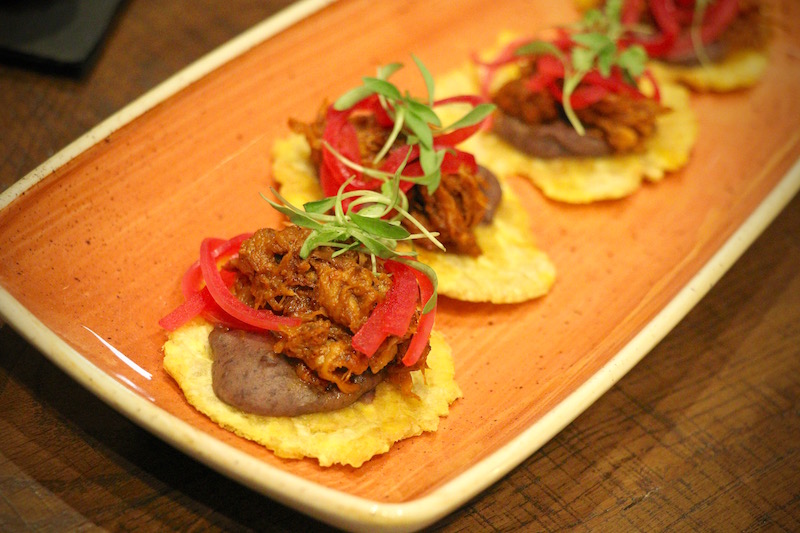 Let the taste testing begin…
DRINKS:
The Tanqueray with lemon and coriander is made from the long wooden bar covering the left hand side of the restaurant with a stocked bar and lined with yellow bar stools.
There are 5 gin cocktails currently on the menu including the Hendrick's, Beefeater, Bombay Sapphire, Brooklyn, and Nolet's. Each gin cocktail is served with fresh botanicals to heighten the flavor profile of each gin. Premium tonic water is also served on the side.
Wine. Want a glass? bottle? We counted 111 to choose from (may have tasted a few) on the menu and bottles decorate the room from wall displays, just waiting to be opened.
Beer. Yep, covered there too. Rod went on strike from the norm and enjoyed a pint, just to prove you could. You're welcome.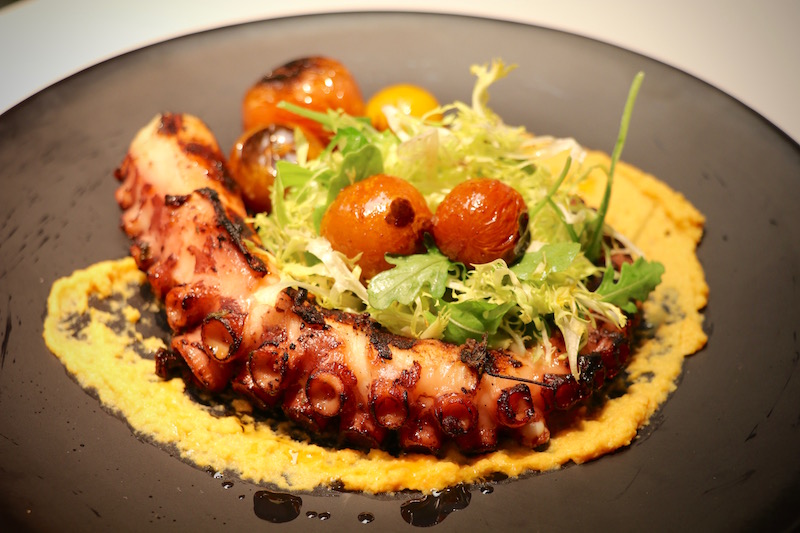 FOOD: Bites, Share, Veg, Fork & Knife
Crispy Olives. Battered, fried, and served with garlic lemon aioli. Even non-olive lovers will rejoice and eat the entire dish. Proven fact.
Cochinita Pibil Tostones. Fried plantains, refried bean, house pickled onions. Finally a place that knows how to make legitimately delicious tostones (think squashed fried french fries but better). So good.
Grilled Octopus served with carrot hummus, chorizo oil, and charred tomatoes. I honestly could eat this dish every day for the rest of my life. The non-octopus lovers had huge doubts, but then were completely shut down after trying just one bite. Tender, juicy, and flavorful – oh my! No seriously, is it February 6th yet?!?!
Pulled Duck Tostadas. Hoisin style duck, pickled Asian veg. Not only was this the best duck dish I've tried, but they even make their own pickles on site. The tostadas even come in their own little branded pouch.
Tres Leches. Creamy, rich, melt-in-your-mouth awesomeness that you won't forget or regret.
Summary: WOW! We will definitely be back again soon and often. This is what tapas should be all about! If this was just the soft opening, we look very forward to what Broken Barrel has up its sleeve.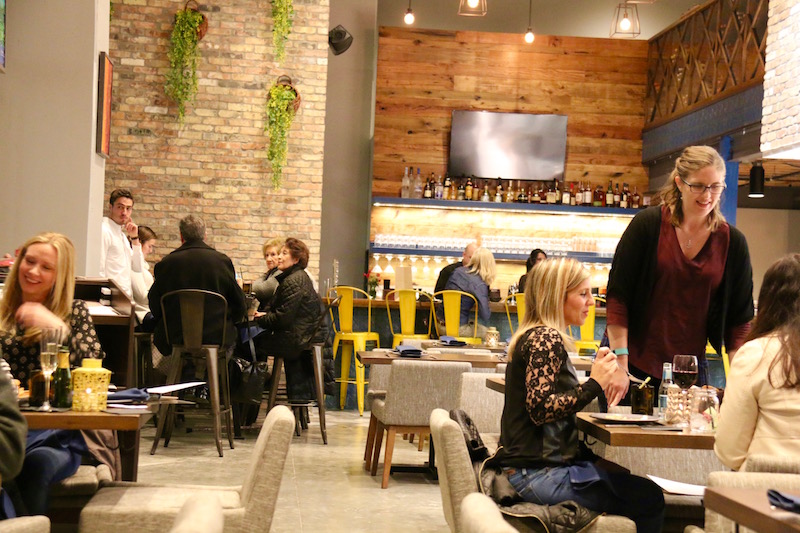 A special thank you to Hilda and her very friendly, helpful staff for inviting our team to their new local restaurant – and soon to be a hot spot – in The Woodlands!
To view photos from our experience and to learn more about Broken Barrel, visit the Hello Woodlands Facebook page.

Stay tuned for more details about this restaurant and more local finds in and around The Woodlands!