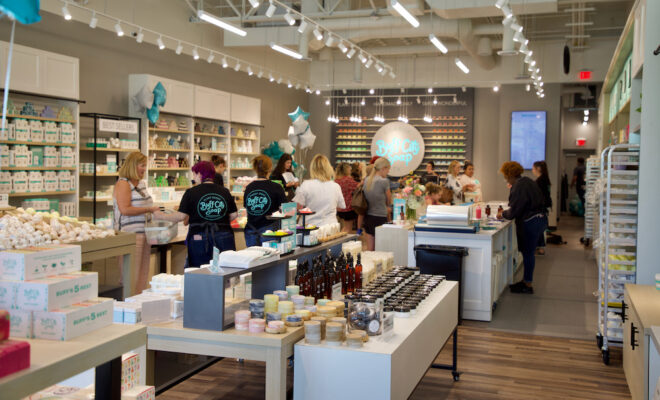 Photo Credit: Rod Prado, Hello Woodlands
Business
Buff City Soap opens in Conroe, hosts Grand Opening until May 22
By |
Buff City Soap is now open at their new location in 247 S Loop 336 West in Conroe. The handmade, plant-based soap store launched their Grand Opening event on the morning of Thursday, May 19 with a line of excited soon-to-be customers waiting out the door and a ribbon cutting ceremony with the Conroe/Lake Conroe Chamber of Commerce.
The Grand Opening celebration is taking place through Sunday, May 22 with promotions such as Free Soap for a Year, 20% off the entire store, 30% off any purchases $100+, BOGO Laundry 50% off, decorating bath bomb for kids, and Kids Face Painting from 12-3 p.m. on Saturday, May 21.
View photos from the Grand Opening event and get a look inside Buff City Soap – Conroe on the Hello Woodlands Facebook page:
Frustrated by commercial soaps' harsh chemicals, detergents, and animal fats, the original Soap Makers of Buff City Soap set out to create a better way! Buff City Soap offers delightfully scented plant-based soaps (plus bath bombs, laundry soap, lotion, and more), handmade daily, in each of their local Soap Makeries. They are on a mission to create handmade products that are free of harsh ingredients and full of nourishing plant-based goodness and take tremendous pride in handcrafting each and every bar of soap in their Soap Makery. Each one is truly unique.
Learn more about the Grand Opening event here and about Buff City Soap at BuffCitySoap.com.