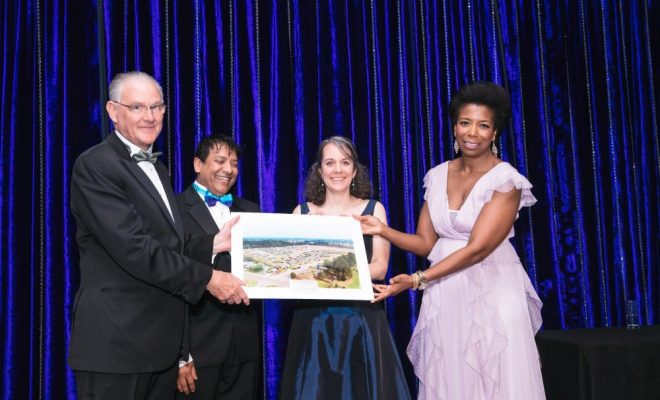 Events
Building Hope Gala Raises $700,000 for Habitat for Humanity
By |
CONROE, TX – The 8th Annual Habitat for Humanity Montgomery County, TX Building Hope Gala was held May 4th at The Woodlands Waterway Marriott. Celebrating Habitat's 30th anniversary, it was presented by LGI Homes for the third consecutive year.
Guests were entranced as they were greeted by a path through a beautiful courtyard entry lined with flowers and greenery. The melodic sounds of a harp filled the air with music performed by a harpist seated in a dome adorned with white roses and a trellis filled with tumbling green vines. The Making Dreams Come True theme was carried throughout the room with a Thomas Markle Jewelry Raffle that included a DreamMaker Cocktail, midnight blue and pearl white staging for the myriad silent auction items, and volunteers were identified by their brightly lit twinkling stars. The elegantly-dressed crowd enjoyed the complimentary cocktail reception where they perused the silent auction and were engaged by auctioneers beckoning them to make their best offer on exciting bid board items that included BMW bikes, a Bali vacation, a Fly Fishing weekend and many other gems.
The décor was nothing short of spectacular thanks to the vision of décor co-chairs, Michelle Leary and Ann Young. As guests entered the dining room through a tunnel of twinkling lights and a magnificent greened archway, they were delighted with the starlit sky, midnight blue and pewter table cloths adorned with silver and glass candelabra, exquisite florals bursting with white roses, hydrangea and lush greenery. No detail went unnoticed as tables were marked with elegant numbers. Each place featured a menu card placed atop a beaded glass charger, along with silver wrapped chocolate stars, a favor for each guest beautifully crafted by Ann Young. The stage backdrop was a rich blue and was flanked by grand silver urns overflowing with a profusion of white and green florals.
The program was hosted by Houston's favorite KHOU 11 news anchor, Len Cannon. Back by popular demand, Cannon returned for his third year as Master of Ceremonies, feeling right at home at the mic, where he did a masterful job engaging the audience and ensuring that the program ran smoothly.
Gala co-chairs Melissa Jacobson and Karen Lach graced the stage in their stunning gowns to thank the guests, the top sponsors, the gala committee, and to present an award to Eric Lipar, CEO of LGI in appreciation for their presenting sponsor donation for the past three years. Lipar spoke about LGI and the benefits of home ownership and his company's passion for making it possible for families and how their mission aligns with that of Habitat for Humanity.
Before dinner was served, Stephen Crain, chairman of the Habitat Board of Directors, thanked the "strong and dedicated" Board for their service and narrated drone footage of the Cedar Creek Habitat neighborhood in Conroe, filmed by Board member Andrew Wurdack. As the footage flies through the 37-acre subdivision, the audience could see the neatly-kept homes and yards, cul-de-sacs and the ten new recently-built homes ready to be moved in by this summer. The footage concluded over a stand of trees and road that will one day be lined with new Habitat homes.
After dinner, Vicki Johnson, Habitat's Executive Director presented a special award to Mike Maher, Head of School of The John Cooper School, to recognize the milestone of building their 20th Habitat home. Maher introduced key staff involved with the home builds and underscored the importance of the Habitat mission and how proud The John Cooper School is to be a part of building homes for hard-working families.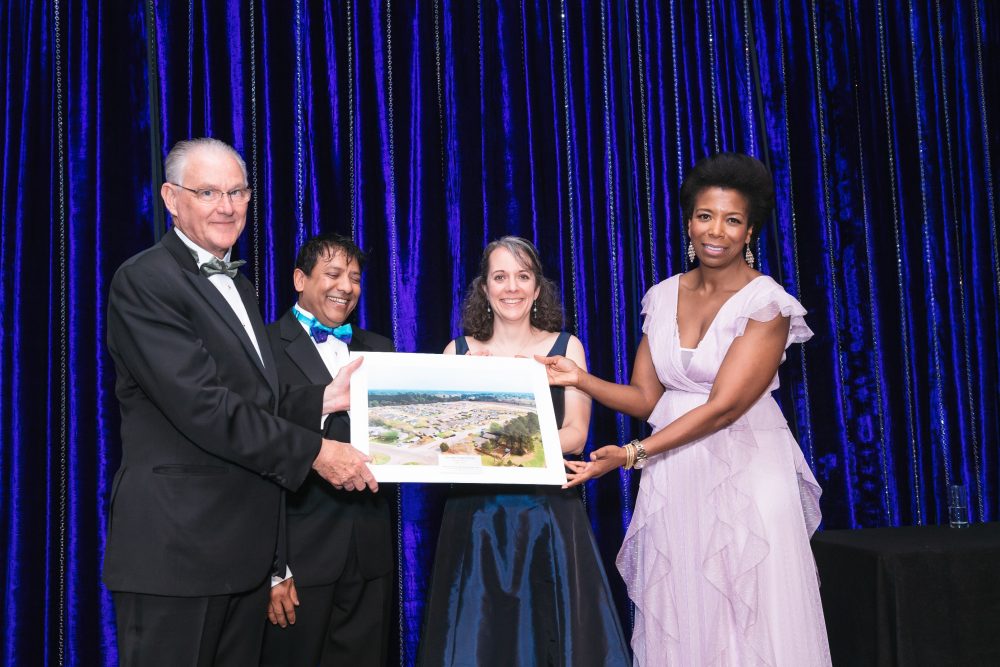 Finally, Johnson gave a warm introduction to the gala's honoree, Larry Abston, thanking him for his many years of service to Habitat as a board leader, leading 100 Anadarko volunteers on home builds annually, and personally connecting with the Habitat families. Abston shared remarks about Anadarko's commitment, his own personal commitment to Habitat, and thanked the audience for their attendance to support Habitat's mission.
The Woodlands Waterway Marriott did not disappoint with the entrée, featuring melt-in-your-mouth tenderloin and shrimp, topped off with a crispy sweet potato garnish. Returning to the stage was star auctioneer Rick Grassi, who ignited excitement in the crowd accompanied by his "ringmen" who donned Wranglers, boots and white cowboy hats. Live auction items included a Games of Thrones Northern Ireland trip, the ever-popular Pate Ranch Hunting weekend, an electric guitar signed by the Rolling Stones, and a stunner of a diamond tennis bracelet valued at nearly $20,000, donated by Mark Pharo Extraordinary Jewels. The fundraising tally at the end of the auction was an impressive $700,000.
The highlight of the evening was hearing the remarkable story of homeowners Veronica and Edmund Jones, who met in a Special Education class in high school. They shared their story of hardship growing up, finding each other, raising three children, and being turned down several times due to meeting eligibility requirements before being accepted into the Habitat for Humanity program. Theirs was a story of perseverance, focus, and hard work which will culminate as they move into their own Habitat home this summer. The room was silent as the audience gave their undivided attention to the Jones family. At the conclusion of their talk, the crowd rose to their feet and gave them a round of applause that lasted several minutes.
The "Build A Home" fundraising segment of the program challenged guests to raise $140,000 to build two new homes. Thanks to the enthusiastic donations and a surprise $30,000 gift from Carrie and Mike Buker of Phoenix Technologies, $152,500 was raised that night. The crowd erupted in cheers as Rick Grassi announced the Buker's gift as the tally ticked up on the screen. All told, the 2019 Building Hope Gala raised an impressive $700,000 that will make a significant impact on building homes in the Cedar Creek neighborhood.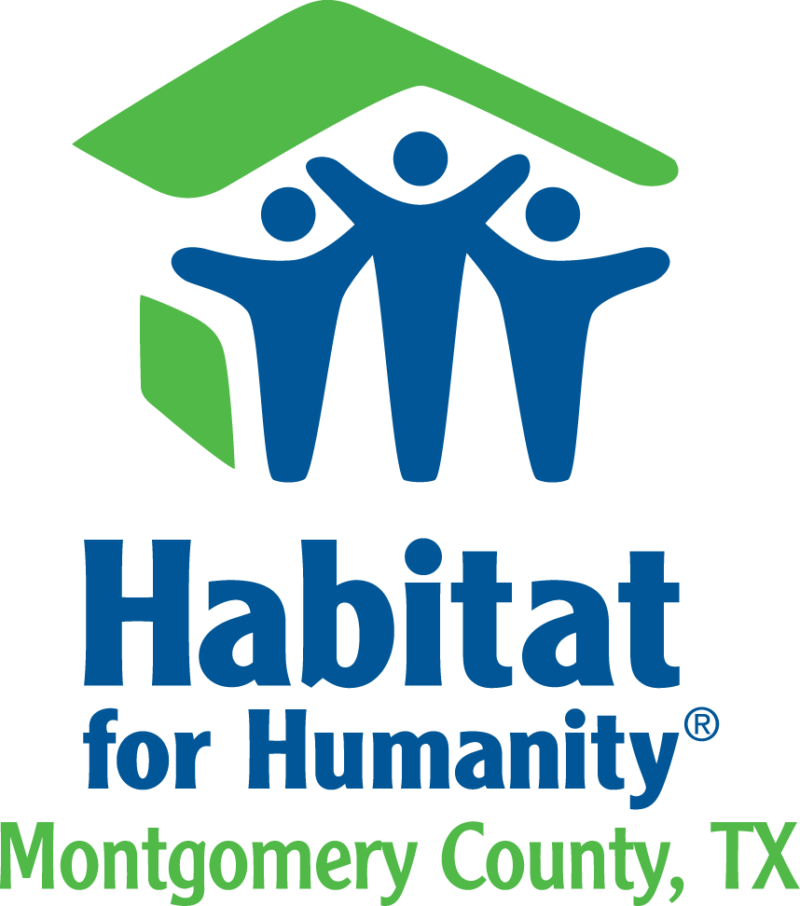 Habitat for Humanity is changing lives. Since 1989, Habitat for Humanity MCTX has built more than 120 homes and 17-20 homes will be built in 2019 alone. In a survey conducted in 44 states, 90% of Habitat homeowner replied that they would not be able to own a home if it were not for Habitat. A Habitat home is a stabilizing force for a family. Better, affordable living conditions lead to better health and the financial flexibility to forward-looking choices.
For more information on the important work of Habitat for Humanity Montgomery County, Texas, please visit habitatmctx.org.
Habitat for Humanity of Montgomery County, TX is a Christian nonprofit organization that provides affordable, sustainable homes to hard-working families and individuals. Because of their work, hundreds of Montgomery County's most vulnerable children have a secure place to thrive, and the number of people helped is growing every year.