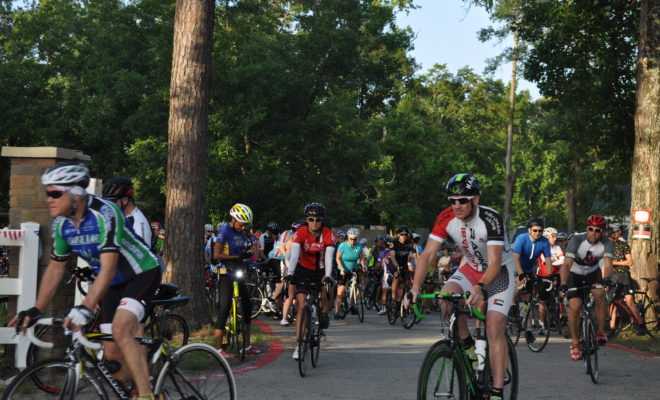 Events
Burn Your Buns with Bridgewood Farms on July 4th
By |
Bikers will take to the streets and through the rolling hills of Willis and Conroe on Tuesday, July 4th at the 14th Annual "Burn Your Buns" Bike Ride starting at 7:30 am at 11680 Rose Road in Conroe.
Presented by The Woodlands Cycling Club and the Lake Conroe Rotary Club, the course is a backroad tour that begins and ends at Bridgewood Farms on Rose Road, winds through to Shephard Hill Road and back. Relax, ride, hydrate, and enjoy your morning. Then have lunch and enjoy watermelon back at Bridgewood Farms!
The Woodlands Cycling Club (WCC) and Bridgewood Farms work to ensure the success of the ride by recruiting volunteers and officials to monitor the route. The WCC has supported the bike ride since its inception in January 2004. The first ride event was held February of 2004 as the "Ride from the Heart" but with only 15 participants and sleeting weather the event was changed to July and re-named Burn Your Buns. The WCC takes responsibility for the ride route, TXDOT approvals, and all promotion to cycling clubs.
340 cyclists participated in the event in 2016. Bridgewood Farms is expecting over 400 attendees this year with riders ranging from 10 years old to 85. The routes are 20, 31, and 62 miles of casual, non-competitive family rides through the countryside. Last year the Bike Ride raised over $15,000 to help provide programs and services for 120 intellectually and developmentally disabled individuals in Montgomery County and surrounding areas.
"We are hoping to exceed the amount we raised last year to provide the necessary programs and services for our clients", said Flo Nelson, Executive Director.
Each registered participant will receive a tee shirt (until supply runs out), a goodie bag, refreshments along the route, and lunch after the ride. Registration fees are $30 for individuals, and $50 for families (4 people) if received by June 30, 2017. Late registration is $40 for individuals, and $60 for families. Packet pickup will begin at 6:15 am on Tuesday, July 4th at Bridgewood Farms lunchroom building. Event will be held rain or shine.
Register Online at https://www.bridgewoodfarms.org/events/burn-your-buns-bike-ride.
Volunteers are needed for set up, registration, servers for lunch, and clean-up after the event. Groups or individuals may contact Enid Goodman at 936.856. 6460. Ext. 102 or email at enid@BridgewoodFarms.org
Sponsorships are available and range from $100 with name on back of shirt, $ 250 for name on website, $500 for naming on signs along route, and $1,000 for inclusion on all media, website, and goodie bags. All donations, sponsorships, and entries go directly to help fund Bridgewood Farms programs.
Founded in 1967, Bridgewood Farms has a mission to provide programs and services to enable individuals with Intellectual and Developmental Disabilities to reach their highest potential through training and life experiences that build self-esteem and promote personal independence. Bridgewood Farms serves over 100 teens and adults with opportunities to lead healthy and productive lives.
Clients are involved in many programs that promote fitness, exercise, recreational activities, and a healthier lifestyle through Special Olympics. In the classrooms, clients participate in skills that teach basic nutrition, money management, housekeeping, social interaction, and reading that are specific to the individual and their needs. Other programs include respite care, pre-vocational training, horticulture, ceramics, and adult continuing education.
Bridgewood Farms is a place for "Special Needs, Special People". Everyone is entitled to feel special. Bridgewood Farms is place where happiness abounds, where peer pressure does not exist and freedom takes on new meaning to improve the quality of life for the clients. Learn more about Bridgewood Farms by visiting their website at www.BridgewoodFarms.org or follow them on Facebook at www.Facebook.com/BridgewoodFarmsConroe