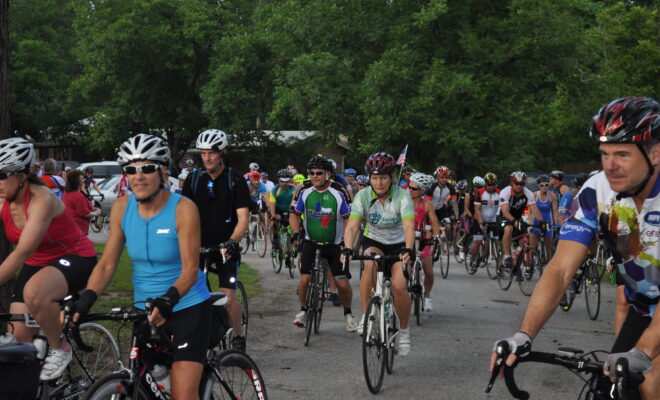 Events
Burn Your Buns Achieves Goals on July 4
By |
MONTGOMERY COUNTY, TX – Over 300 cyclists took to the streets and through the rolling hills of Willis and Conroe early Sunday morning on July 4th at the 17th Annual "Burn Your Buns" Bike Ride to benefit Bridgewood Farms.
Riders aged 10 to 85 rode the 20, 31, or 62 mile (loop twice) course along tree-lined streets and rolling hills in Willis. Many participants "doubled the fun" by going down and out twice to cover the 62 miles. Most participants were returning after making this a tradition year after year. 
The Woodlands Cycling Club (WCC) works to ensure the success of the ride by recruiting law enforcement, volunteers, and officials to monitor the route. The WCC has supported the bike ride since its inception in January 2004. The first ride event was held February of 2004 as the "Ride from the Heart" but with only 15 participants and sleeting weather the event was changed to July and renamed Burn Your Buns Bike Ride. The WCC takes responsibility for the ride route, TXDOT approvals, and all promotion to cycling clubs. 
In 2020, COVID complicated many things in our lives and Bridgewood Farms fundraiser was cancelled, so it was nice that it resumed with the community's support this year. All participants were excited the event returned and the 2021 Bike Ride raised over $12,000 to supplement programs and services for 120 intellectually and developmentally disabled individuals in Montgomery County and surrounding areas. 
"Bridgewood Farms was blessed that it didn't rain, it wasn't too hot, and everyone had a wonderful time riding in the scenic countryside," said Enid Goodman, Bridgewood Farms Executive Director. "Our lunch this year was a family tradition – our customary hot dogs, yummy snacks, sweet watermelon and a fan favorite, Blue Bell ice cream! We are so grateful for the community's continued support of our program and activities, which is essential for our continued growth. We can't wait for next year's event – July 4th, 2022!" 
Presented by The Woodlands Cycling Club, sponsors included Kroger; Tom & Mary Krolczyk; Blue Bell Creameries; Union Pacific Rail Road; Borden's Dairy; Ark Church; Tim & Anthony Duckworth; Honor Café; Sacred Heart Catholic Church; MCHD; Borski's Tavern; Speed Pro Signs Magnolia; Courier; K-Star Radio; Taylorized PR; Race Ready Repair; Jeffrey Tacy & Marissa Gonzalez; Guaranty Bank; Helen & Lynn Schwisow; Curtis, Marge & John Hildebrandt; Commissioner Walker, Precinct #1; Cannon Custom Homes; Conroe Rotary; Lake Conroe Rotary; National Charity Leagues (Bluebonnets & Monarchs); Kris & Michael McBride; Christy Smith & family; M. C. Constables, Precinct #1; MCSO; Willis PD; City of Willis; Lynch Signs; and Bridgewood Farms staff and Board of Directors. 
Founded in 1967, Bridgewood Farms has a mission to provide programs and services to enable individuals with Intellectual and Developmental Disabilities to reach their highest potential through training and life experiences that build self-esteem and promote personal independence. Bridgewood Farms serves over 100 teens and adults with opportunities to lead healthy and productive lives.
The clients train for both Special Olympics, participate in skills that teach basic nutrition, money management, housekeeping, social interaction, and reading that are specific to the individual and their needs. Other programs include pre-vocational training, horticulture, ceramics, creative arts, and adult continuing education.
Everyone is entitled to feel special. Bridgewood Farms is place where happiness abounds, where peer pressure does not exist and freedom takes on new meaning to improve the quality of life for the clients.
Learn more about Bridgewood Farms by visiting their website at www.BridgewoodFarms.org or follow them on Facebook at www.Facebook.com/BridgewoodFarmsConroe.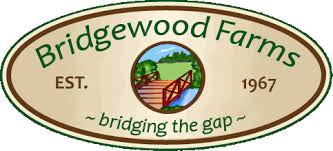 Bridgewood Farms is located on 53 acres serving clients through day programs, pre-vocational programs, and other social, wellness, and educational programs for individuals with Intellectual and Developmental Disabilities to promote self-esteem and personal independence. Donations are tax deductible and critical to the operating budget. Located at 11680 Rose Road in Conroe, visitors may schedule a visit to volunteer or receive services.