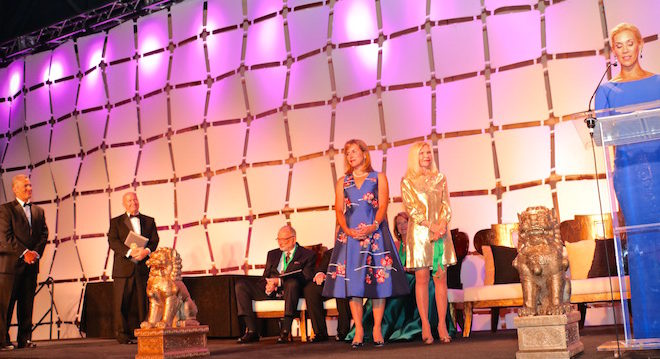 Photo by Hello Woodlands
Calendar
Celebration of Excellence Presents 2016 Hometown Heroes
By |
The Woodlands community honored the 2016 Hometown Heroes on Saturday, October 1 during the Celebration of Excellence which benefited Interfaith of The Woodlands at The Woodlands Waterway Marriott.
Hometown Heroes are residents, businesses or institutions that serve as outstanding role models for volunteerism and dedication to The Woodlands community and inducted each year into the Hometown Heroes Hall of Fame. Since this annual tradition began in 1999, 105 individuals and 13 businesses have been selected to receive this prestigious award.
The event theme was "A Night in the Orient" so guests were greeted by dancing dragons, tall geishas, and sounds of drums and symbols with gorgeous decorations and backdrops throughout the celebration. After walking into the main ballroom, attendees enjoyed a cocktail reception, silent auction, and bid boards before taking part of an asian-inspired dinner. The menu included nori chips with poke, chicken satay, spring rolls, Korean sticky short ribs, salmon rose, coconut cheesecake with a sesame seed straw, fortune cookies and more.
Be sure to watch our LIVE experience and walkthrough of the event:
The Woodlands 2016 Celebration of Excellence Gala was also a time for the community to come together and help further the spirit of giving through donations, which directly benefitted Interfaith of The Woodlands Programs and Services. Opportunities to give included a Giving Tree, Thomas Markle Diamond Earrings Raffle, Live Auction, Cash Call and Giving Cards on each table. Attendees even had a chance to bid on naming a park in The Woodlands, an opportunity gifted by The Woodlands Development Company to raise funds and benefit Interfaith.
Following the live auction and cash call, the main presentation started and included the President and CEO of Interfaith of The Woodlands Missy Herndon, Emcee Brady Hull, Congressman Kevin Brady and other special guests as the 2016 Hometown Heroes were awarded in a medal ceremony. The 2016 Hometown Heroes are Bruce Cunningham, Robert L. Hibbetts, Kelly Hull, Dr. Debra Sukin, and Strike.
The Woodlands 2016 Celebration of Excellence Gala was a wonderful opportunity to recognize the individuals and businesses in the community who embody the spirit of giving through the donation of their time, treasures, and talents in the community. The event brought the community together and raised thousands for Interfaith of The Woodlands, the hometown non-profit providing social services to neighbors in need in South Montgomery County.
Learn more about Interfaith of The Woodlands and how you can get involved at WoodlandsInterfaith.org
Visit the Hello Woodlands Facebook page for more photos and videos from the event!