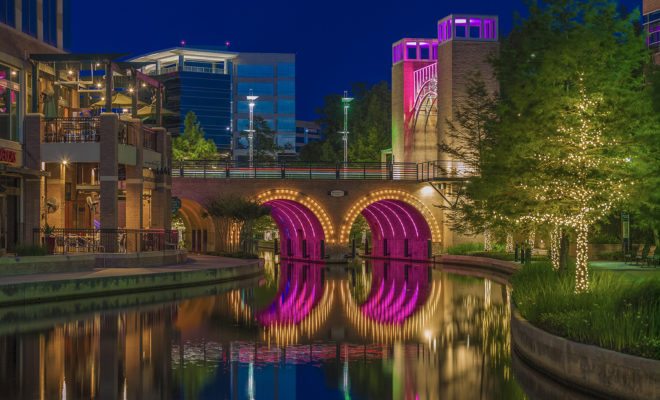 News
Celebration of The Woodlands Waterway Completion
By |
THE WOODLANDS, TX – The Howard Hughes Corporation®, and community leaders celebrated today the completion of The Woodlands Waterway®, a 1.8-mile water amenity, transportation corridor and linear park, located in The Woodlands®.
The Woodlands Waterway is a multigenerational project that began in 1972 with a diagram depicting a transit corridor through the heart of The Woodlands Town Center®. The vision proceeded through many iterations and studies, followed by planning and designs over the next 27 years. Construction of The Woodlands Waterway began in 1999 in phases, culminating with the December 2017 completion, a truly successful 18-year public-private partnership project between The Woodlands Development Company and numerous public entities including FTA, TxDOT, HGAC, WRUD, TCOA, Montgomery County, and The Woodlands Township.
Watch Hello Woodlands live broadcasts of the ceremony:
The Waterway began as a long-range vision with the fabled "napkin sketch," created by Robert Heineman, Vice President of Planning for The Howard Hughes Corporation, the developer of The Woodlands.
"The 'napkin sketch' in 1972 was really a diagram on a large index card of a transit corridor through the heart of the Town Center. From 1972 through 1977, numerous designers including Ford Powell Carson, Cambridge 7, EDAW, Sasaki, Clark Condon, LJA, and even the internationally acclaimed architect Frank Gehry, developed many concepts. The concepts varied from a string of small lakes, a continuous linear pedestrian greenbelt, a continuous water amenity, a transit corridor, and finally emerged as a combination of all of the above – a linear park along a waterway bordered by a pedestrian/transit corridor," said Heineman. "Today, with the indispensable help of The Goodman Corporation, Brazos Transit, and others to implement the plan, the completion of The Waterway exists as a shining example of a commitment to a long range vision, which began as a simple diagram on a napkin 45 years ago."
A regional destination, The Woodlands Waterway links shopping and dining, commercial businesses, residential living, entertainment including the world-renowned Cynthia Woods Mitchell Pavilion, public art, and public parks such as Town Green Park and Waterway Square®, a one-acre destination featuring signature fountains choreographed to music and a stage for community performances.
The Woodlands Waterway begins at The Woodlands Mall, continues through The Waterway Square District, and leads into the turning basin. A lower level of The Waterway continues to 200-acre Lake Woodlands.
For more information on The Woodlands, visit www.TheWoodlands.com.