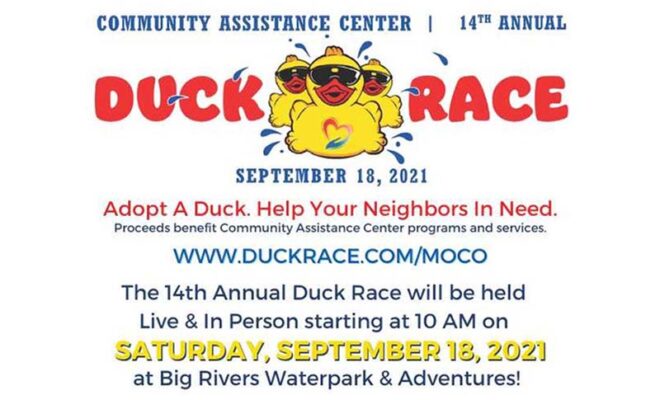 Events
Challenge Accepted: Local Officials Partner with CAC to Raise Awareness, Promote Duck Race
By |
CONROE, TX – Community Assistance Center (CAC) and local officials are banding together to raise awareness about the services provided by the agency as well as promote the nonprofit's 14th Annual Duck Race fundraising event. CAC announced on their social media platforms the 4×4 Duck Challenge, which features four locally elected public officials who have accepted the challenge, and each one will take a pie to the face if their team reaches 1,000 ducks adopted by August 31, 2021. The officials who have accepted the duck challenge include Justice of the Peace, Precinct 1, Judge Wayne L. Mack, Justice of the Peace, Precinct 4, Judge Jason Dunn, Montgomery County Precinct 1 Commissioner Robert Walker, and Conroe Mayor Jody Czajkoski.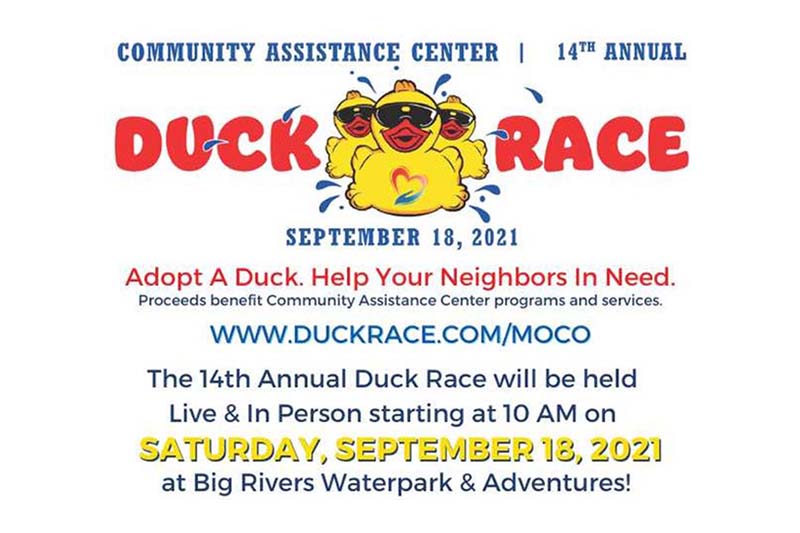 The 14th Annual Duck Race will be held live and in person on Saturday, September 18, 2021 at Big Rivers Waterpark & Adventures with the family fun starting at 10:00 a.m. Each $5 donation to adopt a duck makes a difference in providing resources and basic needs assistance to struggling individuals and families right here in Montgomery County. CAC has a goal of 8,000 rubber ducks to be released into the lazy river on event day, with one lucky adoptive duck parent will win the Grand Prize of $2,500.00 in cash, sponsored by Guaranty Bank & Trust. Other amazing prizes include an Apple watch, a Family 4 Pack Season Pass to Big Rivers Waterpark & Adventures through the 2022 season, a 2 Night Stay at Margaritaville Lake Conroe Resort, Astros tickets, and more.
Proceeds from this fun-filled, "quacktacular" special event will support CAC programs which provide immediate basic needs services and financial assistance with rent and mortgage, utilities, food, clothing, emergency shelter vouchers, prescriptions, back to school assistance, transportation vouchers, education, and disaster recovery. CAC has served residents of Montgomery County for 40 years, promoting long term solutions and stability for our Montgomery County neighbors experiencing financial hardships.
"We are so thankful for the support and upbeat spirits of our local officials who really care about our community and want to help make our event a success," says Jennifer Landers, President and CEO of CAC. "The Annual Duck Race is a fun, creative, and affordable way to support our neighbors in need and the 4×4 Duck Challenge is all in good fun."
Through times of uncertainty, CAC remained constant as a beacon of hope in the community. In Montgomery County, 10% of county residents are below the Federal Poverty Level with another 22% of residents identified as Asset Limited, Income Constrained, Employed (ALICE) meaning families have income above the Federal Poverty Level, but not high enough to afford basic household necessities. Last year, CAC served over 39,000 Montgomery County residents, with 1,241 families who had never before needed assistance to make ends meet.
"CAC is able to really make a difference in the lives of the people we serve and this is only possible because of the generous support from our community. Every duck adopted ensures we can continue to make an impact," says Landers.
You too can make a difference right here in our community! Adopt a Duck. Help Your Neighbors in Need. Sponsorships are still available and for more information on sponsorship opportunities, please contact Kathy Rifaat at kathy@cac-mctx.org. Opportunities to adopt ducks are available on online by visiting http://www.duckrace.com/moco.


Community Assistance Center is a non-profit, social service agency providing resources to meet basic needs and improve quality of life for our neighbors in Montgomery County. CAC provides case management and assistance services such as food, clothing, emergency shelter, rental and mortgage assistance, utilities, and education to promote self-sufficiency. During its last fiscal year, CAC provided services to over 39,300 residents of Montgomery County through its various programs and services.