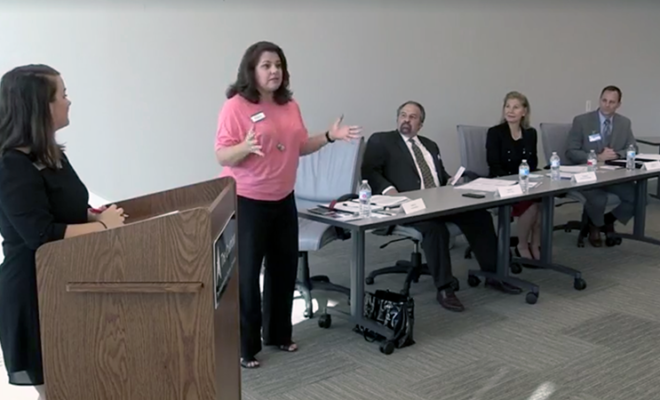 News
The Woodlands Area Chamber Hosts Conroe ISD Board of Trustees Candidate Forum
By |
THE WOODLANDS, TX –The Woodlands Area Chamber of Commerce's Business Advocacy Council held a candidate forum on Wednesday, October 10 to give voters a chance to become educated on candidates running for the Conroe Independent School District Board of Trustees.
Three seats up for election Nov. 6, Positions 1, 2, and 3, are contested races. Four candidates including Theresa Wagaman, Dale Inman and Kathleen Harmatuk-Swisher (Position 1) and Skeeter Hubert (Position 3) participated in the forum moderated by Hannah Zedaker of Community Impact Newspaper.
Those elected will serve four-year terms without compensation as members of the district's governing body. The board operates on a two-year election cycle, splitting the seven-seat panel between election years so that the entire board is not replaced at one time.
Conroe ISD is a 348 square mile school district located in the Houston, Texas metropolitan area. The geographic areas of the district are diverse and include The Woodlands, Shenandoah, Oak Ridge North, Conroe, and Caney Creek, as well as several other smaller towns, communities, and unincorporated areas. Conroe ISD is one of the fastest growing school districts in the state with an average enrollment growth of 1,500 students per year.
The Chamber will host a candidate forum for The Woodlands Township Board of Directors on Tuesday, Oct. 16 from 5:00 – 6:00 p.m. featuring candidates Treva Taglieri and Brian Boniface (Position 2) and Bruce Rieser and Francis "Frank" Dargavage (Position 4).
Area residents are encouraged to participate by attending the forums in person. The Chamber also invites members and guests to attend Business Advocacy Council meetings on the third Friday of every month at 8:00 a.m. at The Chamber.
The general election is Nov. 6, with early voting ending Nov. 2. To learn more about the Conroe ISD Board of Trustees and the candidates, visit conroeisd.net/board-of-trustees/2018-board-election-information. For information about all upcoming Montgomery County elections, visit legacy.mctx.org/election.
As the largest business organization in the Houston region, The Woodlands Area Chamber of Commerce is committed to advocating for businesses, creating marketing and networking opportunities, serving as a professional and community resource and supporting charitable causes. For more information, please visit woodlandschamber.org.