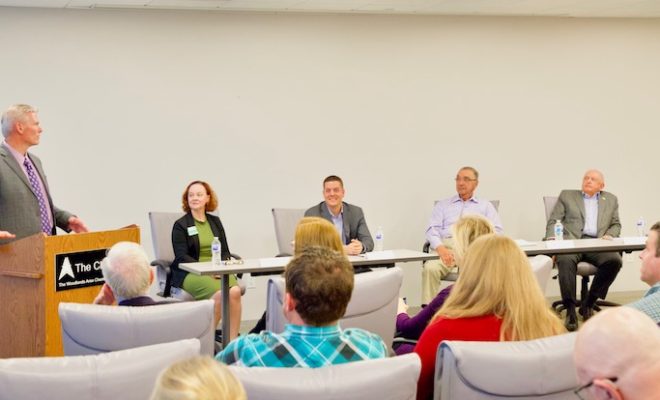 News
VIDEO: Chamber hosts Township Candidate Forum
By |
 In an effort to inform the public on issues important to local voters as it relates to business, The Woodlands Area Chamber of Commerce's Business Advocacy Council hosted a candidate forum for The Woodlands Township Board of Directors on Tuesday, October 16.
The forum was held at The Woodlands Area Chamber of Commerce, located at 9320 Lakeside Blvd., Suite 200 in The Woodlands.
The Woodlands Township Board of Directors forum featured the following candidates:
Position 2: Treva Taglieri and Brian Boniface
Position 4: Bruce Rieser and Francis "Frank" Dargavage
Watch Hello Woodlands's live broadcast of the complete forum:
While the Business Advocacy Council will take positions on broad policy issues, The Chamber does not endorse candidates.
"A candidate forum allows candidates seeking public office to express their views openly, so community members can understand their positions and make informed voting choices," said Lupe Cuellar, government affairs director for The Chamber. "The Chamber provides the forums as a public service, and we are privileged and proud to play a role in the democratic process."
View photos from the event on the Hello Woodlands Facebook page:

The General Election is November 6, with early voting from October 22 to November 2. For more information about the upcoming Montgomery County elections, visit legacy.mctx.org/election.
As the largest business organization in the Houston region, The Woodlands Area Chamber of Commerce is committed to advocating for businesses, creating marketing and networking opportunities, serving as a professional and community resource and supporting charitable causes. For more information, please visit www.woodlandschamber.org.