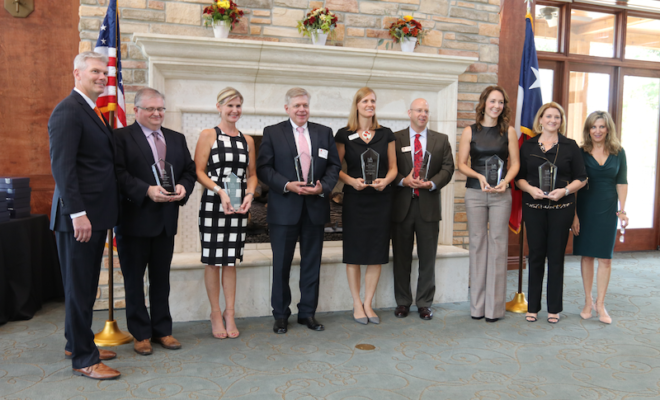 Business
Chamber recognizes Volunteers, Members, Leaders at 39th Annual Awards
By |
The Woodlands Area Chamber of Commerce held its 39th Annual Awards Luncheon on Friday, October 6 at The Woodlands Country Club. The annual awards ceremony has honored chamber volunteers, loyal members, and community leaders since 1978.
The 2016-2017 Chairman of the Board, Linda Head of Lone Star College, welcomed attendees that filled the Legacy Ballroom and recognized the past chairmen, elected officials, chairman circle investors, lifetime members and introduced new investors.
As guests enjoyed lunch, The Woodlands Area Chamber of Commerce's President and CEO, J.J. Hollie, presented the annual report and emphasized the chamber's four core functions of elevating business success by:
Advocating for businesses
Creating Marketing and Networking Opportunities
Serving as a Professional and Community Resource
Supporting Charitable Causes
In the report, Hollie shared the chamber's membership is currently at 1,485 total members and 6,677 total representatives. The chamber hosted 47 membership events and 11 special events in the last year such as the Economic Outlook Conference, Taste of the Town, and Volunteer Appreciation Luncheon.
Linda Head continued by recognizing the 2016-2017 Board of Directors, Team Leaders, and Recognition of member anniversaries (10, 15, 20, 25, 30, and 35 years).
The Diplomat of the Year was awarded to Zach Richmond of Richmond Realty RE/MAX The Woodlands & Spring.
The 2017 Citizen of the Year was awarded to Barry Blanton of Blanton Advisors, LLC.
The 2017 Volunteer of The Year was awarded to Elaine Smith of Berryhill Baja Grill The Woodlands.
The 2017 Chairman's Award was awarded to Angela Strong of A Strong CPA, LLC.
The event concluded with J.J. Hollie thanking Linda Head for all of her hard work as the 2016-2017 Chairman of the Board and announcements by the 2017-2018 Chairman of the Board, Frank Holmes of Sam Houston State University.
The Woodlands Chamber of Commerce's 39th Annual Awards Luncheon was sponsored by Consolidated Communications, Wright Business Technologies, Fox Travel, Marsh & McLennan Agency, Hello Woodlands, andDerrick Bryant Photography.
View photos from the event on the Hello Woodlands Facebook page!

To learn more about The Woodlands Area Chamber of Commerce and the 39th Annual Awards Luncheon, please visit www.woodlandschamber.org.