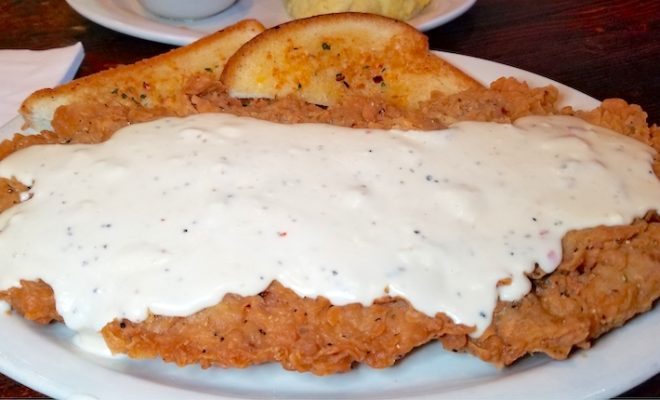 Food & Drink
Chicken Fried Steak Favorites in Montgomery County
By |
Chicken fried steak is a Southern breaded cutlet dish consisting of a piece of beefsteak coated with seasoned flour and usually deep fried or Country Fried which is typically fried in a skillet. Texans flock to restaurants to eat this sinfully crispy, seasoned, dish topped with cream gravy. Despite its name, the dish does not have any chicken in it, the name derives from the style of cooking which is similar to pan frying chicken. Many other cultures have a version of it, from Germany has wiener schnitzel and many similarities to South America's milanesa. Even the Japanese have a version with pork called Tonkatsu. You can even find variations at fast food joints, back in the 80's around Houston was Grandy's and if your in a hurry and must get your chicken fried fix, Dairy Queen has their ever popular Steak Fingers basket.
What kind of meat is in between the breading? Chicken Fried Steak usually uses less expensive cuts of beef, such as cube steak, chuck, round steak, and occasionally flank steak. Most Chicken Fried steaks are usually pounded pretty thin and take a lot of real estate on a plate, some places even have to have your sides on a separate plate. Some restaurants have elevated the dish by chicken frying better cuts of meat like ribeye, sirloin and certified Akaushi or Angus beef. These are so tender that they are easy enough to cut with a fork.
Texans are so fascinated with this style of cooking that they also do Chicken Fried Chicken using chicken breasts cutlets, chicken fried pork, chicken fried whole beef ribs and even chicken fried bacon. Chicken Fried dishes usually served with country peppered cream gravy, some restaurants are getting fancy and serving them with jalapeño cream gravy, sausage gravy, chicken stock based gravy and even topped with queso. Some people even like it with brown gravy, but usually frowned upon by Chicken Fried Steak purists and true southerners.
Usually served with mashed potatoes and gravy, other popular pairings with CFS are fried okra, green beans, corn and baked potatoes. Sometimes served with Texas Toast to sop up the gravy or a basket of rolls and cornbread.
Based on a poll and responses by the local community in the Nick's Local Eats Facebook Group, here are a list of favorite Chicken Fried Steak dishes in Montgomery County and the North Houston area.
Local Chicken Fried Steak Favorites
CC's Cafe in Tomball
1231 Alma St, Tomball, Texas
ccscafetomball.com
Mel's Country Cafe in Tomball
24814 Stanolind Rd Tomball, Texas
melscountrycafe.com
Republic Grille in The Woodlands
4775 W. Panther Creek, Suite 490, The Woodlands, Texas
therepublicgrille.com
242 Pub and Grill in Spring/Conroe/Magnolia/Willis
242pub.com
Craft Grill in Tomball
25219 Kuykendahl Road, Suite #G110, Tomball, Texas
craftgrillrestaurants.com
The Omega Grill in Spring
399 Sawdust Road, Spring, Texas
theomegagrill.com
Mia's Table in Shenandoah
18450 I-45 South, Shenandoah, Texas
miastable.com
Original Neal's Restaurant in Spring
4750 FM 2920 Rd, Spring, Texas
theoriginalneals.com
Vernon's Kuntry Katfish in Conroe
5901 W Davis St, Conroe, Texas
kuntrykatfish.com
Pecos Grill in Tomball
28900 SH249 Tomball, Texas
pecosgrillingco.com
Relay Station in Plantersville
15654 Highway 105, Plantersville, Texas
texasrelaystation.com
Compadres Country Cafe in Oak Ridge
26797 Hanna Road Blvd, OakRidge North, Texas
compadrestexascafe.com
Ellen's Cafe in Old Town Spring
307 Gentry St, Spring, Texas
ellenscafetx.com
Cotton Patch in Spring
5431 Farm to Market 2920, Spring, Texas
cottonpatch.com/locations/spring
Texas Roadhouse in Spring/Conroe
2230 Interstate 45 N, Conroe, Texas
texasroadhouse.com/restaurant-locations/texas/conroe
Did you favorite make the list? Let us know what your favorite place to enjoy Chicken Fried Steak in Montgomery County or North Houston area!
Nick Rama is a food writer, contributor of Hello Woodlands, and shares his restaurant experiences on Nick's Local Eats at NicksLocalEats.com and the Q Up The Burgers Facebook page. Nick enjoys helping the small business owner, supporting his community with fundraising for food banks, and plans tasting events with locally owned mom and pop restaurants.