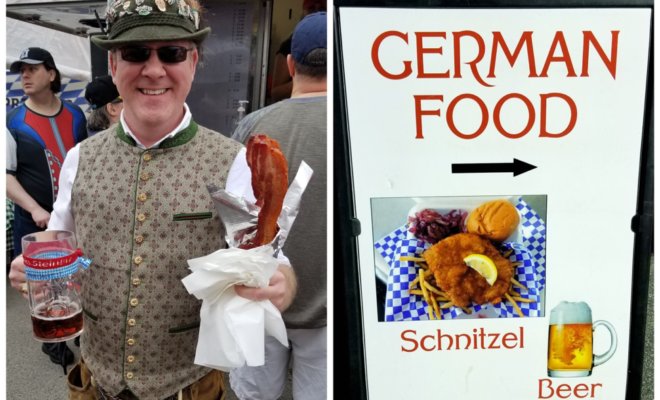 Food & Drink
Tomball German Festival Foods and Local Favorites
By |
The Tomball German Heritage Festival is three days of fun for the whole family held twice a year, once in Spring and the German Christmas Market & Festival held in mid December. The festival features live music, vendors, authentic German food, imported German biers, and traditional folk dancing along with live music from four different stages. The festival is four city blocks that celebrates the well established German Heritage in Tomball along with a carnival, petting zoo, kids zone and a Beer Garden.
Discover authentic German foods along with original options and favorites the festival had to offer.
Schnitzels & Giggles is owned by Robert and Alexandra Graf and has a huge following of fans. When looking for the most authentic Schnitzel at the German Festival, look no further than this bright yellow truck being staffed by folks in traditional German outfits. As their name implies, they are famous for their schnitzel, which they serve on a stick. The schnitzel is available in pork or chicken and a  comes with a wedge of fresh lemon to squeeze over it which really served to brighten up the already flavorful dish. For a Texas sized option, get the whole schnitzel experience with a full Schnitzel plate; a thinly sliced pork cutlet which is first floured, egg washed, then coated in breadcrumbs before frying, the optional jaeger gravy is a must to top the schnitzel (Mushroom sautéed in bacon, mixed with brown gravy will make your taste buds sing) served with a roll and fresh cut fries. Learn more about Schnitzels & Giggles by visiting their Facebook page at https://www.facebook.com/schnitzelsngiggles/ and website at https://www.schnitzelsngiggles.com/
Granny Dee's Pierogi, another long time festival favorite, is owned and operated by Denise D. Snyder from Waxahachie, TX. If you're unfamiliar with this traditional Polish dish, pierogi are dumplings of unleavened dough, first boiled ,then baked or pan fried and topped with butter and onions. Traditionally stuffed with potato filling, sauerkraut, ground meat or cheese. Coming from a Croatian/Polish background, Denise's family taught her to make all her pierogis by hand from scratch with no preservatives or additives. cheesy potato, cabbage, and meat filled are her three most popular flavors, served pan fried with chopped sautéed onions and topped with melted butter. Get one of each and make it a plate which adds a small link of sausage. Haluski is also available with egg noodles and cabbage smothered with melted butter, onions and bacon.
Learn more about Granny Dee's Pierogi by visiting their Facebook page at https://www.facebook.com/GrannyDeesPierogi/ and their website at https://www.grannydeespierogi.com/
Local favorite, Pretztex Pretzels is owned Johnny and Anca Lancu. PretzTex pretzels are made with five simple ingredients: water, flour, salt, butter and a rising agent, but offer a complex flavor. Anca and Johnny source their ingredients locally and work closely with their suppliers to use the very best varieties of wheat.
Anca says the type of oven used to bake pretzels is also very important so they bake their pretzel in high end efficient ovens.This year menu included their signature salted pretzel, along with a four cheese and cinnamon sugar pretzel. Stuffed Pretzels in two varieties with mesquite sausage and a pretzel dog were also on offer and always outstanding.
Learn more about Pretztex Pretzels by visiting their Facebook page at https://www.facebook.com/pretztex/ or their website at https://www.pretztex.com/
The Sauer Kraut Food Truck – Chef/Owner  Eric D. Morse and his family bring you the true "German-Texan Experience," on a Food Truck!  A variety of German style Bratwurst (classic fine, pork, Grobe "Oktoberfest", Knockwurst with fresh kraut and spicy mustard or Curry wurst with a chef crafted spicy curry ketchup and curry powder), classic Schnitzel and Jager Schnitzel Sandwiches, German Pulled Pork and even Jaeger Fries. Owner Eric said the Schruben is a must try, a schnitzel plus Ruben add fresh kraut, Russian dressing and pastrami
Learn more about the Sauer Kraut Food Truck by visiting their Facebook page at https://www.facebook.com/thesauerkrautfoodtruck/ and website at https://thesauerkrautfoodtruck.com/
Streudel is a huge draw for festival goers and the Tomball German Festival is fortunate to have two outstanding vendors for this historically Austrian pastry.  First up Helga's Strudel – Helga's Strudel bakes delicious, fresh, and authentic German strudel and pretzels. Helga's European pastries are baked in a traditional European style following practices, styles and flavors that have been passed down from old family recipes.  Apple, Cherry, Bavarian Cream and Apricot Almond were available at the festival this year.
Learn more about Helga's Strudel at https://www.helgasstrudel.com/
Styria Bakery travels the furthest distance to be a vendor, making the 16 hour trip twice a year from Denver, Colorado. Owned by husband and wife team Klaus and Shannon "The Bread Lady" Campbell with help from their son, the Styria booth is a must visit destination for Apple Strudel and handmade gourmet breads. All of Shannon's breads are made with a natural starter, reducing the need for commercial yeast and any number of preservatives added by other bakeries. This is artisan breads at its very best!
Learn more about Styria Bakery by visiting their Facebook page at https://www.facebook.com/StyriaBakeryII/ and their website at https://www.styriabakerybread.com/
Local artisan vendors were featured all over the festival, including:
Bull Nettle Ridge –  Gina Owen's small, family-owned Texas company, focusing on beekeeping, but carry a selection of honey, beeswax products and other items produced by our bees. This year they were offering local honey, creamed honey, honey sticks and beeswax lip balms.
Learn more by visiting their Facebook page https://www.facebook.com/Bullnettleridge/ or website at https://www.bullnettleridge.com/
Shosho's Kitchen from Katy, TX has specialty jellies that are the perfect mix of fresh fruits and peppers that are made from scratch; these are one of a kind, wine, pepper & fruit jellies. They are a delectable treat and can be paired with nearly anything to make a tasty snack.
Learn more by visiting their Facebook page https://www.facebook.com/ShoShosKitchen/ or website at https://www.shoshosjelly.com/index.html
Sweet Granny Bea's, bringing you baked goods and desserts "just like granny used to make". Granny's luscious Lemon Bars (their best seller), shortbread Pecan bars and double chocolate gooey butter cake, from their business in Humble, TX.
Learn more by visiting their Facebook page at https://www.facebook.com/SweetGrannyBeas/ or website at https://www.sweetgrannybeas.com/
The Tomball German Festival had many other vendors serving everything from bratwursts, german style sausages, steak on a stick, gyros, kettle popcorn, loaded fries, Kartoffelpuffers (potato pancakes), fresh squeezed lemonades and of course Texas beers like Ziegenbock and Warsteiner beers from Germany.  Festival staples are also available, funnel cakes, corn dogs, twister fries, fudge, fried oreos, and all sorts of dipped in chocolate on a stick fare (bacon, cheesecake, strawberries, bananas, ice cream bars) and even mini donuts.
Brick 'n mortar restaurants and bars that are part of the festival by default. Storefronts located on the main street of the German Festival are Brautigams Bar-N-Grill, The Empty Glass, Nonnie's Soda Fountain and Fire Ant Brewing Company and the new Craving Kernels – Gourmet Popcorn & Treats. These businesses and their dishes just add more to this foodie paradise festival. We look forward to the next installment of the Tomball German Festival in December!
Learn more about Tomball German Festival by visiting their website at www.tomballgermanfest.org and Facebook page at https://www.facebook.com/tomballgermanfestivals.
Nick Rama is a food writer, contributor of Hello Woodlands, and shares his restaurant experiences on Nick's Local Eats at NicksLocalEats.com and the Q Up The Burgers Facebook page. Nick enjoys helping the small business owner, supporting his community with fundraising for food banks, and plans tasting events with locally owned mom and pop restaurants.