Food & Drink
RC Gallegos of RC's Pizza makes U.S. Pizza Team
By |
THE WOODLANDS, TX – Pizza is one of America's favorite fast food items, but not all pizza is created equal!
RC Gallegos created an award-winning pizza by learning with feet on the ground in New York, prior to opening a successful pizza restaurant, RC's NYC Pizza and Pasta. As of November of 2018, he is now a proud member of the United States Pizza Team!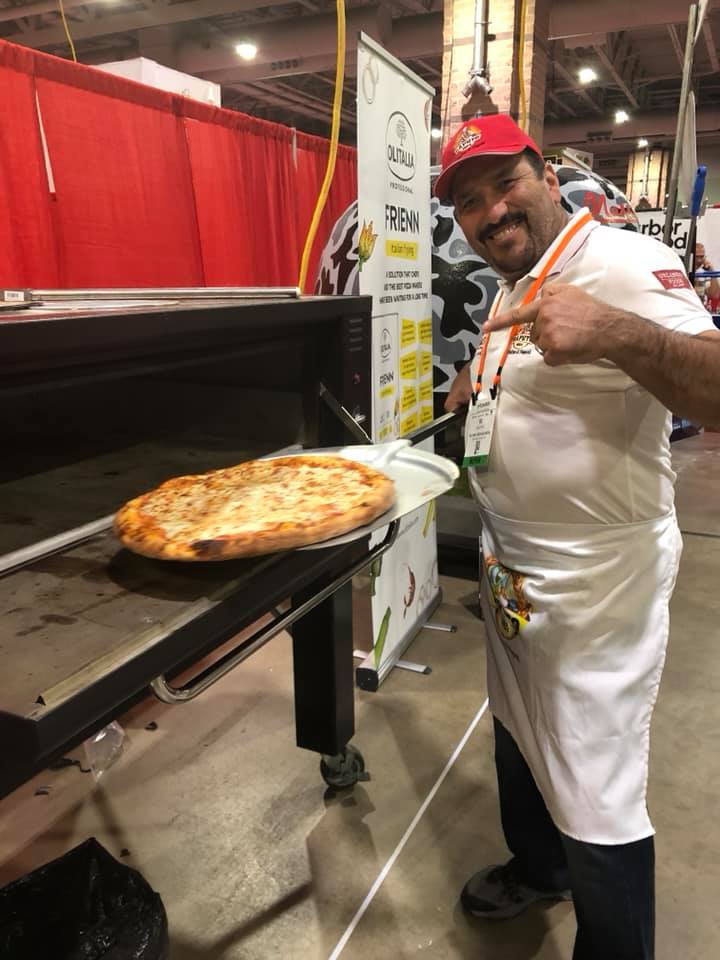 "I wanted to learn from the best in the country", said RC. "I moved to New York and stayed until I perfected my pizza. The recipes are still used in my pizza today."
After learning just what it takes to make the BEST pizza RC opened his first restaurant in Porter in 2003 with a goal to create the BEST pie around, thereby "Breaking the Chain" of fast food chain pizza. RC's NY Pizza and Pasta has additional locations in the Woodlands and Kingwood. Every pizza recipe has been created by RC himself.
How many pizza restaurants can boast that?
In his effort to continually take the edge over his competitors, RC has competed as a pizzaiolo in competitions across the country with other pizzaiolos. His first competition was in 2009 in Las Vegas at the Pizza Expo where he placed first place for his classic cheese pizza. Not only was it unique to place first in a new competition, but a cheese pizza had never been entered into the competition before. He went on to place 3rd in 2011, and 2nd in 2013 at the Las Vegas Pizza Expo.
The Pizza and Pasta Expo, or the Caputo Cup Competition, is Italy's largest renowned pizza competition held in New York with over 190 competitors worldwide. RC placed 2nd in 2015 and 2nd place in 2017 competing against pizzaiolos from across the country in the Gluten Free Category. He represented Houston with his California pizza-baby spinach, zesty Italian sausage, artichoke hearts, roasted peppers, fresh basil, traditional tomato sauce, and whole milk mozzarella on a gluten free crust.
The award-winning gluten-free dough is now carried at two pizza dough manufacturers and dough balls are carried at his local restaurants. A good dough is a major component in great pizza and it is all about the yeast. His yeast sits for 3-4 days to let the flavors ferment.
Tony Geminagi, 11- time World Champion, author of The Pizza Bible and 2015 Caputo Cup Judge said, "RC's pie is delicious! A true NY-style pizza handcrafted by a man who respects the craft. RC's pie is a memorable one, and one of our Top Three in the competition. New Yorkers watch out, you got big competition coming straight out of Texas!"
In November 2018 RC was offered a spot on the U.S. Pizza Team (USPT). Along with 18 other competitors competing in 55 categories, the USPT will be traveling to Parma, Italy, to compete in the 28th edition of the World Pizza Championship April 9-11. The Pizzaiolos originate from all over the world, and RC will compete in 3 categories-Gluten Free, Pan Pizza, and Pizza Due. Only 2 members of the elite US Team are from Texas and RC Gallegos, RC'S NYC Pizza & Pasta, is the only representative from the Greater Houston area.
RC is excited about his trip to Italy next week. "It was a long road, but we finally got here! I have been making pizza since 2003, and it has paid off!
The USPT competes all year round in various trials across the country in anticipation of the World Pizza Championships. The USPT trials are designed to mimic the Italian event to better prepare the competitors in such events as pizza classica, pizza in the pan, pizza on the peel, gluten-free, STG (Neapolitan style), and pizza for two (made by two pizzaiolos). Winners of each trial event in the United States win a trip to the World Pizza Championships.
RC Gallegos is a Champion Pizzeria who is passionate about what he does and will bring in the WIN for Houston!
"If you thought you could only find New York pizza in New York, think again," boasted RC. "Make yourself at home, help us break the chain, and experience authentic New York pizza right in Texas!"
Find out more about RC NYC Pizza and Pasta by visiting www.RCSNYCPizza.com or visit their Facebook page at www.Facebook.com/RCSNYCPizza.