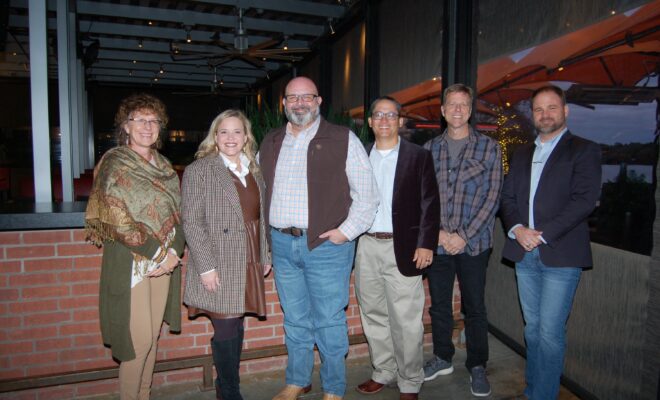 Lifestyle
Children's Safe Harbor Announces New Board President and Board Leadership Team for 2022-2024
By |
MONTGOMERY COUNTY, TX – Children's Safe Harbor has announced a new board president and board leadership team for the 2022-2024 term.
Matt Rodrigue has been appointed as the incoming board president, spearheading a leadership team that includes Rey Saludares as board vice president, Ryan Hutson as board treasurer, and Paul Purcell as board secretary.
The mission of Children's Safe Harbor is to achieve justice and healing for every abused child and engage the community in that mission. Founded 24 years ago, its team of multi-disciplinary partners (i.e. law enforcement, Texas Department of Family and Protective Services) has helped over 21,000 children ages 2-17 in a safe place to be heard, helped, and healed. This children's advocacy center serves the counties of Montgomery, Walker, and San Jacinto.
Matt Rodrigue is a Sergeant with the Spring Independent School District Police Department. He has served on the board of directors for Children's Safe Harbor for eight years. Rodrigue will earn a Master of Science degree in Strategic Leadership in April.
Rey Saludares is an oil and gas entrepreneur and formerly a retired engineering executive from Occidental Petroleum Corporation. He recently earned an MBA from Rice University.
Ryan Hutson is the founder of Hutson Realty Partners, LLC, a commercial real estate firm, and is a licensed commercial real estate broker. In addition, he serves as a reserve Sergeant with Montgomery County Constable Precinct 3.
Paul Purcell is the Executive Director of the Montgomery County Medical Society. He is also a Project Manager for a national private equity-backed pediatrics practice. For fun, he is a USA rugby referee and an avid instrumental-rated pilot.
Rodrigue is preceded in his role as board president by the past board president and current member of the board's executive committee Mary Nan Huffman, JD, who is Legal Counsel for the Houston Police Officers' Union.
"This is a very exciting time as our leadership team is comprised of powerhouse professionals who have established many key goals and strategies as we move into the new term," said Victoria Constance, MSPH, PhD, executive director of Children's Safe Harbor. "Our new board president Matt Rodrigue possesses a special passion and understanding of our mission as he leads this incredible team. They are steadfastly dedicated to the future direction and operational growth of our children's advocacy center."
Matt Rodrigue added, "I look forward to embracing this new role as Children's Safe Harbor's board president. I have thoroughly enjoyed being a member of the board over the past eight years and I know that our board members are committed as a team to taking Children's Safe Harbor forward. Our biggest challenge, as I see it, is pressing forward with our fundraising efforts toward our capital campaign of constructing our new facility. Securing this effort is a top priority."
Children's Safe Harbor is a 501c3 non-profit corporation. For more information and to make a donation, visit www.ChildrensSafeHarbor.org and follow on Facebook at www.facebook.com/childrenssafeharbor.