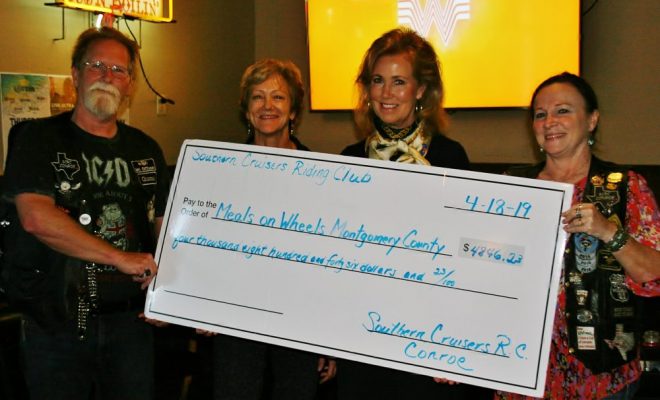 News
Chilly Willy Fun Run benefits Meals on Wheels
By |
CONROE, TX – The Southern Cruisers Club of Conroe (SCRC) awarded Meals on Wheels Montgomery County (MOWMC) a check for $4,846.23 from their Chilly Willy Fun Run event held at the Backwoods Saloon in Conroe on March 8, 2019.
First Officer Ken "Gizmo" Olson said, "The SCRC requires no membership dues, no mandatory meetings or events, and welcome riders of any street legal motorcycle, no matter what motorcycle you own. The club really comes together for the charity rides. This is the third year we have raised money for Meals on Wheels Montgomery County. The work they do is so important in helping local homebound seniors remain at home where they want to be."
Founded in 1998 by Rick "Rickster" Perry, the Southern Cruisers Riding Club is a free, all brands, no dues, family oriented motorcycle riding club that focuses on the enjoyment and fellowship of riding motorcycles. The Conroe Chapter founded by its first 1st Officer, Howard "SpEd" Camardelle in 1999 now has approximately 150 members. More information is available on their website, www.SouthernCruisers.net.
With a mission to foster independence and maintain the dignity of each homebound senior by providing nutritious meals, transportation, and caring connections, MOWMC can always use additional volunteers and donations.
More information about Meals on Wheels Montgomery County can be found at www.mowmc.org or on the Facebook page: www.Facebook.com/MealsonWheelsMC.