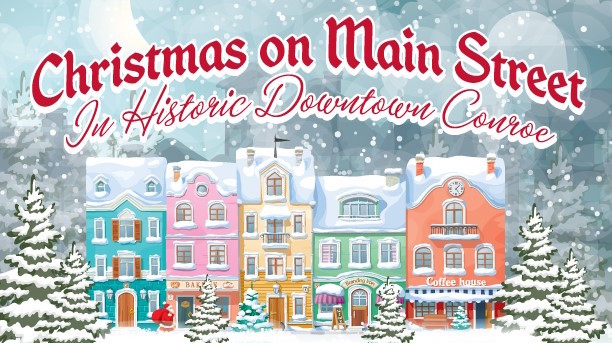 Events
Christmas on Main to debut in Downtown Conroe
By |
Conroe, TX – The Conroe Downtown Area Association and Mayor Toby Powell are anticipating the first Christmas on Main after the Annual Tree Lighting Ceremony on Tuesday, November 28th beginning at 7:00pm and lasting until 8:30 pm. The Tree Lighting will be from 6:30pm until approximately 7:00pm with children singing, Mr and Mrs. Snowman, hot chocolate, and culminating with the annual ceremonial lighting of the Christmas Tree at Heritage Park.
But this time the Christmas celebration will continue into much more, according to Mayor Powell and his wife, Vanessa Powell. Through their efforts, 2 bicycles have been donated to be given away in a drawing that night, The Night Before Christmas will be read while children wait to see Santa, and participants will be given wooden tokens to vote on window displays all in Downtown Conroe. Hay rides and carriage rides will board individuals on San Jacinto Street by Heritage Park with transportation down the street.
"It's the Most Wonderful Time with much mistletoe-ing and hearts glowing when loved ones are near. Children are cheering with jingle bells ringing and gifts under the tree. Yes, it must be the most wonderful time of the year", sang Mayor Metcalf. "That's what Christmas on Main Street is all about!"
Christmas Carolers from the Montgomery County Choral Society will encourage participants at the park to stroll the 2 blocks down Simonton or Metcalf towards the festivities at the Downtown shops and at Founder's Plaza Park. The Jazz Connection, an organization of both junior and senior high students from throughout the county, will begin playing Christmas selections promptly at 7:00pm. Carmelita's Mexican Restaurant, Flour-ish, and Pacific Yard House will have booths set up for sampling at the park. Downtown Conroe merchant windows will be decorated for Christmas in hopes of receiving an award. Participants will be able to choose their favorite window by dropping a wooden coin into the decorated gift box outside their favorite window display.
A handful of people have met 5 times in 2 weeks to pull this off and make it a free family event for the entire family. A boy's bicycle was donated by Bill Adams at Conroe Schwinn Cycling and Fitness and a girl's bicycle was donated by Bill Mason of Western Auto. Tickets for the drawing will be given out at Heritage Park by various volunteers dressed in costume and at all the locations in Downtown where activity is happening. All tickets must be taken to Founder's Plaza Park to be included in the drawing at 8:15pm. You must be present to win.
Santa will be at Mimi's on Main
Charlie Brown Christmas characters will be at the Crighton Theatre
The Conroe Art League will have their doors open on Simonton at the Madeley Building
Costumed actors will be at the Owen Theatre with wassail, lemonade and Christmas treats
Carolers will be on Metcalf, Simonton, and Main Street
Christmas Tidings at Conroe Central Market
…and many more merchants will have their doors open until 8:30 for the event
You may even see Mr. and Mrs. Snowman or an Elf strolling through the streets. Festivities begin at Heritage Place Park, 500 Metcalf Street, Conroe at 6:30 pm.
Find out more about Downtown Conroe events by going to www.ExperienceDowntownConroe.com. Visit their Facebook page at www.Facebook.com/ExperienceHistoricDowntownConroe