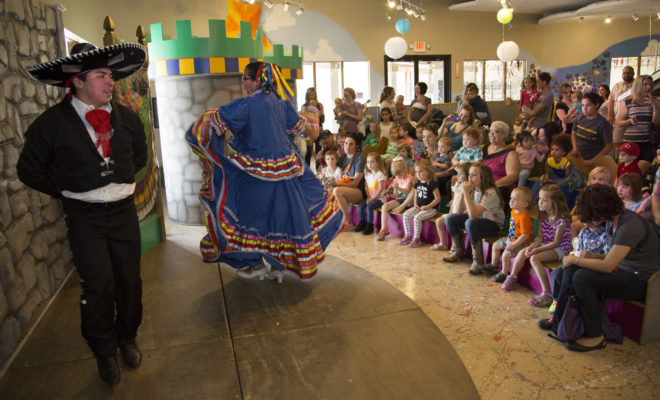 Calendar
Cinco de Mayo Fiesta at The Woodlands Children's Museum
By |
Celebrate Cinco de Mayo at The Woodlands Children's Museum with art projects, story time, music, dance and mini tacos!
The fiesta honoring Mexican traditions, heritage and culture is included in the price of admission, which is $6 for adults and children 1 year and older. Activities are designed for ages 7 and under. Children must be accompanied by an adult at all times.
"The Woodlands Children's Museum is inviting everyone to the museum for this fun and educational event,"" the museum''s executive director, Angela Colton, said. ""This is an excellent opportunity to celebrate the culture and traditions of Mexico with children and their families.""
Slated for 10 a.m. to 5 p.m. on Friday, May 5, at the museum, located at 4775 W. Panther Creek Drive, Suite 280, the fiesta will include performances by the Chikawa Conroe Aztec Dancers at 10:30 and 11:30 a.m. The group was created under the direction of two educators, Alejandra Tapia and Francisco Garcia. Dancers of all ages practice Aztec dance twice a week in Conroe.
At 11 a.m. there will be a reading at the Storybook Theatre of the children's book "Cinco de Mouse-O!" by Judy Cox. The tale begins when Mouse wants a piece of candy from a piñata and then runs into Cat, who is planning his own holiday party.
At 2 p.m., the Cinco de Mayo celebration will continue with an interactive musical performance by Prelude, a local music class founded by husband and wife team, Ana Treviño-Godfrey and Jonathan Godfrey. Also the founders of Mercury Orchestra, she is an acclaimed opera singer, and he is a renowned violinist.
During the day, the museum will be selling mini bean and cheese soft tacos – donated by La Cochina de Roberto Mexican restaurant in The Woodlands – for $1 each to hungry guests.
To learn more about The Woodlands Children's Museum, its hours of operation and ways to support the nonprofit, visit woodlandschildrensmuseum.org or call 281-465-0955.