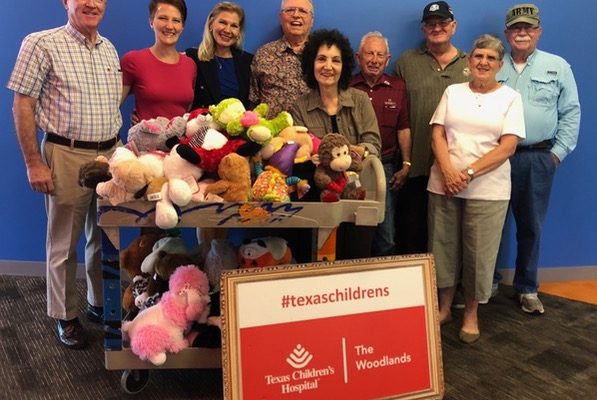 Lifestyle
Community Invited to Support Kiwanis Bear Project
By |
THE WOODLANDS, TX – For nearly two years, The Woodlands Kiwanis Club has been bringing joy to children at Texas Children's Hospital of The Woodlands through bears and other stuffed animals—and the community is invited to help.
The project began when Tom Evans went to visit his brother, Don, in the hospital. As he walked past the gift shop with Don's wife, she mentioned that Don would always stop and buy several stuffed bears to send to children in the hospital. During hospital stays over the course of six years, Don had given away nearly 500 bears.
A light went on in Tom's head and The Woodlands Kiwanis Bear Project was born. Tom met with hospital officials, established a schedule, reviewed hospital regulations, and started collecting bears. He started with a men's group at The Woodlands Christian Church, then asked his Kiwanis Club to get involved.
"Tom hoped to collect 100 to 150 bears for the first delivery—and he got 300!" says Dave Estes, President of The Woodlands Kiwanis Club. "Last quarter we delivered 800 bears. We would love to see that number continue to grow so we can serve more children."
Bears and other stuffed animals are delivered to the hospital every quarter, with the next delivery scheduled for September 18. Donations of new (not used) bears or stuffed animals are welcomed, or a gift of $5 will purchase a bear. An Amazon registry has also been set up at WoodlandsKiwanis.com with a selection of adorable animals to donate.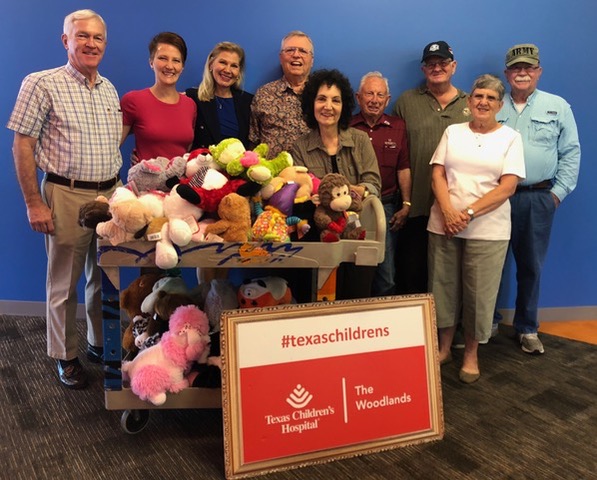 Businesses and other organizations have joined the effort as well, including Woodforest Strategies; Bradbury Brothers Cooling, Heating and Plumbing; The Church at Woodforest youth group; Key Clubs; JPS Woodlands Chapter; and a group of retired flight attendants.
Donations may be sent to The Woodlands Kiwanis, P.O. Box 8841, The Woodlands, TX 77387, or brought to any Kiwanis meeting on Thursday mornings from 7:00 to 8:00 a.m. at the South County Community Center, 2235 Lake Robbins Dr., Spring, TX 77380.
For more information, visit www.WoodlandsKiwanis.com or contact Dave Estes at lsu.estes@gmail.com.
Founded in 1915, Kiwanis International is a global organization of clubs and members dedicated to serving the children of the world. Local clubs find creative ways to serve children in their own community, while the international organization takes on large-scale challenges such as disease and poverty. Today the Kiwanis International family comprises nearly 558,000 adult and youth members in 82 nations and geographic areas.
The Woodlands Kiwanis Club sponsors seven Key Clubs in local high schools, and hosts or participates in a variety of events including the Kids Fishing Tournament, Kids Triathlon, Special Olympics Field and Track Event, and an annual Prayer Breakfast. New members are always welcome. To learn more, visitwww.WoodlandsKiwanis.com or follow them on Twitter, Instagram and Facebook.