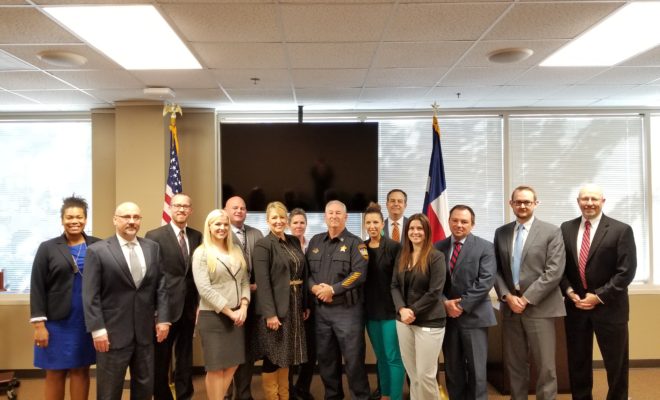 News
Community Prosecution-Liaison Program launches November 1
By |
Effective November 1, 2017, the Montgomery County District Attorney's Office will be partnering with the Montgomery County Sheriff's Office in a new community based prosecution liaison program in an effort to increase communication and collaboration between the two agencies.
As part of this program, individual prosecutor teams will serve as liaisons to the three individual patrol divisions the Sheriff Rand Henderson recently established in Montgomery County: 1) The Woodlands Township Patrol Division; 2) West Patrol Division; and 3) East Patrol Division.
The prosecutor liaison teams will work directly with the Patrol Division Captains and Lieutenants to establish better lines of communication and to address individual division public safety related matters at all levels. As part of this partnership, the prosecutor liaisons will: 1) meet regularly with MCSO leadership; 2) do ride-alongs with patrol deputies; 3) attend area community meetings; 4) review patrol division activity reports; 5) facilitate training as needed; and 6) communicate case specific information to the trial prosecutors who are handling the patrol division's cases.
This type of partnership is a first of its kind in Montgomery County. The overall goal of this program is increased public safety through better investigations and more informed and effective prosecution of cases. Both the DA's Office and the Sheriff's Office will use this program to improve communication, identify habitual and repeat offenders, strengthen prosecution efforts, and develop community based responses to crime. This program will become a key component to both agencies community partnership efforts.
The Montgomery County District Attorney's Office continues to expand its community prosecution efforts through recognizing the community's role in public safety, engaging in problem solving, establishing and maintaining partnerships, and evaluating outcomes of activities. The DA's Office recognizes that its role in criminal prosecution does not begin and end in the courtroom. Through partnerships with law enforcement agencies, schools, churches, and community interest groups, the DA's Office seeks to engage the citizens of Montgomery County in public safety efforts.
District Attorney Brett Ligon shared, "We are very excited to formalize this partnership with the Montgomery County Sheriff's Office. Sheriff Henderson has set some definitive goals to increase and establish community policing by his agency and we want to develop ways to support and maximize success of those goals. We believe this community prosecution liaison program will assist MCSO in their community policing efforts and will ultimately lead to successful prosecution and the pursuit of justice in Montgomery County."
The Sheriff's Office is committed to community based partnerships in an effort to increase community policing and problem solving strategies. In the Sheriff's Office Strategic Plan released earlier this year, Sheriff Henderson stated: "MCSO will implement a philosophy of Community Policing throughout the agency. Community Policing includes both the components of Community Oriented Policing (COP) and Problem Oriented Policing (POP). Essentially, the entire community is responsible for order and law enforcement officers are merely entrusted with this responsibility full-time. POP is a related component that involves a community response to a particular problem in an area which may or may not be primarily related to criminal activity. POP involves law enforcement officers, residents and business owners coming together to first, identify the precise problem (as opposed to mere symptoms), analyzing potential methods of solving a problem, implementing solutions which draw upon both law enforcement and community resources and finally, evaluating and adjusting those solutions based upon the effect."
Sheriff Rand Henderson shared, "We would like to thank District Attorney Brett Ligon and the entire District Attorney's Office for their partnership and the development of this Community Prosecution-Liaison Program. We believe this program will continue to enhance our mission to provide professional law enforcement services to our community through meaningful partnerships and to enhance the quality of life for our citizens, businesses and visitors through efficient and innovative public safety practices."
Source: Tyler Dunman, Assistant District Attorney, Chief, Special Crimes Bureau, Montgomery County District Attorney's Office