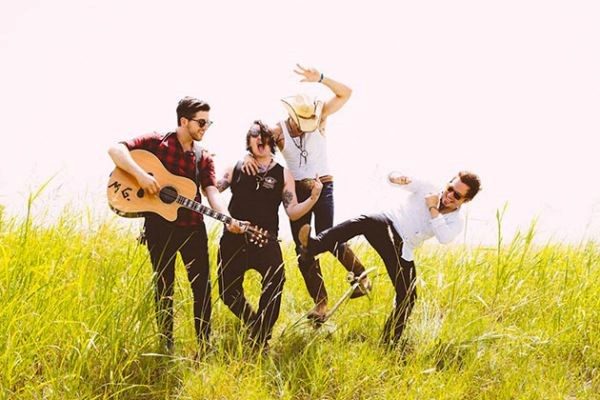 Calendar
Conroe Americana Music Festival to take over Downtown Conroe
By |
The Conroe Americana Music Festival is moving along quickly to becoming a high-energy explosion with over 50 bands from throughout the state and beyond on May 5-7, 2017 in Downtown Conroe.
The Conroe Downtown Area Association will hold the inaugural event at 6 venues, Martin's Event Hall, The Corner Pub, The Red Brick Tavern, Conroe Sparkle Event Hall, and 2 temporary outdoor tents to be set up on Main Street at Metcalf and Metcalf at Thompson. Since all the venues are within a 2-3 block walking distance in the Downtown Conroe shopping and restaurant square, participants are able to wander throughout the area to hear a plethora of musical talent playing bluegrass, rockabilly, folk, outlaw country, and Southern Texas Country. Even a little indie, Southern Rock!
Bands confirmed include Carolyn Wonderland, Billie Joe Shaver, Dale Watson/Ray Benson, Ruthie Foster, Bruce Robison/Kelly Willis, Green River Ordinance, The Peterson Brothers, BettySoo, The Mastersons. Charlie Faye and the Fayettes, Hard Luck Revival, Band of Heathens, Folk Family Revival, Bart Crow, Uncle Lucius, The O's, Ray Bonneville, Nikki Hill, Nick Verzosa, Mike Farris, Two Tons of Steel, Dirty River Boys, The Shady Rest Band, Bottom Dollar String Dollar, The Offenders, Lost and Nameless, and the Chubby Knuckles Choir. For the full line up see the website. www.ConroeAmericanaMusicFestival.com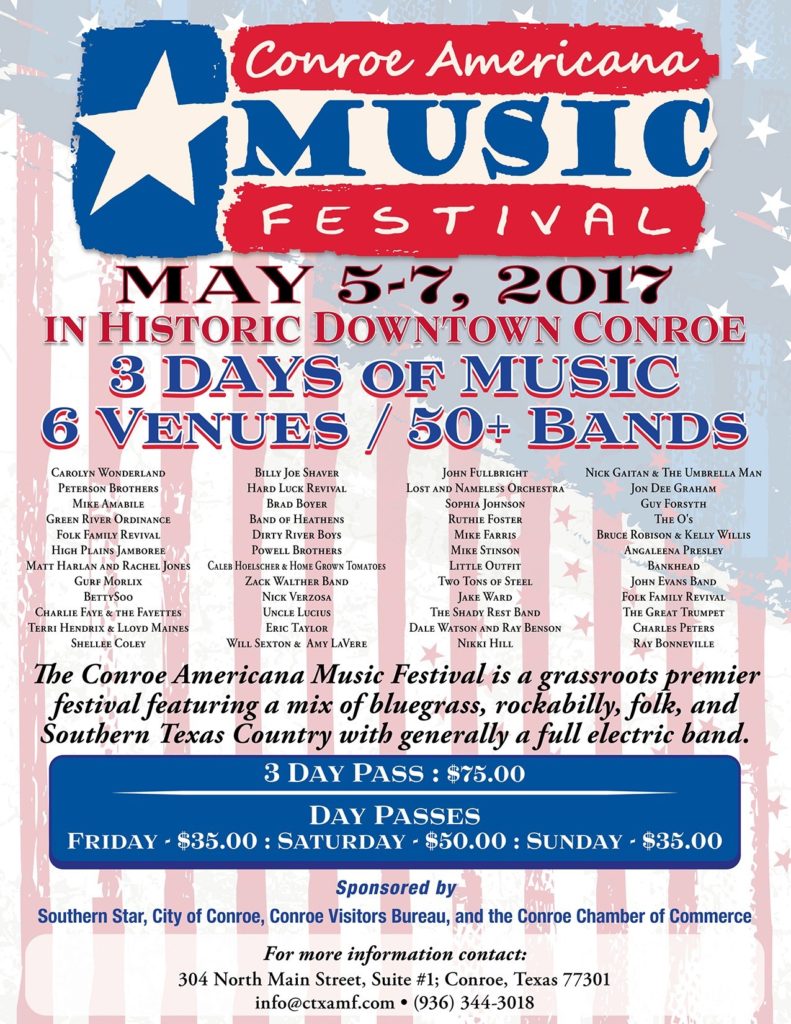 "As the Mayor of Conroe, I'm very proud of our Downtown Area Association for creating the Conroe Americana Music Festival and welcome all to come and enjoy the hospitality," said Mayor Toby Powell.
Sponsors to date for the Conroe Americana Music Festival include the City of Conroe, the Conroe/Lake Conroe Chamber of Commerce, the Conroe Convention and Visitors Bureau, Southern Star Brewing Company, Waxtaps, Bronze Taps, and Janie & Richard Kobes. Sponsorships range from $500 to the Platinum Level of $10,000. In kind sponsors are also needed with a complete list under Sponsorships on the webpage.
Confirmed ticket holders can call the participating hoteliers to get discounted packages on their lodging. Partnering organizations include the Holiday Inn Express and Suites, Hampton Inn and Suites, Comfort Inn and Suites, La Quinta Inn and Suites, and the Fairfield Inn and Suites by Marriott. Festival hours are Friday, May 5 6:00 pm to midnight, Saturday, May 6 10:00 am to midnight, and Sunday 12 noon-6:00pm. Tickets may be purchased for a 3 day wrist band with entrance to all venues for $75 or a day pass for $35 by paying online through the website.
The Conroe Downtown Area Association is a 501(c ) 4 non-profit organization and proceeds from the event will go towards way-finding signs and beautification projects. Community Youth Outreach (CYO) has been chosen as the charitable organization receiving 10% of all net profits. CYO is a collaboration of Angel Reach, CASA-Child Advocates of Montgomery County, and Montgomery County Youth Services (MCYS), working together to end youth homelessness by harnessing the collective power of the community through active engagement and resources. Learn more about CYO and their mission on their website. www.CommunityYouthOutreach.org
"This is going to be an amazing group of artists coming together for 3 days in our town. You generally have to go to the Hill Country or other regions to see a festival of this magnitude," said Rodney Pool, President of the Conroe Downtown Area Association. "Where else can you see over 50 bands in 3 days for $75? And the venues are small so you get up close with the bands. This will sell out!"
Lawn chairs are encouraged and parking will be available in the lots adjacent to the Courthouse. Although tickets will be available on the day of the events, venues have limited capacity and some bands may sell out. Vendors, food trucks, and volunteers are encouraged to feel out the forms on the website. Visit the Conroe Americana Music Festival Facebook page for more updates at www.Facebook.com/ConroeAmericanaMusicFestival