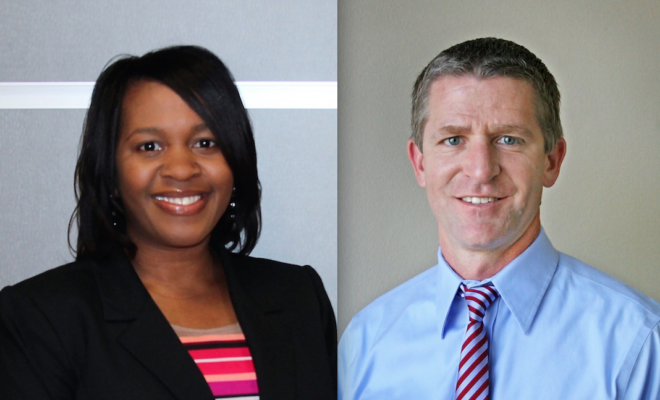 News
Conroe ISD Trustees Name Principals at Board Meeting
By |
CONROE, TX – At their meeting Tuesday night, the Conroe ISD Board of Trustees named the principals for two campuses. Mrs. Rotasha Smith was named principal of Conroe High School, and Mr. Chris Kuempel was named principal of Peet Junior High. Both have served as the interim principals of their respective campuses since July.
Mrs. Smith is very familiar with the Conroe High School Tiger Family, as she has served her entire 17 years in education in the Conroe community. She began her career in education at Washington Junior High School as a teacher and Academic Support Specialist where she served for eight years. She then became an associate principal for two years, an assistant principal for three years at Conroe High School, and served as principal of Peet Jr. High for the past four years. Mrs. Smith earned her bachelors and master's degrees from Sam Houston State University. She is married to Thomas and has one son, Bryce, who is a third grader at Giesinger Elementary.
"I'm thankful to live and work in a district that has such strong leadership who truly seek what's best for all students. I look forward to building on the Tiger pride and unity that is evident at CHS every day," stated Mrs. Smith as she addressed the Board. "I am committed to working with the students, parents and staff in our Conroe Community to continue along the path of academic excellence and making Conroe High the best it can be."
Mr. Kuempel has 19 years of experience in education. Prior to coming to Conroe ISD, he taught math and coached in Crosby ISD. He also taught math in Spring ISD. In 2006, Mr. Kuempel came to Conroe ISD to teach math and coach at Peet Jr. High School for six years. He then served at Knox Jr. High for two years as an assistant principal prior to returning to Peet Jr. High School where he served as an assistant principal for the past four years. Mr. Kuempel's wife Lucy teaches at Conroe High School Ninth Grade Campus where their daughter, Emma, attends.
In his remarks to the Board and Dr. Null, Mr. Kuempel stated, "Thank you for the vote of confidence and the opportunity to lead Peet Junior High School in our great school district. While I am not a product of CISD's education system, I am a product of CISD professionally. Conroe ISD has been my home for the past 12 years and I have called Peet home for 10 of those 12 years."
Family, friends, and colleagues of Mrs. Smith and Mr. Kuempel attended the meeting as a show support for the administrators.