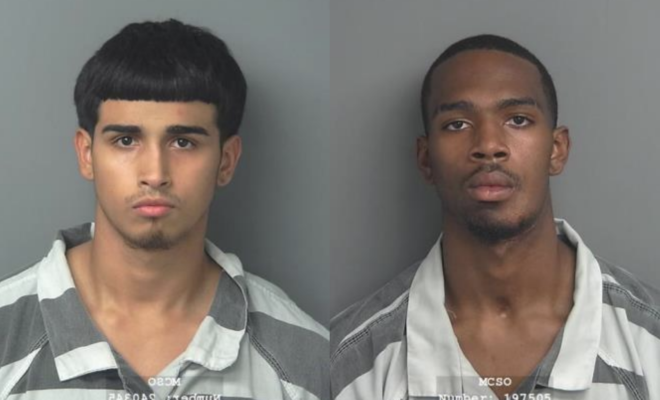 News
Pizza Delivery Driver robbed at gunpoint in Spring
By |
On October 17, 2018 at approximately 10:15 pm, a delivery driver for Pizza Hut was robbed at gunpoint in the 2400 block of Keegan Hollow Lane (Spring). Upon arrival for the delivery the victim was approached by a Hispanic male and black male who then produced a semi-automatic handgun and demand money and property from the victim. As they fled the scene on foot a call was placed to 911 and deputies from the Montgomery County Precinct 3 Constable's Office responded along with units from several other agencies.
Upon arrival on scene less than 2 minutes later a white Cadillac was located on the next block over from the crime scene. Upon initiating a traffic stop, a male suspect later identified as Tommy Lemons exited the vehicle and fled on foot. He was later located a short distance away by a K9 unit and was taken into custody without incident. The other suspect Travis Perez was taken into custody at the scene of the traffic stop.
Both Lemons and Perez have been charged with Aggravated Robbery and booked into the Montgomery County Jail. The driver of the vehicle was also taken into custody on unrelated charges. The property taken in the robbery was recovered along with the firearm used in the robbery. The Precinct 3 Constable's Office is following up on the case with further investigation.
Source: Chief Matthew Rodrigue, Montgomery County Precinct 3 Constable's Office