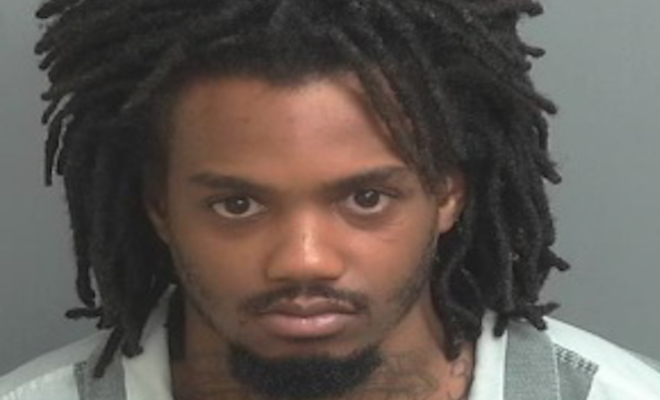 News
Conroe Jewelry Store Robber sentenced to 60 Years Prison
By |
CONROE, TX – On February 23, 2018, Judge Patty Maginnis of the 435th District Court of Montgomery County, Texas, sentenced Kadarius Krisshawn Royston to 60 years in the Texas Department of Criminal Justice (TDCJ) for his role in the October 3rd, 2016 Aggravated Robbery of Jeff's Jewelry on Highway 105 West in Conroe. On that date, Royston, carrying a handgun, rushed the store along with Santo LaCharles Stephens, carrying a hammer, and Javian Jackson, also carrying a handgun. Jackson was shot by a store employee acting in self-defense/defense of others. Jackson died at the scene. Stephens received a 40 year TDCJ sentence from a Montgomery County Jury two weeks ago.
Royston and Stephens fled in a white Dodge Charger driven by another co-defendant, which met up with a second getaway vehicle driven by co-defendant Sedrick Townsend. Townsend has pled guilty and is awaiting a sentencing hearing next week. Royston's fingerprint was found on a cellphone in the Charger. Documents with the Royston name were also found in the Charger. The fingerprint and document evidence corroborated testimony by witnesses who identified Royston on the store surveillance video as the defendant who jumped on and off a store counter before holding a couple at gunpoint, all while Jackson rushed the cashier's counter and Stephens smashed a glass counter.
Punishment evidence from Houston Police Department officers and a Harris County Sheriff Office deputy showed that Royston had been placed on juvenile probation for assaulting his grandmother. HPD officers investigating a burglary of a habitation found Royston and two of his Jeff's Jewelry co-defendants unlawfully carrying firearms in 2012. Royston was also convicted of burglary of a motor vehicle in a case investigated by a HPD "Hot Spot" Unit. Despite these Harris County arrests, Royston had never served time in TDCJ prior to the 60 year TDCJ sentence handed down on Friday by Judge Maginnis.
Friday's 60 year TDCJ sentence for Aggravated Robbery means Royston will not become eligible for parole until he has served at least half of the sentence, or 30 years. Royston, 24, will not be eligible for parole until he is 54 years of age. Eligibility for parole does not guarantee parole.
Chief Prosecutor Jim Prewitt stated, "This Court's sentence acknowledges the violent nature of Royston's crime and past behavior, as shown by the CPD investigation and testimony of law enforcement officers at the punishment hearing. The 60 year sentence will no doubt serve as a deterrent to violent persons seeking to cause harm to persons and businesses in our county" stated lead prosecutor Jim Prewitt."
Source: Tyler Dunman, Assistant District Attorney, Chief, Special Crimes Bureau, Montgomery County District Attorney's Office