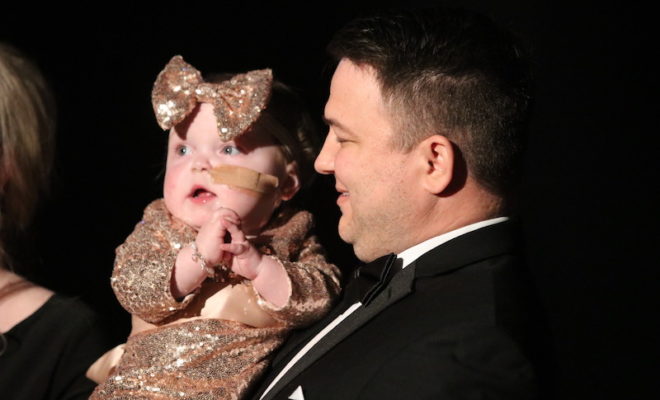 Calendar
Montgomery County Heart Ball raises nearly $1 Million
By |
THE WOODLANDS, TX –  The 23rd annual American Heart Association Heart Ball themed "A Night At The Grand Prix: Rev Your Hearts" raised nearly $1 million and drew more than 600 of Montgomery County's finest philanthropists, business leaders, and socialites to The Woodlands Waterway Marriott on Saturday, February 24.
Guests dressed in their favorite jewels, ball gowns and finery, and enjoyed an unforgettable black-tie evening led by Co-Chairs Marina Silver Frenchak, founder and real estate associate of Vintage Creek Centre, and Bryan Frenchak, president of Vintage Creek Centre. ABC13's Investigative Reporter Ted Oberg emceed the event.
"Our community's support for the American Heart Association was simply amazing," Marina Silver Frenchak said. "Bryan and I thank everyone who attended and contributed in any way for helping to make a such a positive difference. These gifts will help us continue the fight against the No. 1 and No. 5 killers of all Americans, heart disease and stroke."
Honorees for the evening were Sherry and Richard Lane. The Lanes were recognized for their dedicated service to the mission of the American Heart Association. "As co-chairs of the 20th Anniversary Heart Ball, members of the event's Executive Leadership Team, and as heartfelt supporters, the Lanes have made an incredible difference with their passion and dedication," said Bryan Frenchak.
AHA's Cliff McAden thanked the auction chair, Gayle Brand, President Chicago Title Houston. "We are so proud of all the hard work Gayle put into this year's live auction," he said. "We had some fantastic items including two dinner parties for 100 donated by Fielding's Local Kitchen & Bar, and a trip to Monaco for VIP seats at the Grand Prix Yacht race complete with four days in a master yacht cabin and other amenities donated by the Frenchaks. Veteran auctioneer Patrick Tully said bidders were delighted with a stunning Mehnge Garnet custom ring donated by heart attack survivor and jeweler Mark Pharo. Set in platinum and 18 carat yellow gold with 1.71 carats of yellow diamonds 3.13 carats of white diamonds, the ring's center garnet stone cut featured four hidden points, symbolizing the four chambers of the heart.
The crowd gave an impromptu standing ovation for one-year-old Halle Spivey and her family after watching a heart-stopping Open Your Heart Video. Halle was born with a heart defect. Early in her short life, her parents watched, listened and waited helplessly as emergency room physicians performed CPR for more than 20 minutes without eliciting a pulse. As her mother, Autumn, tenderly kissed her small hand good bye, signs of life returned, and her parents were overjoyed. Today, at 14 months, she is an inspiration to all.
"This year's Heart Ball was extraordinary, and I think that through Halle's story we truly made an impact on the community," said Michele Shifflett with the American Heart Association. "Over 40,000 kids are born with a congenital heart defect each year and through local funds raised at events like the Heart Ball, we are able to help fund new research to save more lives."
Evening highlights included performances by the Ta-Da Dance Company, the Woodlands High School Drum Line and an inspiring invocation by Jeff Rollins of WoodsEdge Community Church.  Live music by Intensity kept guests on their feet until midnight.
Top sponsors included Sherry and Richard Lane, Suzanne and Bob Potter, Marina and Bryan Frenchak, Mark Pharo Extraordinary Jewels, Northside Imports Houston, U.S. Anesthesia Partners, Memorial Hermann The Woodlands Medical Center, BMW of Houston North, Christen and Brad Kaufman, Houston Extracorpreal Technologies, Houston Methodist The Woodlands Hospital, Weaver and Waste Connections.
View photos from the event on the Hello Woodlands Facebook page!
The Montgomery County Heart Ball is still accepting donations. Anyone interested in continuing to donate to the cause to help fund more research around our greatest health threats – heart disease and stroke – contact Chelsea Phan at Chelsea.Phan@heart.org.