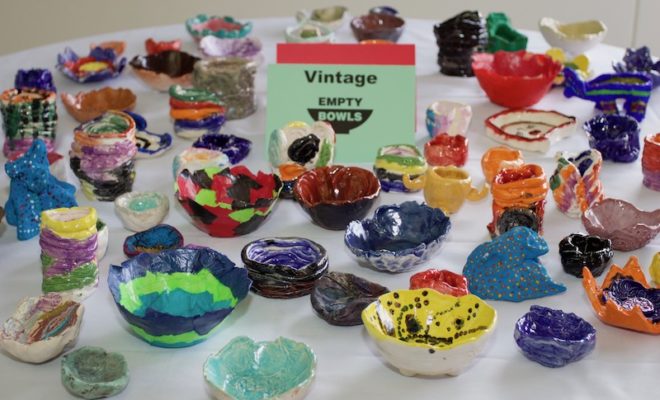 Events
Empty Bowls Project raises funds for Interfaith Food Pantry
By |
The John Cooper School National Art Honor Society (NAHS) and Cooper Art Society (CAS) students raised funds to help fight hunger in our community by hosting the 13th Annual Empty Bowls Project on Saturday, February 24 from 10:30 a.m to 2 p.m in the Student Center.
The community was invited to attend this annual event that has helped to raise over $85,000 for hunger relief over the past 12 years. For only $10, each attendee could enjoy a bowl of soup, view the student art exhibit, place a bid at the silent auction, and take take home a student-made bowl as a reminder that there are still empty bowls in our community and each individual's contribution that helped to fill one.
Watch what happened LIVE at the event with Hello Woodlands:
"The handmade bowls come in all shapes, sizes and forms and are for people to take home as a reminder of the fight against hunger," said junior Maddie Smith, who was the student co-chair of the 2018 Empty Bowls along with junior Colleen Skinner. Maddie Smith also shared that she had been a student of The John Cooper School since kindergarten and the much anticipated Empty Bowls event was a way for the students and faculty to come together and give back.
In addition to creating bowls and artwork, the students participated in a t-shirt design contest, where the winning designs were featured on printed t-shirts that were available for sale at the event.
Proceeds from Empty Bowls were again designated for and donated to the Interfaith Food Pantry, a beneficiary of the event for the past nine years.
View photos and videos from the event on the Hello Woodlands Facebook page!
Learn more about the Empty Bowls event and The John Cooper School at www.johncooper.org/emptybowls.