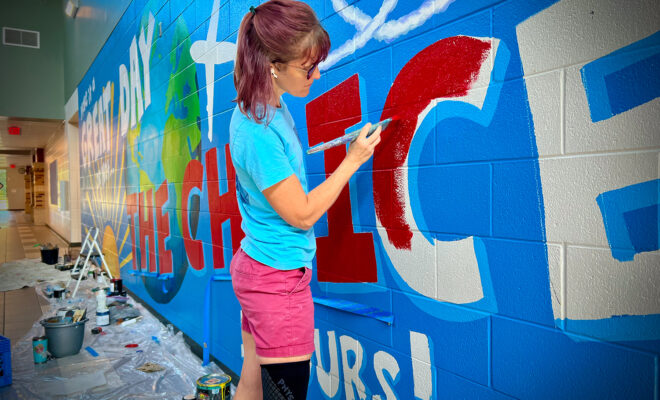 Art & Culture
Conroe Principal, Local Muralist Build Culture of Joy
By |
CONROE, TX – When the new principal of Conroe Independent School District's Sam Houston Elementary School met with professional artist Rebecca Steele Aug. 1, she discussed how Steele could use her talent to encourage a culture of joy – a pursuit Steele has devoted her life to.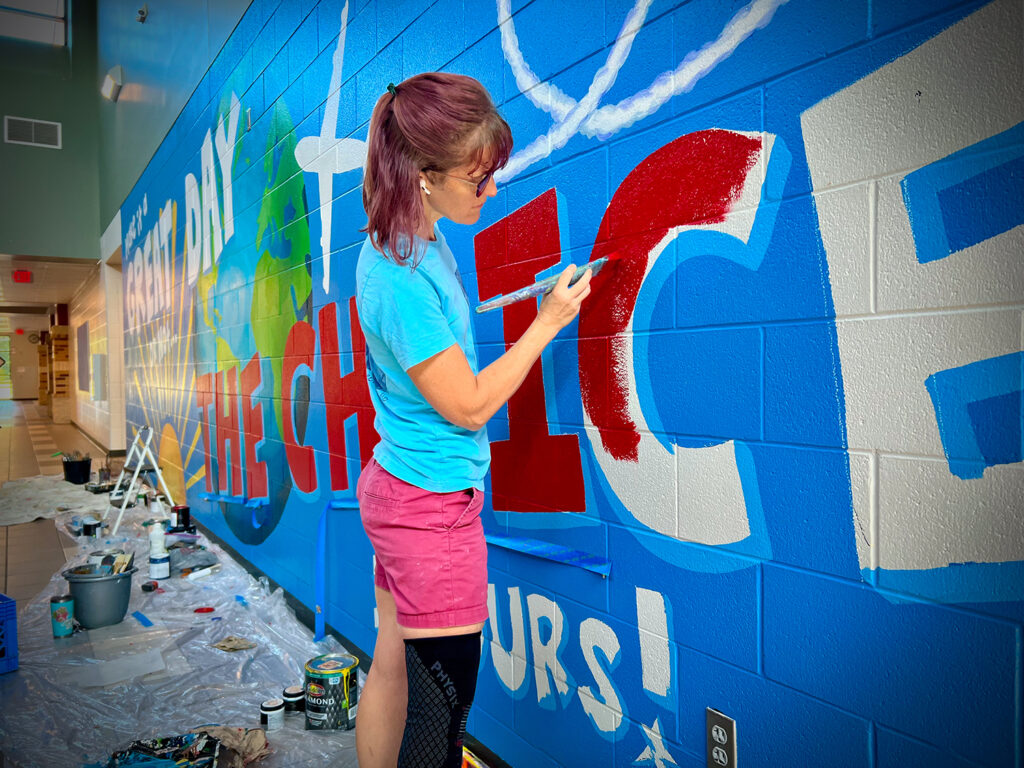 Steele is a professional artist with dozens of murals across the local area and several others all over the world. With multiple academic degrees and decades of experience, Steele knew how to help.
"Principal Chelsea Fuller is a wonderful woman and had a wonderful idea," said Steele. "Giving back to my community is an important value of mine."
Fuller wanted Steele to paint a mural inside the heart of the school where the students and faculty spent most of their day. A mural that would inspire students and faculty to "rise above." A design that would provide a source of constant, daily joy and encourage them to "take flight."
In less than five days, Steele completed a 33-foot wide and 10-foot high mural incorporating positive themes from the school's identity along with bright colors, bold brush strokes and a creatively "cheerful" palette, according to Steele. Steele designed these elements to bring about a spark of joy, emphasizing the power of choice.
"The mural is vibrant and dynamic, but it poses a question each person has the freedom to make," said Steele. "To make the day better."
According to Fuller, Sam Houston Elementary has seen frequent executive turnovers and, as a result, stalled in creating an environment critical to the school's academic health. An environment Steele's mural could help her establish.
"I am the third principal in four years and because of the constant change on the campus, building a culture just hasn't happened," said Fuller. "This was my first step in doing that."
Fuller believed Steele's mural will help brighten the school, beautify the campus, and establish a greater sense of warmth and joy for the more than 600 students and 80 faculty members who will kick off the school year Aug. 9. All will walk by the mural multiple times a day. The mural will serve as the photographic backdrop for awards and special presentations. During academic nights held throughout the year, the mural will also be seen by more than 300 families.
"I hope they feel encouraged and empowered," said Steele. "I hope the mural stands apart, separate from the daily challenges, and invites them to create their own story. I want them to feel they can make an impact on this beautiful and welcoming world we share."
Sam Houston Elementary's mission is to change lives by creating readers, writers, and problem solvers, said Fuller. She wants every student to leave each day with a smile. She learned about Steele through a mutual community partner. After hearing Steele was both bilingual and formerly worked in education, Fuller said she knew Steele was the "perfect person." This choice was reaffirmed after Fuller observed Steele working on the mural and was impressed by how happy everyone was after interacting with Steele and left with smiles.
"I can't wait to see everyone's face when school starts," said Fuller. "What an amazing gift she has given to our school community. The impact is going to be huge!"
Rebecca Steele Studio's mission to spread joy through art. Steele is a professional artist, muralist and holds three bachelor's degrees from the University of Texas Austin. Rebecca Steele completes several community outreach projects in which she covers all or partial costs of her work. Her portfolio and background can be found at www.rebeccasteelestudio.com.