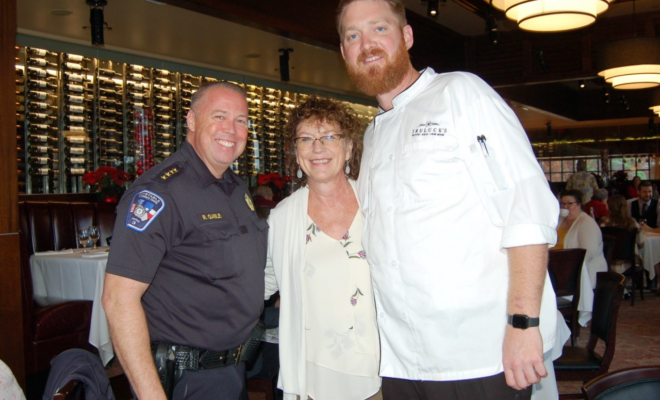 Events
Constable Ryan Gable's breakfast at Truluck's raised over $10K to benefit Children's Safe Harbor
By |
THE WOODLANDS, TX – More than 200 caring individuals turned out on the morning of December 6, 2022 as Montgomery County Precinct 3 Constable Ryan Gable and his office staff hosted their eighth annual fundraising breakfast at Truluck's Seafood Steak and Crab House – The Woodlands to benefit Children's Safe Harbor.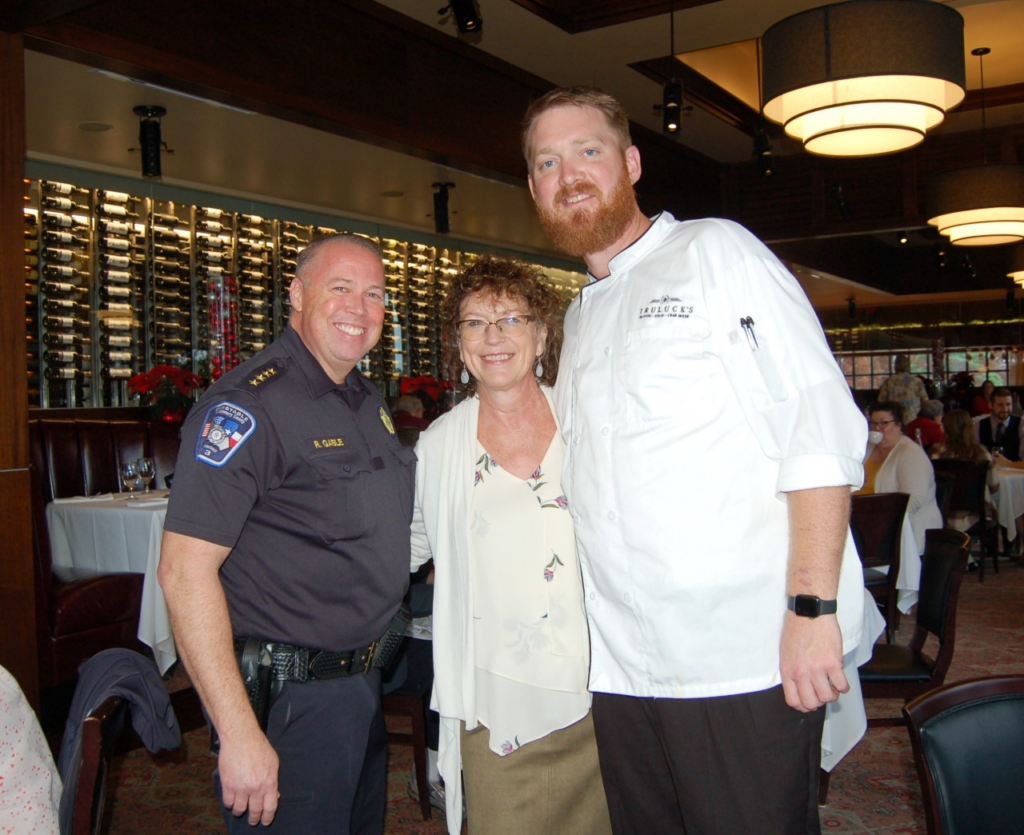 With the breakfast and serving staff underwritten by Chris Davis, Managing Partner of Truluck's – The Woodlands, 100 percent of each guest's $30 ticket went to the non-profit children's advocacy center. Ticket sales and additional discretionary donations tallied more than $10,000 for Children's Safe Harbor, which serves child victims of sexual assault, severe physical abuse, trafficking, neglect, and trauma.
Serving Montgomery, Walker, and San Jacinto counties, Children's Safe Harbor's mission is to achieve justice and healing for every abused child and engage the community in that mission. Founded 24 years ago, its team of multi-disciplinary partners (i.e. law enforcement, Texas Department of Family and Protective Services) has helped over 21,000 children ages 2 – 17 in a safe place to be heard, helped, and healed.
Constable Gable addressed the guests as breakfast began. "It is an honor to be here today in our eighth year to host a fundraiser for such a great organization. We thank Truluck's for the great breakfast they provide. We also appreciate all the organizations that work with Children's Safe Harbor, from forensics to law enforcement, prosecution and counselors, and everyone else who makes up the team."
Gable continued, "Our office has supplied two detectives to Children's Safe Harbor for a number of years. Among the statistics within the year, we've reviewed between 500 and 1,000 CPS case reports which we review for criminal law offenses, we've handled 73 investigations and filed 14 felony charges, so that's about one felony charge a month in a year and all of those are related to the most horrible crimes related to children. Our Internet Crimes Against Children Task Force had 53 investigations and 23 felony charges, and those offenses go back through Children's Safe Harbor. It's unfortunate we're here today collecting money to take care of the victims that we need to take care of so much. From the bottom of my heart, I thank you all for being here."
Victoria Constance, MSPH, PhD, Executive Director of Children's Safe Harbor, added, "Children's Safe Harbor has served our community for over 24 years. In that space, we have grown, evolved, and developed. This morning, the beautiful light that shines in this room is a culmination of all of the conversations and the work. Our wonderful partner Constable Ryan Gable had the vision to host a fundraising breakfast where 100 percent of the donations would come back to the Harbor. Previously, we were at Longhorn Steakhouse, and we have been at Truluck's for the last two years. Truluck's pays for their staff, they buy the food, pay for the chefs, open up their space, and so they give back too, for which we have absolute gratitude. As I look around this room, I see a team of mighty people, which is exactly what a child needs."
Dr. Constance continued, "Montgomery County, of the 254 counties in the state of Texas, is the one to be known to be the one to say, 'children deserve our protection, they deserve to tell their story, they deserve to know that this community cares.' And we need help, particularly in a year when inflation is outrageous. When we are helping children who are sexually assaulted and abused and trafficked who believe that no one will believe in them, we are making a difference in the healing of that life. They are able to go to school, graduate, have jobs and envision being married and having families."
"This work is also about the economic impact on this community because research shows that children who are not helped with adverse childhood trauma have disproportionate health issues, such as heart disease, chronic diabetes, risky behavior, and unwanted pregnancies. You're making a difference. We're not just thinking about one child at a time; we're changing the face of this community, and I don't do it alone … I do it with all of you. The light truly outshines the darkness."
Judge Vince Santini said, "The highlight of my career was working with the DA's office, all the investigators, and Constable Gable's team. When Safe Harbor started, it saw about 20 children a month, and now it sees about 200 children. Because of the hard work that the team is doing, it's one place that these children – our children – can go to, and I firmly believe that we must give our time, talents, and treasures. If we've been blessed with gifts, they're not ours. Our gifts are to share."
In addition to Constable Ryan Gable and Judge Vince Santini, elected officials in attendance included Judge Mark Keough, Conroe Mayor Pro Tem Curt Maddux, The Woodlands Township Chair Dr. Ann Snyder, Conroe City Councilman Harry Hardman, and Conroe City Councilman Howard Wood.
Children's Safe Harbor is a 501c3 non-profit corporation. For more information or to donate, visit www.ChildrensSafeHarbor.org.