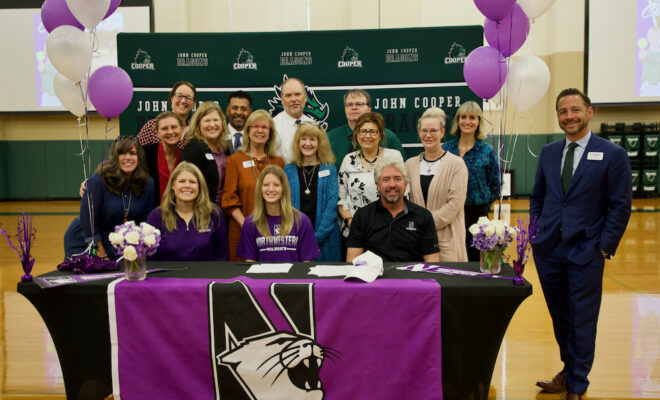 Photo Credit: Rod Prado, Hello Woodlands
Fitness & Sports
Cooper Athlete commits to Division One Softball at November Signing Day
By |
The John Cooper School Athletic Department held a signing ceremony on Wednesday, November 9 in the Dunlap Gymnasium to recognize senior Grace Minarovic who will be competing at the college level in the fall of 2023. Minarovic will play softball for Northwestern University in Evanston, Illinois. She will be the first Cooper athlete to play Division I softball.
View photos from the event on the Hello Woodlands Facebook page and on Instagram:
Parents, faculty, coaches and teammates joined Athletic Director John Hoye to honor Minarovic.
"Grace is not only a great student and athlete, but a top character person that is an asset to any team she belongs to," Hoye said. "Her mark on our softball program will last a long time."
"It is amazing how our softball program has grown. When Grace joined our program in seventh grade, I knew she was something special from her work ethic-she was always in the gym, always on the field and in the cages honing her skills." said Nicole Hedden, head coach for the school's softball program. "We are just here to guide and mentor and I am proud to be a part of her journey."
Minarovic is a Cooper pioneer, meaning she has been a part of the Cooper community since kindergarten.
Source: The John Cooper School