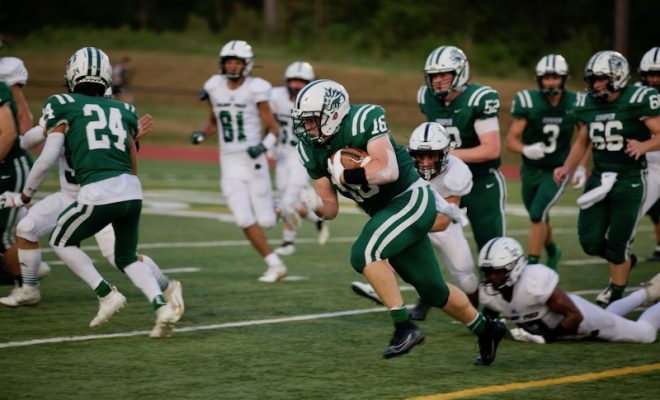 Photography by Rod Prado, Hello Woodlands
Fitness & Sports
John Cooper Football Wins Homecoming Game
By |
The John Cooper School Varsity football team continued its winning streak 2-0 with a 53-8 victory over Legacy Prep on Friday, September 6 for their Homecoming game.
The Dragons offense had 593 yards compared to Legacy Preps 232 yards. The second week in row Dragons had a running clock in the second half.
Coach Erik DeHaven said, "The team is understanding the standard that we are implementing. We have to play our style of football for four quarters no matter the opponent. The offense line is becoming a real force, allowing us to rush for 300-plus yards."
"Next week we have a big test, playing a very solid Bay Area Christian School. This is a team that returns a lot of starters on the offense and made a deep run in TAPPS playoffs last season. They will try to control the clock by rushing four yards at a time, so we must be disciplined in our defensive assignments. Again, I am very proud of our team's effort this Friday night and it feels great winning your homecoming game."
Players of the Week:
Offensive MVP: Kase Harris • Graded out at 90% on blocking assignments and had 2 pancake blocks
Defensive MVP: Blake Pitts • 8 Total Tackles – 1 sack – 2 Tackles for a loss
Team MVP: Cameron Reed • 10 Total Tackles – 1 sack – 2 Tackles for a loss – 2 Rushing TD's on offense
Special Team MVP: Jake Peterson • 1 Touchdown – 1 tackle on kickoff
Scout Team Offense: Mehdi Rizvi
Scout Team Defense: Alex Rovirosa
Next up for Dragon Football:
Sept. 13 at Bay Area Christian, 7 p.m.
Sept. 20 at Fort Worth Country Day*, 7 p.m.
Source: Lynn Boeding, The John Cooper School
Advertisement