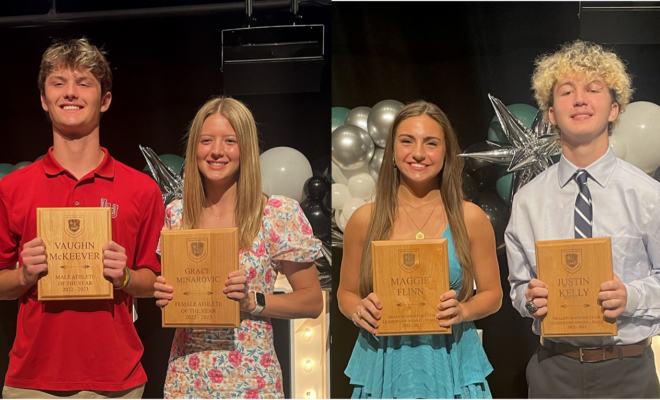 Photos courtesy of The John Cooper School
News
Cooper Student-Athletes Honored At Annual Athletic Awards
By |
The John Cooper School hosted The Celebration of Champions athletics awards ceremony in The Glenn Performing Arts Center honoring the year's student-athletes and highlighting the personal and team successes of the 2022-23 Dragon athletic programs. Athletes, family members, coaches and faculty gathered in person and also viewed by livestream.
The event featured team and individual recognitions, highlight videos, Athlete of the Year and Leadership Award winner presentations as well as top male and female performers, newcomers and team performances as chosen by Dragon coaches.
Seniors Vaughn McKeever and Grace Minarovic were named Athletes of the Year. Seniors Justin Kelly and Maggie Flinn were each presented with The Dragon Booster Club Athletic Leadership Award.
ATHLETES OF THE YEAR
Athletes of the Year are chosen for their proven success and recognition in athletics, as well as for demonstrated leadership through performance and actions.
Senior Vaughn McKeever earned Male Athlete of the Year recognition for his all-conference performances on the football and baseball fields for the second consecutive year. As a leader on the football field, quarterback McKeever helped his team to the school's second consecutive SPC 3-A football championship. On the baseball field, this starting pitcher was named the team's Overall MVP. McKeever is a high honor roll student and will play baseball for Lamar University in the fall.
"Vaughn was huge for us this year on the mound," said Head Baseball Coach Mike Williams. "He threw every big game we had this year and always wanted the ball to pitch. Vaughn set a school record this year with 10 straight strikeouts. I'm looking forward to watching Vaughn pitch at Lamar University next year."
Senior Grace Minarovic earned Female Athlete of the Year honors as a two-sport athlete. On the volleyball court, she was a starter and strong contributor, playing middle block for the Dragons. She also played a role in coordinating the team's annual Dig Pink efforts to raise funds and awareness for breast cancer research. As both a shortstop and pitcher for the Dragons, this all-conference player was the team MVP for the fourth consecutive year. Offensively, she set a school record by hitting eight home runs on the year. In the fall she will continue her softball career at Northwestern University in Evanston, Ill. She will be the first Cooper athlete to play Division I softball.
"Minarovic is fantastic, impressive, talented, fun, and disciplined," said Softball Coach Nicole Hedden. "This student-athlete is the whole package, and I can wait to see her growth as a student-athlete at Northwestern!"
A high honor roll student and gifted dancer and aerialist, Minarovic is a Cooper pioneer, meaning she has been a part of the Cooper community since kindergarten.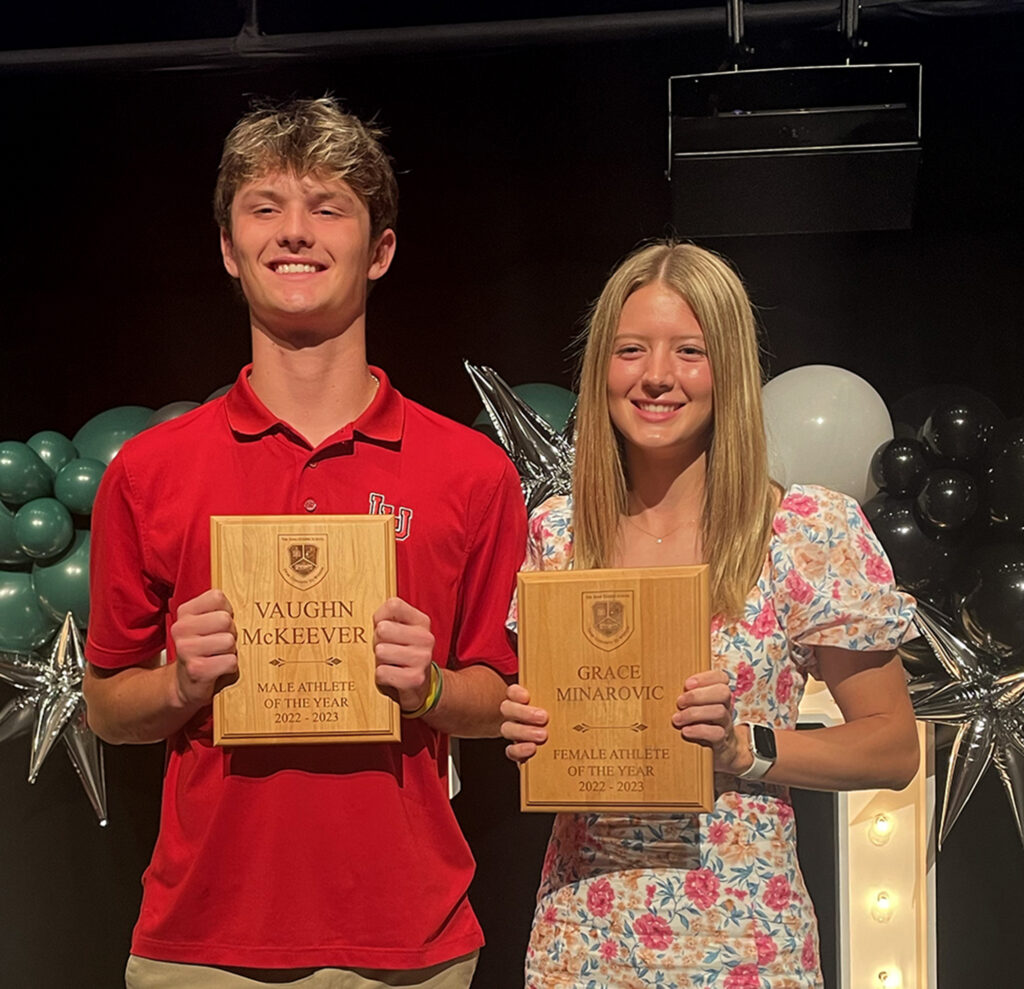 THE DRAGON BOOSTER CLUB LEADERSHIP AWARD
Recipients of The John Cooper School Leadership Award, sponsored by the Dragon Booster Club are selected by the Athletic Department for demonstrating excellence in leadership, sportsmanship, citizenship, competitive spirit and dedication as a varsity athlete. Seniors Justin Kelly and Maggie Flinn were each honored with a 2023 Leadership Award.
Male Leadership Award recipient, Justin Kelly, is a high honor roll student and a two-sport athlete. Kelly was a member of the school's two-time championship football team, continuing to serve the team as a player-coach while injured. He was also a member of the school's basketball team. His on-court decisions helped lead the Dragons to compete in the SPC championships for the first time in five years while defeating St. John's for the first time in a decade. Coaches note that he brings "a genuine passion and drive to his teammates." Kelly will attend Texas A&M in the fall to study sports management.
Maggie Flinn received the Female Leadership Award. She was recognized by the coaching staff for her commitment and well-modeled character on both the basketball court as well as the softball field. In addition, it was noted that her teammates respond and respect her as she makes each person feel welcome.  Off the court and field, Flinn is a high honor roll student and member of the school's Cum Laude Society. She also served as the Student Government Association Spirit Chair, enhancing student experiences through spirit events and themed athletic events. Flinn will attend Texas Christian University  in the fall.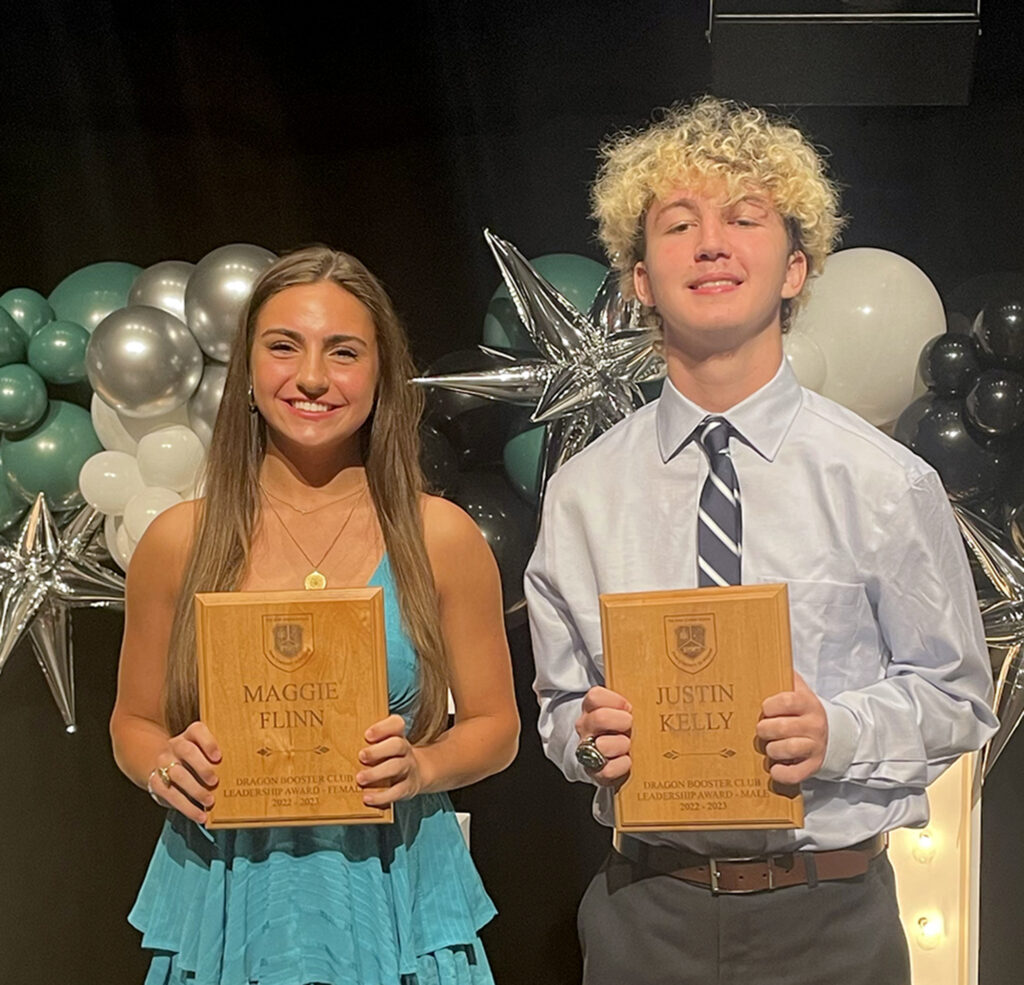 In addition to individual team awards, coaches voted distinctions to honor the following athletes and teams.
• Team Performances of the Year
For female teams, it went to the varsity volleyball team for their dramatic comeback victory over St. Joseph's at the Annual Dig Pink match. The team was down 0-2 when they stormed back to win the game 3-2.
For male teams, the honor went to both Dragon SPC Champion teams for back-to-back championships–the boys football and tennis teams. Dragon Football defeated Trinity Valley School, 63-31 to secure the back-to-back SPC 3-A Championship. Boys Tennis defeated St. Mark's School of Texas 5-0 in championship final to win their second SPC 4-A Championship.
• Performers of the Year included juniors, Nico Signorelli and Morgan Robson. Signorelli defended his SPC Pole Vault Title in April, winning the competition by over two feet and setting a new School and SPC Meet Record. Diver Robson successfully defended her SPC 1M Diving Title in February.
• Newcomers of the Year honors went to sophomore Dean Calhoun and freshman Cameron Patterson. Calhoun was all-conference in football and accounted for over 1400 yards and 23 touchdowns to help lead the Dragon football team to its second SPC Championship. In baseball, Calhoun hit .290 and stole 10 bases. On the track, he accounted for some of the season's most notable jumps and sprints. Patterson made a major impact on the softball field, striking out 100 and achieving a .492 batting average with 17 stolen bases on the season, leading the team to a Runner-Up finish in SPC 3-A.
"This year has provided infinite successes, victories and triumphs for our student-athletes and teams," Hoye said. "We applaud all challenges overcome and hope the lessons learned in competition will remain with you in the future. Collectively, you made this year truly remarkable, one we will never forget."
Source: The John Cooper School
Advertisement