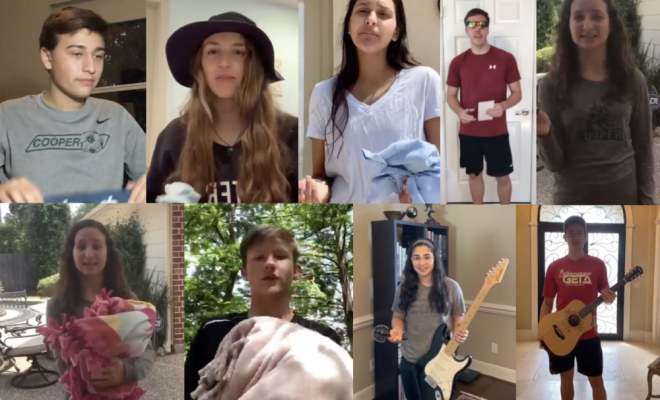 People
Cooper Students Create Video Sharing Ways to Make a Positive Impact
By |
While working and schooling remotely might be unusual and inconvenient, Interact Club members and students of The John Cooper School came together virtually to share ways to connect, create joy, and make a positive impact on those around you. Watch the video below:
Throughout the school year, each division at The John Cooper School normally gathers its students together weekly and is continuing the tradition by holding its assembly virtually. Last week, faculty and students shared video clips as a way to connect online during the first Upper School Virtual Assembly.
The John Cooper School's Interact Club, a Rotary-sponsored service club that follows the motto "service above self," organizes and participates in a multitude of service events activities each year in The Woodlands and Greater Houston area. Due to event cancellations and postponed service opportunities, the students still wanted to do something to help the community.
Nicolas Alvarez, Interact Board member and Blood Drive Chair, shared, "Putting the video together was a lot of fun. The video idea actually came from an online trend of passing toilet paper across the screen. After multiple discussions, we decided to make a service-oriented version of the video that both entertains and informs the public…The videos are easy to send and prevent the spread of germs. We believe these videos will brighten their days and help them get through these hard times."
Aleena Fayaz, a senior at The John Cooper School, shared, "It was fun to rally together and add a sense of normalcy amidst this chaos. Though many of us are rendered helpless in our homes, there are still fun ways for us to give back and help the community."
"We actually hosted a 67 general member "Zoom" meeting last week where we were able to update [Interact Club] members on the event cancellations and status of the club for the remainder of the year. Though admittedly chaotic, I was so grateful for the platform to simply talk to fellow students in a non-academic setting and bring us back to the goal we had all along: make a difference."
"I think that many Cooper students, not just Interact members, were looking for outlets and opportunities to give back in a safe and sanitary fashion. We are happy to have been able to provide some ideas for those craving a sense of normalcy and motivation."
Amber Navarra, a sophomore at The John Cooper School, was featured in the video sharing information about making blankets to give to a local shelter or hospital. "The supplies for the blankets can be ordered online from Joann fabrics and the stores offer curbside pickup. There are also many videos online for how to make them and how much fabric is needed."
The students plan to continue creating and sharing videos featuring topics such as how to easily build at masks at home using various styles and materials. Stay tuned and follow The John Cooper School Facebook page for upcoming videos at https://www.facebook.com/TheJohnCooperSchool
Learn more about The John Cooper School at https://www.johncooper.org/