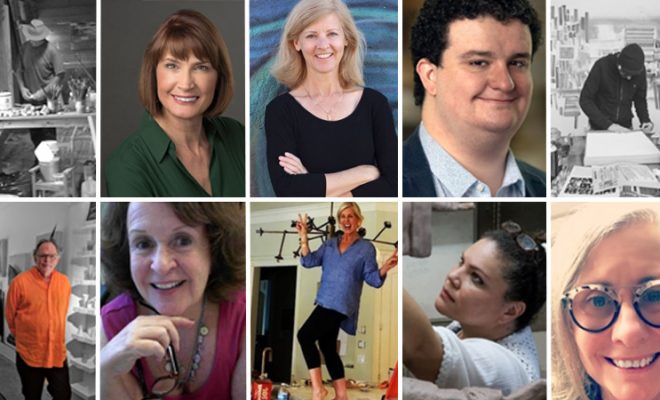 Art & Culture
Meet the Judges of the 2020 Woodlands Waterway Arts Festival
By |
The Woodlands Waterway Arts Festival, now in its 15th year, will showcase juried artists April 4-5 from 8:00 a.m. to 6:00 p.m. at Town Green Park and along The Woodlands Waterway. In mid-November, The Woodlands Arts Council (TWAC), the organizer of the event, brought together ten professional artists to jury submissions for the show. The judges were split into two groups: five judges selected two dimensional artists, and the other five selected three dimensional artists. A wide variety of talented of artists from all over the world applied to the show.
The show will feature many different types of art, including clayworks, metalworks, sculptures, wood, photography, digital art, mixed media (2D & 3D), fiber, glass, paintings, and jewelry.
2020 Woodlands Waterway Arts Festival Jury Panel
---
Judges for 2 Dimensional Artists, including Digital Art, Drawing, Mixed Media 2D, Painting, Photography, and Printmaking
---
Martin Amorous
Martin Amorous makes paintings by pouring and 'printing' oil and enamel paints across large surfaces without using brushes. He invents landscapes that come from his observation of the basic elements of space. His paintings are archetypes of natural space that juxtapose organic and geometric forms and patterns.
Martin received a BFA in Painting and Art History from the University of New Mexico and an MFA in Painting and Art History from the University of Arizona. He currently teaches Advanced Painting and Drawing at Sam Houston State University. Martin's work may be viewed on his website at MartinAmorous.com.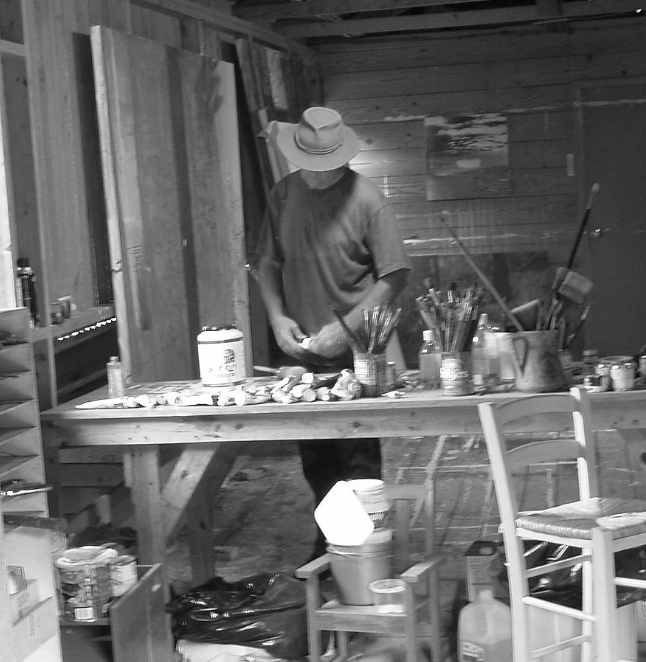 ---
Kathleen Ryan
Kathleen Ryan is a local photographer and artist with more than 30 years of professional photography experience. She holds a BA in Photojournalism and began her career working as a news and editorial photographer in Los Angeles. Ryan opened her own studio in 1998 while living in Paris, France. Upon returning to the U.S. in 2002, she opened a creative studio in The Woodlands focusing on portraits, design, marketing, art, and events.
Ryan was able to draw upon her art experience from different areas of the world when assessing the submitted art. "Being asked to judge a show at this level felt like a culmination of all the years I have spent studying art and going to art museums all over the world," revealed Ryan. "I was so honored to be asked because it's such a prestigious show."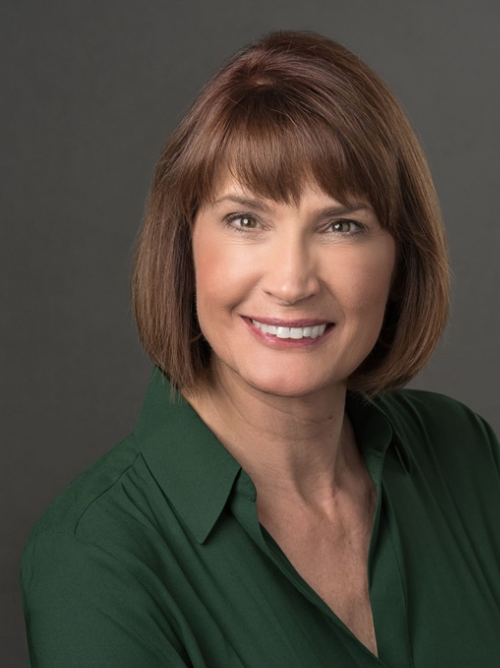 Ryan considered several factors in her judging process. "When judging you are looking at creativity, technique, and does the piece make you 'feel' something. I was blown away in all those areas. Honestly there are so many amazing artists out there," said Ryan.
Ryan enjoys creating photographic art in many genres, including the traditional and digital darkroom. She sells images nationwide to design teams for the hospitality and health industries. Follow her at RyanPhotoArt.com and on Instagram at @RyanPhotoArt.
---
Cheryl Pilgrim
Cheryl Pilgrim is an award-winning illustrator and junior high school art teacher who lives with her husband and menagerie of rescue cats and dogs in The Woodlands, Texas. She works in a variety of media including acrylics, oils, watercolor, pencil, and digital.
Pilgrim has illustrated three children's books: The Littlest Voyageur, (Holiday House, 2020), Big and Little: A Story of Opposites (Holiday House, 2019), and Hound Dawg (TCU Press, 2015). She has twice been a finalist in the SCBWI Tomie dePaola illustrator contest and was recently a finalist in the Bologna Book Fair Illustrator Gallery. In addition, she has mentored with famed illustrator E.B. Lewis.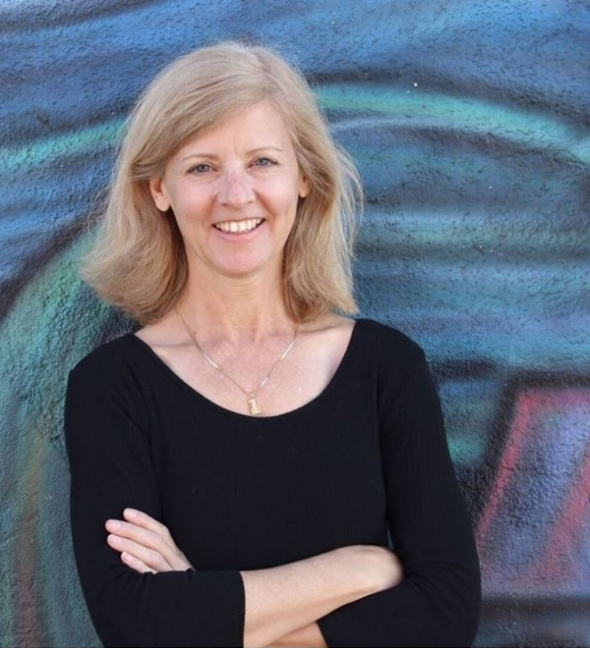 Judging the submissions for the Waterway Arts Festival, Pilgrim was impressed by the quality of art. "As a judge this year, I was astounded by the level of work submitted for this event," said Pilgrim. "The fact that we have such a large number of accomplished artists who travel from all over the country to share their talents with us is amazing."
Continued Pilgrim, "The Woodlands Waterway Arts festival is a true gem in our community. I highly encourage everyone to participate in this art gallery in our own backyard."
To see her artwork, visit cherylpilgrim.com and find her on Instagram at @cherylpilgrim.
---
Joseph Staley
A graduate of the School of Visual Arts at the University of Oklahoma, where he received a B.A. in Art History with an accompanying Minor in History, Joseph Staley is currently the Executive Curator for the Glade Arts Foundation and Glade Gallery, The Woodlands' first and foremost fine art gallery, museum, and cultural center. Staley has curated a number of exhibits at Glade encompassing universal themes of life, loss, and love with his most recent museum show entitled Hurricane Harvey, The Art of Resilience.
Additional curatorial venues include a show entitled Spaces, Places at Sawyer Yards in Houston, the largest concentration of private artist studios anywhere in the United States. His curatorial strategy is simple: prioritize, in addition to masterworks, works from living, breathing contemporary artists, who are able to speak for their work and help craft meaningful and impactful art historical narratives in conjunction with a curator.
His strategy for curating exhibits is based on his "Five C's of Curating" methodology, which intellectualizes exhibits based on chromatics (color-scheme), composition, chronology, context, and conceptual artistic elements.
The local, territorial identity of the art, as a reflection of our culture, was of note to Staley. "As a juror for The Woodlands Waterway Arts Festival I was struck by the innate quality of Regionalism referenced in the submitted works, a filter through which to view a contemporary mode of American Visual Culture endemic to Texas and beyond," he commented.
Find Staley on Facebook at @joseph.staley.3, and on Instagram at @joestaleyiv.
---
Christopher Cascio
Christopher Cascio is a painter based in Houston, Texas who works with mixed media and explores themes of obsession, compulsion, and ritual. Christopher is a graduate of the High School for the Performing and Visual Arts, the San Francisco Art Institute (BFA, '99) and the University of Houston (MFA, '13).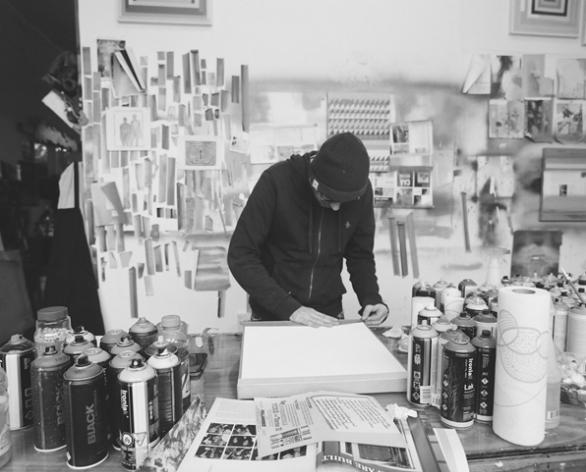 Cascio has shown extensively in Houston, Los Angeles, New York, Dallas, San Antonio, and San Francisco. In 2014 he was included in the Contemporary Art Museum Houston's 65th anniversary show Outside the Lines. He was recently featured in Sneeze Magazine and reviewed in Art in America. Cascio teaches at Sam Houston State University and the High School for the Performing and Visual Arts.
---
JUDGES FOR 3 DIMENSIONAL ARTISTS, INCLUDING CLAYWORKS, FIBER, GLASS, METALWORKS, 3D MIXED MEDIA, SCULPTURE, AND WOOD
---
Al Heilman
Al Heilman shares in his bio: "The serenity of nature inspires me, and I seek to express a healing presence and tranquility in my art. My work communicates a feeling of peace, harmony, and a profound respect for nature and humanity. I use color and light to create a visceral response. I work in many mediums." To view Heilman's work, please visit www.alheilmanart.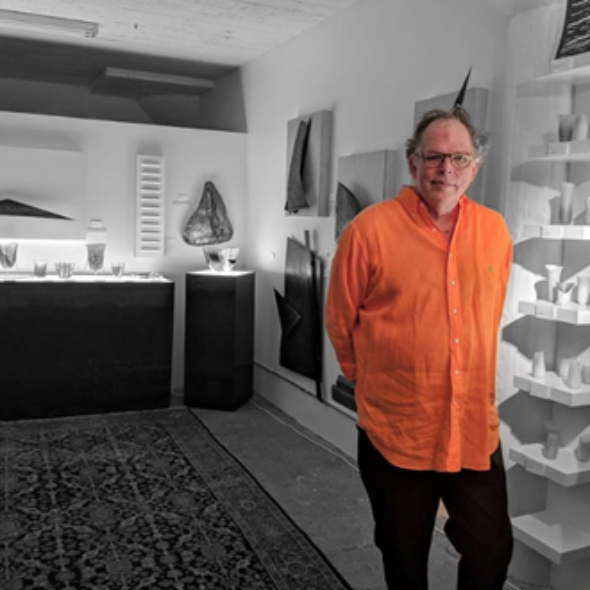 ---
Linda Woodward
Linda Woodward is an Art Historian and a working artist. She has been teaching for Lone Star Montgomery for eighteen years. Additionally, she has taught at Houston Baptist University, Lamar University, and Our Lady of the Lake University in Houston.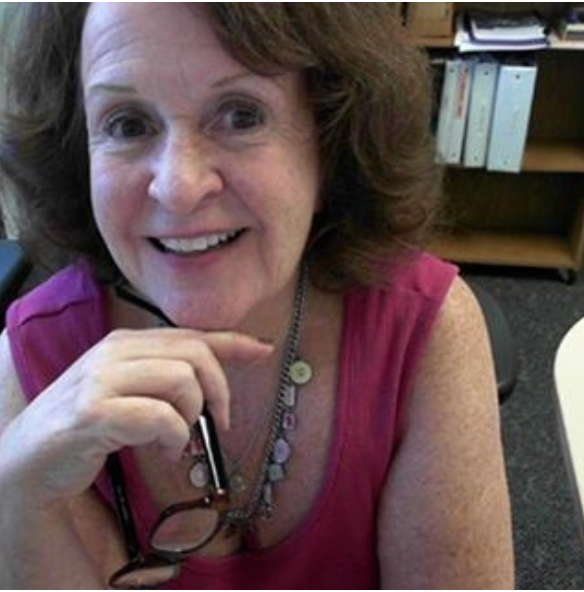 As an artist, she has worked for over 40 years in clay but has a long history of fiber art and metals. This extensive background in art has led her to a deep appreciation of the annual festival. "The Woodlands Waterway Festival is a significant event that brings the community together in a beautiful venue that celebrates the arts," said Woodward.
---
Kelly Kinney
Designer Kelly Kinney of Kelly Kinney Interior Design, LLC specializes in upscale residential home design and client coaching. She received her B.S. Degree in Arts and Sciences and then went onto a two-year intensive Interior Design program at the prestigious Ray Vogue College of Design in Chicago, Illinois.
Kinney has been a professional interior designer since 1996. She offers full service Interior Design services and enjoys creating custom pieces with her work rooms, from furniture, draperies and mirrors, to decorative accessories. Her favorite part of the profession is making her clients really, truly fall in love with their homes and home life again.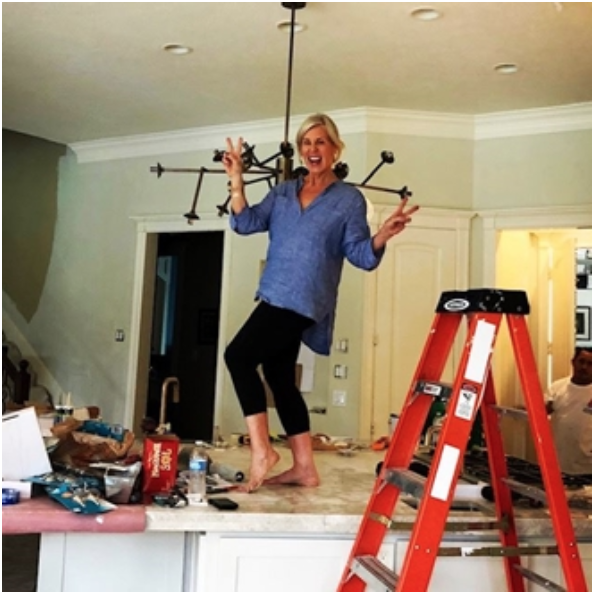 Kinney enjoyed the freedom to judge art submitted to the festival on its own merits, discovering the narrative of each piece with no additional input from the artist. "I am so thankful to have had the opportunity to be a juror: meeting one-on-one, face-to-face with so much brilliant, high quality art, telling me its story without its creator's literal voice or physical animation. It was truly a magical experience," shared Kinney.
---
Shirley Scarpetta
Shirley Scarpetta has always had a passion for sculpture. In 2007, while attending pottery classes at a local college, her love for clay was born. What became a curiosity, has now become a lifelong mission. From life-size bronzes, to larger-than-life sized monuments, to custom desktop pieces, there isn't anything Scarpetta cannot sculpt. Whether creating a 750 pound wildcat as a high school mascot, or working with city mayors in Texas and Louisiana, or creating life-size firemen memorials, Scarpetta's main source of inspiration are people of significance who leave a legacy of what it means to be good in this world.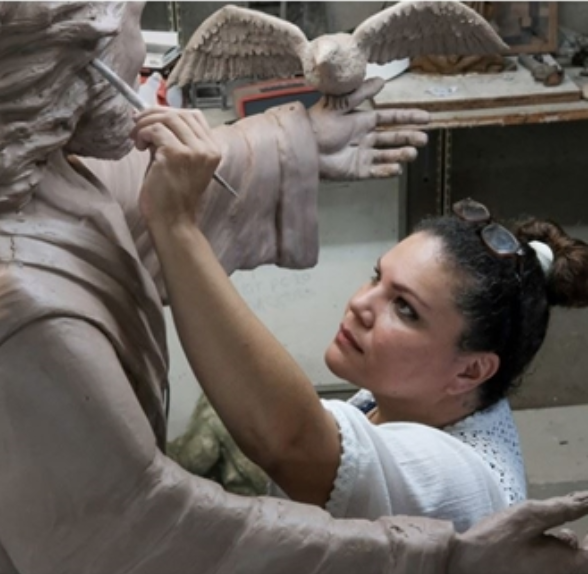 Scarpetta has served as a director for DaVinci's Artist Gallery in Tomball, Texas. Her work shows in several galleries in Texas. She currently has a studio at the Purple Elephant Artist Community, where she has been sculpting over 10 years. To see more of her work, please visit her website at www.sculptorscarpetta.com or Facebook page at @sculptorscarpetta.
---
Cynthia Hendrickson
Cynthia Hendrickson has lived in the Houston area since 1973. She attended The High School for Performing and Visual Arts, and later obtained degrees in cultural anthropology and natural science. She began her journey into jewelry design and creation in 2002. Since that time, Hendrickson has sold her work via the internet, juried art shows, and galleries.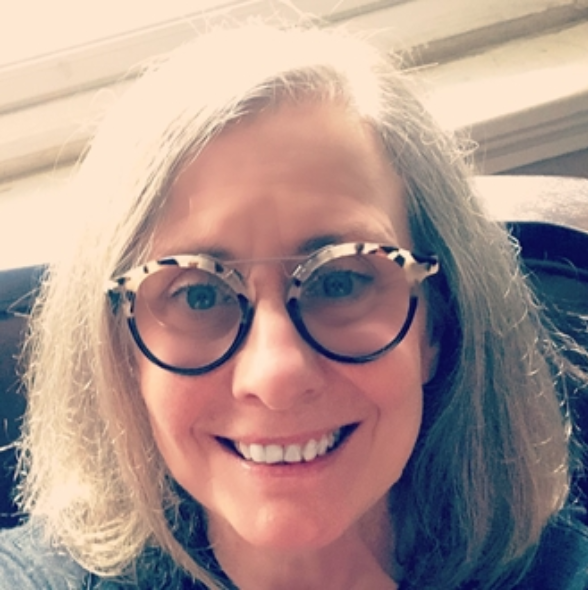 ---
The Woodlands Waterway Arts Festival is produced annually by The Woodlands Arts Council. Learn more and purchase tickets at thewoodlandsartscouncil.org.
The Woodlands Arts Council is a nonprofit 501(c)3 organization that provides regional cultural and educational enrichment opportunities that encourage, support, and promote the visual and performing arts of residents of Montgomery County and the neighboring region.
The Council's primary goal is to establish and support meaningful programs in the performing and visual arts to create a strong and vital arts presence in the area. Learn more about The Woodlands Waterway Arts Festival and The Woodlands Arts Council at thewoodlandsartscouncil.org.
Source: The Woodlands Arts Council