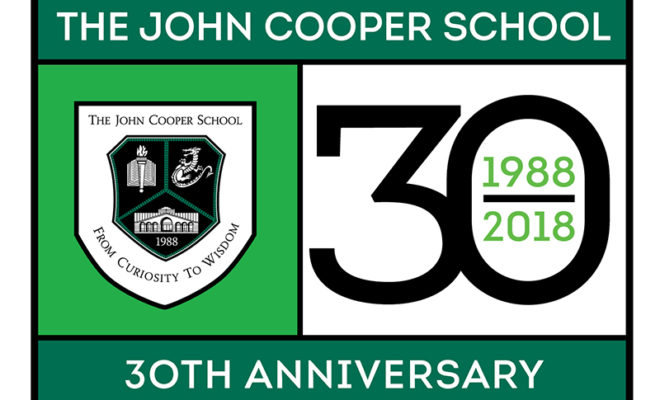 Lifestyle
Cooper Welcomes Alumni For 30th Anniversary
By |
THE WOODLANDS, TX – The John Cooper School is celebrating its 30th anniversary year. Activities, big and small, are planned throughout the school year to recognize this milestone year. For example, all students were treated to popsicles on the 30th day of August, and in Upper School, students who had a birthday on the 30th of the month were given a special treat.
One of the bigger anniversary events will surround the homecoming football game on September 14th when all alumni, now numbering 1,782, and alumni parents, are invited back to campus for a tailgate party at 6 p.m. in The Rock Center for Math + Science. They will be joined the alumni-to-be, members of the class of 2019 and their parents. The festivities will then move to Pugh Field where the Dragons will kick off at 7 p.m. against Bay Area Christian. The Dragon Booster Club will also host pre-game activities beginning at 5 p.m. in the courtyard outside the stadium.
Alumni reunions for Cooper classes of 1997, 1998, 2002, 2003 and 2008 are scheduled the next day, September 15 at various locations. For information about alumni activities, contact Alumni Coordinator Kalli Lovejoy at 281-367-0900 ext. 2440 or log on to www.johncooper.org/alumni.
The John Cooper School is an independent, non-sectarian, co-educational, college preparatory day school. The School's mission is to provide a challenging education in a caring environment to a diverse group of select students, enabling them to become critical and creative thinkers, effective communicators, responsible citizens and leaders, and lifetime learners. To learn more, visit www.johncooper.org.