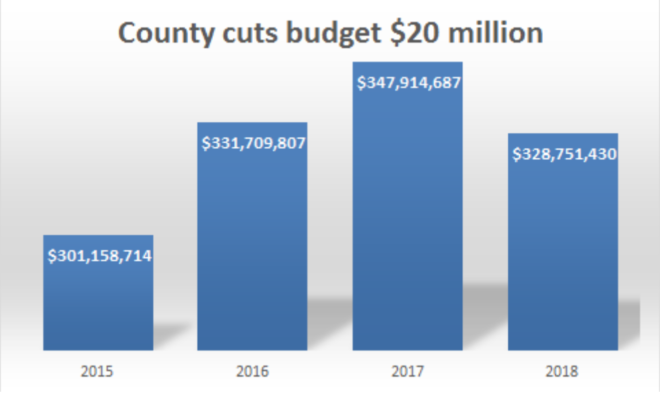 News
County cuts budget by nearly $20 million, provides Property Tax Relief
By |
CONROE, TX – September 5, 2017 – Montgomery County Commissioners Court approved a $328.5 million budget Tuesday that cuts spending by 5.5 percent and provides homeowners a 20 percent homestead exemption.
County Judge Craig Doyal said the budget is a tremendous success for the county.
"Last year we lowered the tax rate by 1 cent. This year we cut the budget by 5.5 percent, or by nearly $20 million. We provided a 20 percent homestead exemption, and put nearly $15 million into a capital fund to pay for major infrastructure without incurring debt.
"That is a strong budget. I appreciate the effort everyone put forth this year on the budget."
By streamlining and cutting budgets in other departments, the county still was able to strengthen law enforcement with more than 50 new employees.
The county tax rate remains the same at 46.67 cents per $100 valuation. It brings total county spending below 2016 levels.
Judge Doyal said the county in this budget and over the past year has accomplished a number of major successes:
A 5.51 percent cut in spending
Reducing the budget by nearly $20 million
A 20 percent homestead exemption for property taxpayers
Lowering the tax rate by 1 penny last year
Moody's assigned Montgomery County its highest possible credit rating of Aaa, saving taxpayer money on interest charges
Funding 53 new law enforcement positions
Providing nearly $15 million toward a Capital Improvement Fund to avoid debt for major projects
"I appreciate the hard work of our elected officials, department heads, the employees themselves, and commissioners this year to prepare this proposed budget and provide essential services," Judge Doyal said. "This has been a very successful budget year."
Source: Office of County Judge Craig Doyal