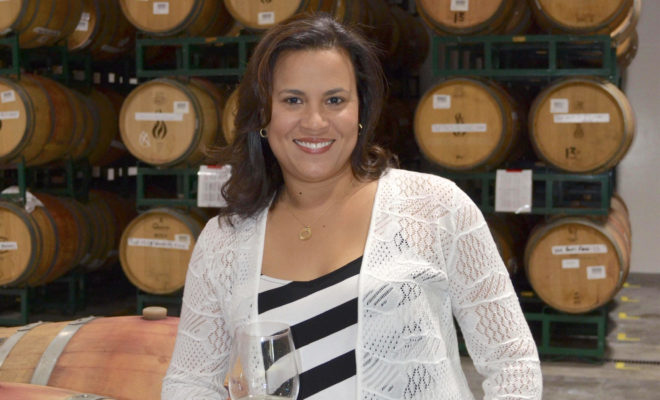 Food & Drink
Magnolia Scientist runs Darjean Jones Wines, Award-Winning Winery
By |
When moving to Magnolia, Texas nearly 10 years ago, anesthesiologist Dr. Chauncey Jones asked his wife, "What would you do if you could do anything you want?"
"I'd make wine!" said Dr. Dawna Darjean Jones, an Opelousas, Louisiana native who holds a doctorate in plant pathology.
After nearly a year of research, her dream came true when Darjean Jones Wines was launched. Dawna found an established winery that supports small brands, growers who provide the best quality grapes and a "wine family" of colleagues who support each other to empower her to own and run a Napa winery from Texas. This past spring, Darjean Jones Wines was awarded five medals at the 2018 San Francisco Chronicle Wine Competition.
"We'll send samples through the mail, do tastings over the phone," Darjean Jones laughed. "My family is rooted here, and it's amazing how you can make it work if you want to. I get out to California at least four to six times a year, but it's hard to go more with a young family."
Path To Winemaking
While she found the time in the vineyards relaxing, especially compared to her classmates working on carrots and wheat, wine wasn't particularly interesting to her in her early 20s.
"So many winemakers will tell you they were inspired by a 1980s Bordeaux," she explained. "I chose the professor who would be a good surrogate father for five years, and his grants were in viticulture. I kind of fell into wine gradually."
"I do remember tasting a Merlot grape one day while walking through the research vineyards and thinking that if wine tasted half this good, it must be fantastic."
After grad school, the Doctors Jones moved to Maryland, where Dr. Chauncey Jones completed his residency at Johns Hopkins and Dr. Dawna Darjean Jones served as a diagnostic plant bacteriologist at the U.S. Department of Agriculture. She tested plant material brought into the country, developed testing methods and investigated outbreaks of plant disease around the country.
Darjean Jones spent seven years as a national security analyst, and after welcoming a baby boy, both doctors were ready for their new chapter in Texas.
"I wanted what I did next to be relevant to my doctorate," she said, and wine-making seemed a way to marry the science and the "joie de vivre" or "joy of living" she'd aspired to find.
"Seeing that first bottle roll off the line with my label, with our names, felt like I had really started Act III for my life," said Darjean Jones of the day her 2010 Merlot was ready for production.
Award-Winning Science of Winemaking
It's the fermentation science of winemaking that fascinates the southern Louisiana native who has always loved good food and also brews beer at home.
Industry experts agree that her scientific approach yields award-winning taste. In addition to receiving three gold medals and two silvers for five different varietals at the 2018 San Francisco Chronicle Wine Competition, she also holds high-ranking titles from the 2017 Toast of the Coast Competition, 2016 International Women's Wine Competition, and multiple years at the Lone Star International Wine Competition here in Texas.
"You take something so simple as grape juice that's so full of sugar, even a toddler would enjoy it," her enthusiasm heightened when the talk turned to science. "You add one thing—wine yeast—and it transforms it. You can inoculate it with the yeast of your choosing, control the temperatures, and you control the process. You can transform it into something glorious."
Darjean Jones's eight-year-old daughter is so enthralled with her mother's career she's insisted on following her path since kindergarten. "How smart to combine winemaking and engineering," the elder Jones radiated. "She'll be a force in the industry someday!"
Local Availability
Darjean Jones Wines is on the menu at Schilleci's New Orleans Kitchen in Market Street and the new The Butler House on Gosling Road in Spring.
Her full portfolio of award-winning wines is also available for direct order from the California warehouse at www.darjeanjoneswines.com. She also offers a club membership with guaranteed delivery of her latest releases. Her newest wine, a rosé, launched on April 18, 2018.
Sarah Greer Bartnick covers businesses and events in The Woodlands and provides communication strategy services to local clients through her firm, SGB Strategies. After attending Baylor University, Sarah spent a decade in Washington, DC, as an aide at the White House and U.S. Capitol and as a strategic communication consultant to government clients through a large consulting firm. She lives in The Woodlands with her husband, two young children and puppy.