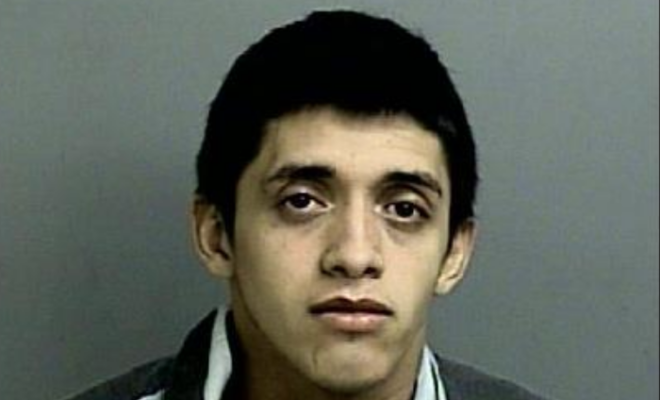 News
Defendant who injured Conroe Police Officer sentenced to 40 years
By |
On December 8, 2017, a jury in the 359th District Court sentenced defendant Maycol Douglas Lagos-Villadares to 40 years in the Texas Department of Criminal Justice, for his leading role in the brutal assault of Conroe Police Officer Michael Chapman on December 26, 2015. In the five day trial presided by the Honorable Kathleen Hamilton, jurors heard from no fewer than 15 witnesses presented by Assistant District Attorneys Vince Santini and Rob Freyer.
On Christmas night, 2015, Officer Chapman responded to an alarm call at the West End Roofing lot located at Interstate 45 and FM 1488. Officer Chapman testified that as he answered the alarm call at this location, a brown pickup truck accelerated and drove straight at him as he was attempting to pursue the suspects. In the process, the truck struck his drivers' side door and pinned Chapman's left leg between the door and the frame of his vehicle, which as a result, shattered both the fibula and the tibia. Officers responded to the scene and based upon the description provided by Officer Chapman, were able to locate the truck the following morning across the highway from the incident, loaded down with the same make of roofing shingles that had been found at the scene of the assault. Conroe PD detectives were fortunate to locate two of the individuals involved at the Burlington Coat Factory, who were in the store at the precise moment the detectives were there in order to determine if there was any video footage of the incident.
The State also presented medical testimony of the officer's injuries, as well as expert testimony from the Texas Department of Public Safety, which showed that the paint chips and glass fragments located in the defendant's abandoned truck, were by their make and composition, an exact match to the known paint and glass from Officer Chapman's vehicle. The State also called one of the co-Defendants and another witness to whom the Defendant bragged to about his involvement in the assault of Officer Chapman.
The jury completely disregarded the Defendant's testimony that he had an alibi the night of the assault because the Defendant's phone records put his GPS location within a half mile during the same time as the assault. On December 7, 2017, the Jury convicted the Defendant of the First-Degree felony offense of Aggravated Assault of a Public Servant, and on the following day, the Jury, after hearing that the Defendant was a documented member of the MS-13 street gang and testimony that he had participated in no fewer than four more thefts of roofing shingles, sentenced him to 40 years in prison.
Prosecutor Vince Santini argued that "a danger to the badge is a danger to everyone. Because the Defendant was trying to gain notoriety with the MS-13 street gang by injuring a police officer, Officer Chapman missed out on helping 3,000 victims due to his one year of recovery."
Prosecutor Rob Freyer stated "this case was a perfect example of collaboration between the Conroe Police Department and the Shenandoah Police Department, and once again sends a message to our hard working officers and to criminals alike, that violent behavior directed towards those dedicated to keeping our community safe and secure will not be tolerated."
Source: J. Tyler Dunman, Assistant District Attorney, Chief, Special Crimes Bureau, Montgomery County District Attorney's Office