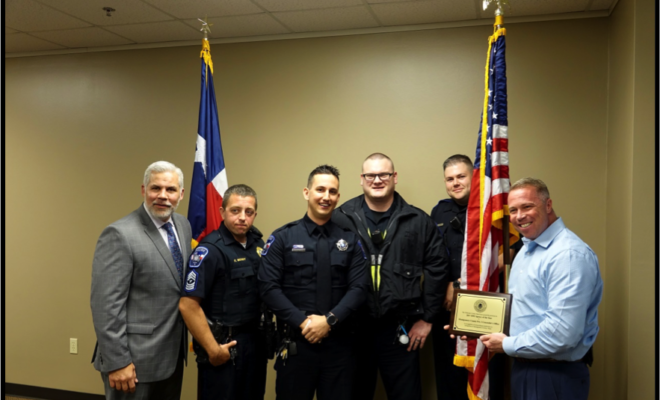 News
District Attorney Brett Ligon recognizes law enforcement for DWI efforts
By |
On February 21, 2018, the Montgomery County District Attorney's Office presented awards to law enforcement for their continuing efforts in 2017 to fight intoxicated driving in Montgomery County, Texas. District Attorney Brett Ligon presented awards for DWI Officer of the Year, DWI Agency of the Year, and DWI Investigator of the Year. The awards ceremony was held at the Montgomery County District Attorney's Office's Training Room in Conroe.
The awards were presented to:
DWI Officer of the Year: Bruno Miauro (Department of Public Safety): Trooper Miauro finished DPS's FTO program on December 31, 2016 and began 2017 as a first year as a trooper working on his own. He is highly motivated and has shown a passion for DWI work. He even requested to be on full night shift so that he could focus on DWI enforcement. In 2017 he was in the top 3 for total DWI arrests. But as we have said before, numbers are not the only consideration. Trooper Miauro consistently builds strong cases and shows an attention to detail that is reflected in his case reports and on the witness stand. Near the end of 2017 he did an amazing job against two very talented defense attorneys while going to trial on two of his cases in the same week. Lastly, Trooper Miauro spends the one weekend he would have off each month in service to our country fulfilling his duties as member of the Army National Guard.
DWI Agency of the Year: Montgomery County Constable's Office Precinct 3: Early in 2017, Pct. 3 chose to make DWI enforcement a priority for their agency. They saw the need of having officers dedicated to catching impaired drivers and chose to allocate existing resources to see what type of an impact they could make. But you can't just throw money at the problem; you have to have the right people to do the job. Fortunately Pct. 3 has Cpl. Steven Terrell and Deputy Patrick Patterson, who they tasked as their primary DWI enforcement officers. Terrell and Patterson both are driven to getting impaired drivers off the streets. Terrell and Patterson both made more DWI arrests in 2017 then there entire agency made in 2016 and were among the top 3 officers in the county for total DWI arrests. Building on their success, Pct. 3 became the first agency in Montgomery County to have officers dedicated to full-time DWI enforcement, after requesting and receiving funding from the commissioners court to continue and expand their ability to combat impaired driving.
DWI Investigator of the Year: Department of Public Safety District Crash Team: The DPS District Crash Team, consisting of Sgt. Dean Barnhill, Sgt. Gordon Schneider, Trooper Joseph Taska, and Trooper Charles Williams, reviews all fatality crashes in Montgomery, Walker, and Liberty Counties. In 2017, that meant 88 fatality crashes, 43 from our county. They are routinely asked to assist in these investigations as well with scaling, mapping, and photographing the crash scenes and the vehicles involved. They also image the event data recorders from the vehicles and analyze the resulting data. Although stationed in Montgomery County, and assigned to assist in Walker & Liberty Counties, they are often tasked with assisting with fatality crash investigations in other parts of the greater Houston area as well because of their expertise. In 2017, some of the more notable and tragic investigations they have been tasked with assisting include the four person fatality on Highway 290 in Waller County; a shooting that occurred at a Jack and the Box on FM 1960, and scaling and mapping the scene of the murder of Trooper Damon Allen in Waller County.
Source: J. Tyler Dunman, Assistant District Attorney, Chief, Special Crimes Bureau, Montgomery County District Attorney's Office