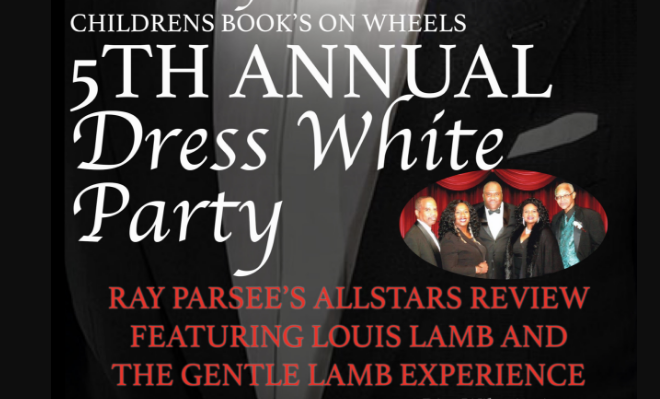 Events
Dress White Event to benefit Children Literacy
By |
Conroe, TX – Have you been to a "Dress White" event? The trendy theme began over 50 years ago in Saint Tropez, France with the elite to raise funds for a worthy cause. Everyone attending the event wears white. White Parties are a huge Dance event in Europe today and is still is a popular theme for non-profits to brand their event.
Children's Books on Wheels (CBOW) is having their 5th Annual Dress White Party with live music from Ray Parsee's Allstars Review featuring Louis Lamb and the Gentle Lamb Experience on Saturday, August 25th from 8:00 pm-11:30 pm at the Sleepy Hollow Multipurpose Building in Tamina. A $35 donation contributes to funding literacy programs throughout the county with CBOW.
Rita Wiltz, founder and Executive Director of CBOW, established the mobile non-profit organization in 2004 to bring reading to children in all areas where they live that may not have access to books. Seventy five percent of the population served by CBOW are at or below the poverty level. Wiltz and her team travel to community events, churches, businesses, and other non-profits in north, south, east and west counties. The after-school site for the YMCA is hosted by CBOW along with Summer Reading Projects to donate books to children and their families at no cost. Each year about 5,000 books are distributed.
Other services Children's Books On Wheels provide include assistance of social services in multiple languages to the unserved and underserved. Free year-round tax services by IRS certified volunteers at 15 mobile tax sites at no charge for eligible individuals.
"The staff and volunteers at CBOW love what we do, providing mobile access to children and their families. Our unique Annual Dress White Party for a cause will help us to continue to provide outreach services under our three components: educational, financial and health literacy," said Wiltz.
The 5th Annual Dress White Party will honor Constance Borders of Woodforest National Bank. Constance began her career with Woodforest in 1997 after 16 years previous experience in banking. In her tenure she has held the position of Credit Department Manager, Community Development Relationship Manager over Louisiana and Mississippi, and presently has the role of Community Liaison for Harris and Montgomery County, and Internship Program Director over interns from Sam Houston State University. Constance is a graduate of Alabama A&M University and her community engagement includes past Board Member of Crisis Assistance Center 2010-2016, Montgomery County United Way Volunteer since 1999, Montgomery County Fair Association since 2000, March of Dimes Walk Team, Leukemia & Lymphoma Society Walk Team, Conroe Catfish Festival since 2000, and past Executive Advisory Board and Vice Chairperson of Barbara Jordan Endeavors.
Borders has been a part of CBOW for over 15 years upon meeting Rita while serving on the Montgomery County United Way Allocations Committee. Children and education has always been a passion for Constance and she admired Rita's commitment to exhaust all means providing needed resources for children to succeed in life.
"I am extremely honored, humbled, and blessed to be recognized by Rita Wiltz and Children's Books on Wheels", said Constance Borders. "It is really difficult for me to feel deserving of any recognition for my involvement in my career and community.  Taking pride in what you do and giving your all is the way I was brought up.  Over the years I have found that the best way to receive a blessing is to first be a blessing".
The Sleepy Hollow Multipurpose Building is the location for the Dress White Event located at 9845 Sleepy Hollow Road in Conroe (Tamina) 77385. Dancing, music, and soft bites will be provided with each donation of $35. Sponsors include Planet Ford and AT&T. Tickets available by contacting Rita Wiltz at (281) 844-7596 or rw2619@msn.com. Donations may be mailed to 330 Rayford Road, #201, Spring, Texas 77385.
The mission of Children's Books on Wheels is to promote literacy by providing books and educational literature to Pre-K through 12 grade children and their families. Learn more about Children's Books on Wheels by visiting their website www.ChildrensBooksonWheels.org