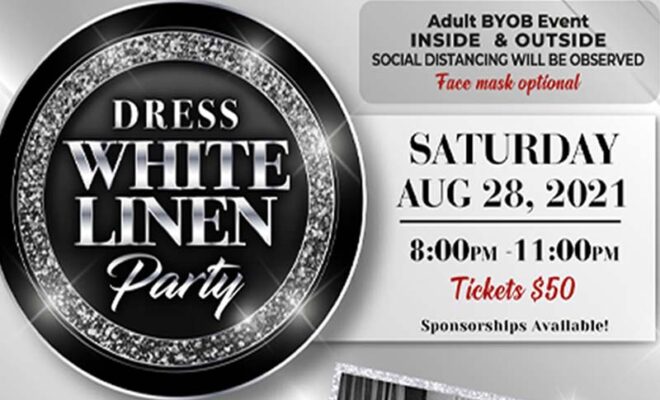 Events
Dress White Event to Benefit Children's Literacy, Honor Local Contributors
By |
The following article has been updated on Saturday, August 21, 2021 at 9:12 a.m. with corrected event information.
CONROE, TX – It is time for the Annual Dress White Linen Fundraising Party hosted by Children's Books On Wheels (CBOW). CBOW hopes the public attends the Dress White Linen Party event to help fund mobile literacy services throughout the county. Students that have access to books for reading perform better on reading and writing tests than non-reading students with increased opportunity for success in their life.
The 8th Annual CBOW Dress White Linen Party, sponsored by Buckalew Chevrolet, will have live music from Ray Parsee's Allstars Review featuring "Two Black Guys" performing Motown Hits on Saturday, August 28 from 8:00 pm until 11:00 pm at the Sleepy Hollow Multipurpose Building, 9845 Sleepy Hollow Road in (Conroe) Tamina 77385 both inside and outside the venue. A $50 donation contributes to funding literacy programs throughout the county with CBOW mobile literacy services. Funding from the Dress White Linen Party will assist with access to literacy for children and help cover operation costs for the CBOW Afterschool program "Seeds to Grow" weekdays for 40 school age children Pre-K to 12th grade.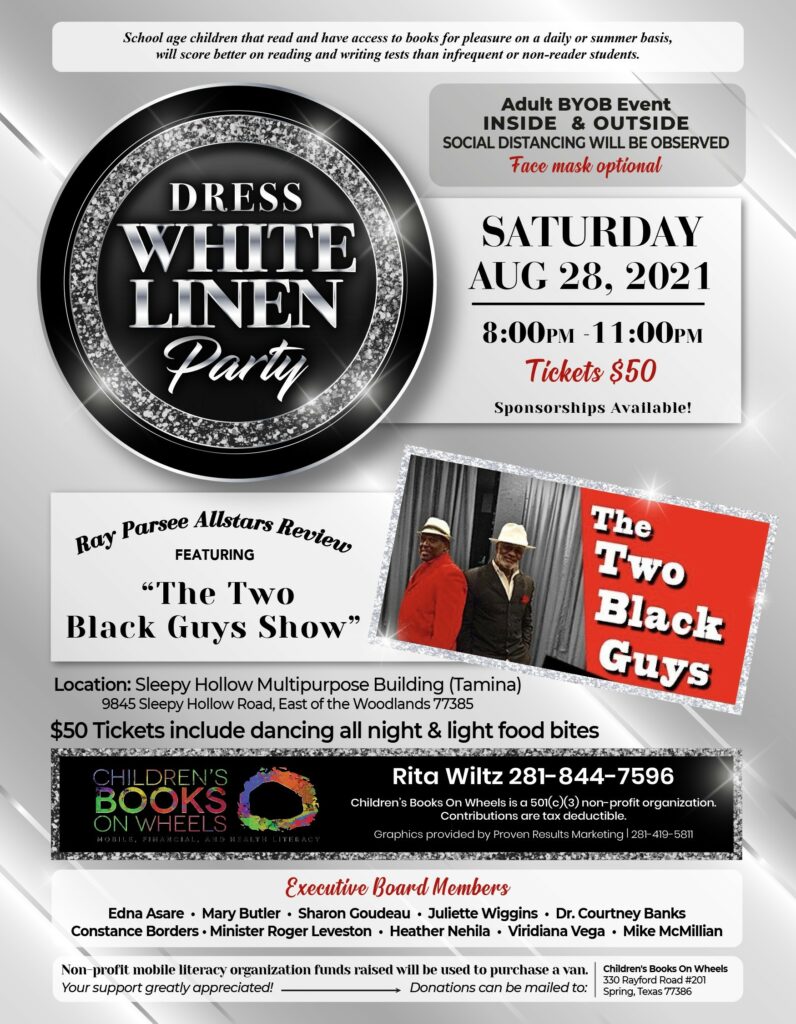 Tickets may be purchased at the door during the event. This is an event for Adults Only with masks required. Attendees will be provided light bites and encouraged to bring their own adult beverages to drink.
"This is our annual fundraiser to support mobile literacy programs for children in our communities. CBOW serves the entire county and funding is greatly needed. Residents of Montgomery County have a big heart and we hope they come out to the event or make a donation", said Rita Wiltz, Executive Director of CBOW.
CBOW has been very busy this year hosting a site for flu vaccines, school supplies, Chromebook Hotspots for the school district, training for job certifications- OSHA30 training, Forklift training, and Confined Space training, as well as free tax services for all when tax season was extended to June 15th.
The 8th Annual Dress White Linen Party is proud to announce the honorees for this year that have given much to CBOW. The honorees this year are Lone Star Family Health Center (LSFHC) for their tireless effort to provide access to the COVID19 vaccine, as "Best Collaboration", and the Jain Family for their digital literacy contribution providing working laptops to low-income youth and adults in need to safely learn.
Karen Harwell, Chief Executive Officer of LSFHC, and her team of medical professionals quickly went into action after being designated as a hub vaccine provider for Montgomery County. Lone Star Family Health Center worked closely with Rita Wiltz of CBOW, the County's Office of Emergency Management and Homeland Security to bring the COVID19 vaccine to the community of Tamina.
"Hundreds of Tamina residents were fully vaccinated just steps from their home. Many vulnerable populations across the county rely on Lone Star for access to health care and I'm proud to say that during the last 8 months, we successfully administered over 60,000 COVID19 vaccines to this community", said Harwell.
The Sleepy Hollow Multipurpose Building is the location for the Dress White Linen Event located at the Sleepy Hollow Multipurpose Building 9845 Sleepy Hollow Road in Conroe (Tamina) 77385. Dancing, music, and soft bites will be provided with each donation of $50. For tickets contact Rita Wiltz at (281) 844-7596 or rw2619@msn.com. Donations may be mailed to CBOW at 330 Rayford Road, #201, Spring, Texas 77386.
"The CBOW team of volunteers, the Board and I wanted to honor these community leaders for their donations and time focused on supporting the literacy projects in our rural community", said Wiltz. "Our unique Annual Dress White Linen Party for a cause will help us to continue to provide outreach services under our four components: educational, financial, digital and health literacy".
Party for a cause at the Annual Dress White Linen Party! No formal attire required! Masks Required!

The mission of Children's Books On Wheels is to promote literacy by providing books and educational literature to Pre-K through 12th grade students and their families. Learn more about Children's Books On Wheels by visiting their website www.ChildrensBooksonWheels.org or contacting Rita Wiltz at 281-844-7596 or emailing rw2619@msn.com. Learn more about Children's Books on Wheels by visiting their Facebook page www.facebook.com/cbow.childrensbooksonwheels.