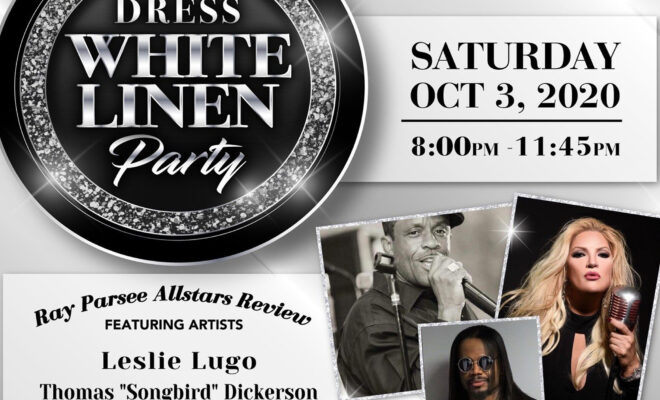 Events
Dress White Linen Party to benefit Children's Literacy
By |
CONROE, TX – It is time for the Annual Dress White Linen Fundraising Party hosted by Children's Books on Wheels (CBOW). Started many years ago as a theme for the rich and powerful to raise funds for charity, CBOW hopes the public attends the Dress White Linen Party event to help fund mobile literacy services throughout the county. Students that have access to books for reading perform better on reading and writing tests than non-reading students, and they have increased opportunity for success in their life.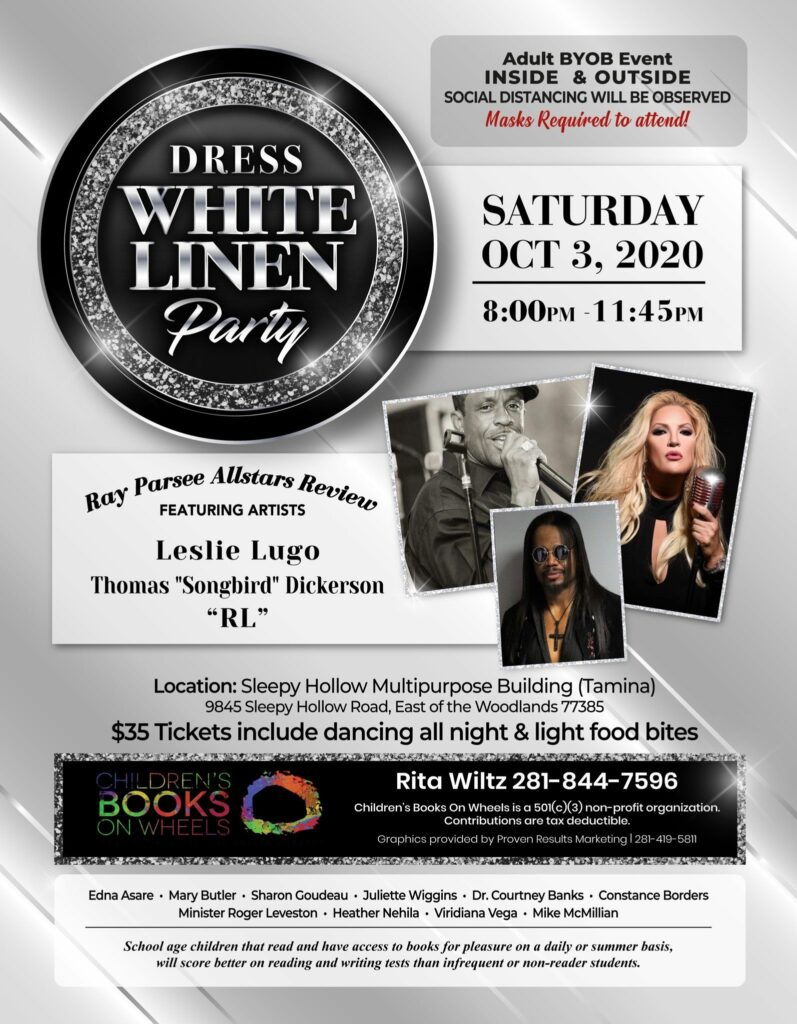 The 7th Annual CBOW Dress White Linen Party will have live music from Ray Parsee's Allstars Review featuring Leslie Lugo, RL (America's Got Talent Finalist) and Thomas "Songbird" Dickerson on Saturday, October 3 from 8:00 pm until 11:30 pm at the Sleepy Hollow Multipurpose Building, 9845 Sleepy Hollow Road in Conroe (Tamina) 77385 both inside and outside the venue. A $35 donation contributes to funding literacy programs throughout the county with CBOW mobile literacy services. Funding from the Dress White Linen Party will assist with access to literacy for children and help cover operation costs for the CBOW afterschool program "Seeds to Grow" weekdays for 40 school age children Pre-K to 12th grade.
Tickets may be purchased online at bit.ly/330KfAO. This is an event for Adults Only with masks required. Attendees will be provided light bites and encouraged to bring their own adult beverages.
"This is our annual fundraiser to support mobile literacy programs for children in our communities. CBOW serves the entire county and funding is greatly needed. Residents of Montgomery County have a big heart and we hope they come out to the event or make a donation", said Rita Wiltz, Executive Director of CBOW.
CBOW has been very busy since March assisting with COVID-19 testing, including a partnership with Meals on Wheels Montgomery County to feed the Tamina Community, a technology resource program to "leave no child offline" with gently used computers for education, and donating 1,600 books KIDSTECH in April for their "Sweet 16" Anniversary during local food distributions throughout the county during the peak of the mandated lockdown. In addition, the Sleepy Hollow Multipurpose Building is a community site for students needing access for Chromebook and hotspots provided by Conroe Independent School District.
The 7th Annual Dress White Linen Party is proud to announce the honorees for this year that have given much to CBOW. The honorees this year are Carl and Gloria White, Summer Day – President and CEO of Meals on Wheels Montgomery County, Wanda Horton Woodworth – Board Member Emeritus, CBOW Executive Founding Board Members, and Asher Coye-Huhn – a student and volunteer attending College Park High School.
Summer Day implemented a partnership with CBOW during the summer months to feed the Tamina Community hot lunches (over 7,200 meals) cooked in their Meals on Wheels kitchen and delivered weekdays to support and bring awareness to the underserved vulnerable populations. "Meals on Wheels Montgomery County (MOWMC) was incredibly excited to partner with Children's Books on Wheels to provide 150 hot meals every weekday to residents of the Tamina Community that are in need of additional nourishment through a generous grant from the Greater Houston Community Foundation and United Way."
Asher Coye-Huhn and his sister Seire founded a Diversity Club at College Park High School that had students of multicultural backgrounds involved in minority community projects. The young high school brother and sister started volunteering in Tamina at the Afterschool Program teaching the young children at the Multipurpose Building science-based projects and then progressed to literacy projects when they were turned away from other organizations. They had so much fun and felt so much a part of the CBOW family, Coye-Huhn stayed for 4 years and is now 18 years of age. Coye-Huhn has muscular dystrophy, but it does not prevent him from making a difference.
Carl White is the President of the Montgomery County NAACP and has known Rita probably his whole life. "She is always working on a new project to enhance the community when she sees a gap in services. I am humbled to be recognized by someone I admire so very much."
Wanda Woodworth wanted to help the vision come true for her sister, Rita. "Growing up in Tamina we read old books and used magazines. Rita wanted to make literacy available for everyone. We hosted summer reading programs in Houston and Conroe, read to the children and allowed them to choose books interesting to them. As a former board member, I take pride in knowing that I have been a part of the changes and great commitment to this Tamina community, my community of which I grew up," said Woodworth.
"As consistent sponsors of CBOW, the Board and I wanted to honor these community leaders for their donations and time focused on supporting the literacy projects in our rural community," said Wiltz. "Our unique Annual Dress White Linen Party for a cause will help us to continue to provide outreach services under our four components: educational, financial, digital and health literacy."
The Sleepy Hollow Multipurpose Building is the location for the Dress White Linen Event, located at 9845 Sleepy Hollow Road in Conroe (Tamina) 77386. Dancing, music, and soft bites will be provided with each donation of $35. For tickets contact Rita Wiltz at (281) 844-7596 or rw2619@msn.com. Donations may be mailed to CBOW at 330 Rayford Road, #201, Spring, Texas 77386.
Children's Books On Wheels was established in 2004 as a 501c3 nonprofit offering access to free books to all communities in Montgomery County. Seventy five percent of the population served by CBOW are at or below the poverty level. Rita Wiltz, Executive Director and Founder, with her mobile team travel to community events, churches, businesses, and other non-profits in north, south, east, and west counties. Each year about 8,000 books are distributed. Last year over 10,000 books were donated to Hurricane Harvey and Imelda affected areas. During COVID-19, 3218 books were distributed during food distributions throughout county. Over 7200 hot lunches were distributed in May through July through a collaboration with Meals on Wheels of Montgomery County.
Other services offered by CBOW include assistance of social services in multiple languages to the unserved and underserved. Free year-round tax services by IRS certified volunteers at 18 mobile tax sites at no charge for eligible individuals. Project Re-Set was implemented in 2019 to assist with enhancing skills and securing gainful employment in certified trainings for technical fields that require OSHA 10 or 30, Confined Space, First Aid + AED training, and other technical instruction, which are held monthly. New this year is a fourth component- KIDSTECH digital literacy to make reading accessible to all.
"Our ancestors contributed to this community to make it better for us, the future of Tamina. It is our responsibility to give back, speak up, and never give up on self or this community. We must leave a lasting impact on this community and county to let our future know that we did our best with what we had," said Board Member Emeritus, Wanda Woodworth.

The mission of Children's Books on Wheels is to promote literacy by providing books and educational literature to Pre-K through 12 grade children and their families. Learn more about Children's Books on Wheels by visiting ChildrensBooksonWheels.org, visiting the Facebook page at facebook.com/cbow.childrensbooksonwheels, or contacting Rita Wiltz at 281-844-7596 or emailing rw2619@msn.com.