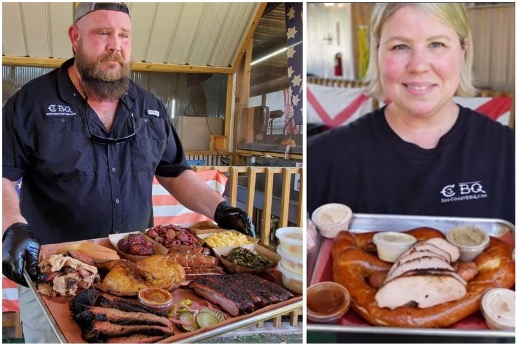 Food & Drink
Eat Local: 3rd Coast BBQ and Catering
By |
3rd Coast BBQ and Catering, locally owned by Troy Mulligan (Pitmaster) and his wife Deidra Golden Mulligan, opened in October of 2019. Learn more about the barbecue and the local family behind the food.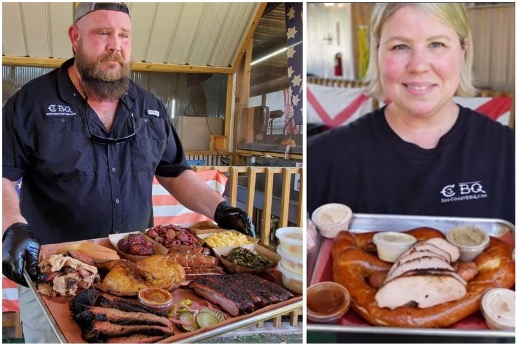 THE NAME
We asked Troy where the name 3rd Coast BBQ and Catering came from, and his reply was "The 3rd Coast is often used to refer to the Gulf Coast of the United States. We incorporate a lot of different coastal flavors in our food."
3rd Coast offers walk up counter service with a huge backyard setting of picnic tables, covered patio, corn hole and hook and ring games to keep the kiddos occupied. Indoor seating is also available in the newly renovated section of the house turned restaurant.
BBQ is in their name, so you will find brisket, two kinds of link sausage, turkey, boudin, pulled pork and their almost famous Dr. Pepper glazed smoked ribs. Several delicious sides are offered to go with the array of meats such as pit smoked pinto beans, chipotle slaw, mac and cheese, potato salad, and smoked collard greens. Last but not least on the menu are loaded baked potatoes and sandwiches.
One of the featured sandwiches is the Whoa-Boy!!! (double meat) with your choice of any two meats nestled inside an 8″ Gambino french bread roll with special slaw. Their most popular version of the customizable sandwich is with chopped brisket and sausage. This is just a tremendous sandwich. The lightly grilled and buttered bread, the smokiness of the meat, texture of the sausage, and the crispness of the coleslaw all work together.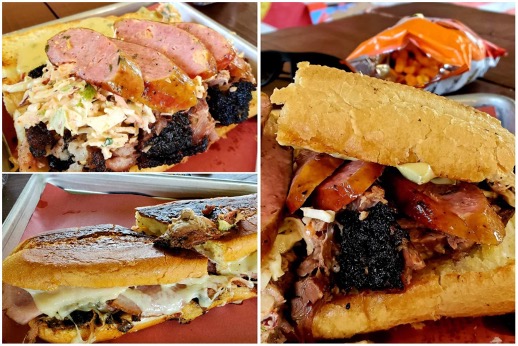 THE STORY
3rd Coast BBQ's humble beginnings started in 2016 when Troy and Diedra started a catering business. In 2019, the success brought about by their endeavor highlighted the need for a bigger commercial kitchen to keep up with their catering needs. When the couple finally opened their first brick and mortar location, it was the beginning of 2020. With Covid bringing their catering business to a halt due to the lack of group gatherings, Troy and Deidra pushed forward to get their permits in place to open on March 12th, 2019, which was the first day open to the public. This happened to be the same day the Houston Livestock Show and Rodeo shut down due to Covid.
Shifting from a primarily catering operation to focusing on how to survive as a strictly takeout restaurant during Covid, the couple quickly added online ordering and gave people the option to place and pay for their order online then pull up to the restaurant for curbside delivery.
The hurdles of the Covid pandemic didn't slow them down, and they opened and expanded to the house next door on property for an indoor dining area in November 2021, to give customers an option to eat indoors when the weather was not cooperating for dining on the patio.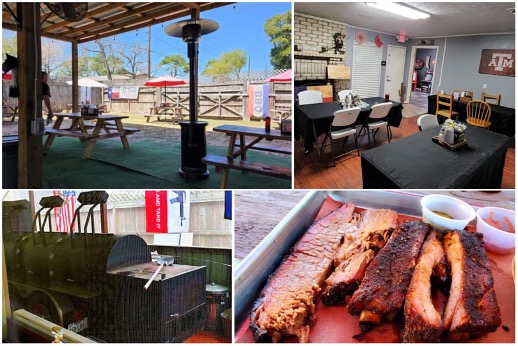 We asked Troy what it was like to work with family on a daily basis, and he told us, "It has been a family endeavor from the start. My wife and I are definitely a husband-wife team, dividing responsibilities based on our strengths and expertise. When we first opened the kids were out of school and doing school work in the office and helping with everything in the restaurant. They are still here all the time whenever they aren't playing sports and you'll often find our daughter or one of her friends at the window taking orders. Our staff quickly become family and we can't thank them enough for all they do!"
When Troy is asked how he learned how to smoke meats he responded, "Almost 30 years of trial and error. My family is from down around Victoria and I spent a lot of time down there hunting and fishing. I started barbecuing when I was in college and we would cook a lot of wild hog for parties or Super Bowl. Then I started doing a few cookoffs with friends and cooking at Texans games. When we moved to The Woodlands 17 years ago, my buddy Robert bought me an old New Braunfels offset smoker. Any time we had family or friends over I would cook bbq. One of the things I like about our place here is that we have kept that backyard BBQ feel."
THE GOODS
So, out of all the BBQ meats available at 3rd Coast, which does Troy consider his speciality? "Brisket is king in Texas. It's the hardest to master and I think we do it quite well. Don't sleep on the turkey breast though. I'd put ours up against anyone out there," he shared.
One can almost always find something special on the menu daily. The pro tip is to follow their Facebook page to see what is on the menu for that day. Daily offerings have varied from ½ pound smoked prime brisket cheeseburgers, smoked brisket pastrami, pastrami beef ribs, big red pork belly burnt ends, brisket chili, brisket enchiladas, New Orleans muffaletta, smoked Cuban sandwich, and loaded mac and cheese. Recently, fried chicken and chicken and dumplings also made the daily specials with blackened shrimp tacos and a blackened salmon sandwich on Fridays for Lent.
Some specials have become permanent menu items, such as the Philly cheese steak 3rd Coast BBQ style, named The Texas Cheesesteak – all natural black Angus chopped prime brisket, sautéed onions, red and green bell pepper done on the griddle with American cheese on a toasted 8″ Gambino po' boy bun served with a side of Shiner Bock beer cheese. It's Texas meets Philly via New Orleans.
MENTORS AND LOUISIANA ROOTS
We asked Troy about his influences or mentors in the Texas BBQ world. "I grew up eating at the classic CenTex bbq joints when we traveled as a kid where you buy bbq by the pound and it's served on butcher paper. Since this new era of bbq has come about Aaron Franklin has kind of led the way and has inspired many in the business today. Locally, Will and Nicole at Corkscrew have been doing it right for a long time now. When they first opened the trailer on Budde it was less than a mile from our house and it was some of the best bbq I'd ever had. We have much respect for what they are doing," revealed Troy.
3rd Coast is also bringing their Louisiana roots to the table. The Cajun and Creole selections on the menu are always changing: gumbo, red beans and rice, smoked chicken and dumplings, enchiladas, and king ranch chicken casserole.
Speaking of Louisiana roots, we asked when the couple decided to start doing crawfish on the weekends during crawfish season. "It's always been the plan, this space was originally a crawfish boiling hut and I bought all the equipment from the previous owner. I've been cooking crawfish almost as long as I've been cooking bbq. It's always been a weekend event with friends coming over for cold beer and spicy bugs," said Troy.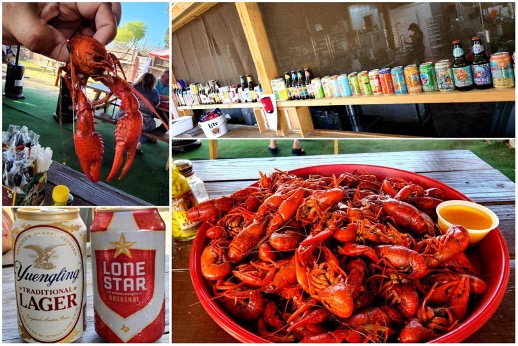 COMMUNITY
The Mulligan duo have been committed to donating their time, talents, and resources to their church and community well before 3rd Coast BBQ. Deidra has served on the board of several parent teacher organizations and in various capacities. In May of 2018 she was recognized as a Friend of Education by TSTA – Conroe ISD.
Troy played a significant role with the Texas BBQ Army, an organization of volunteers gathered to feed over 50,000 meals to victims and first responders of Hurricane Harvey in 2017. Troy had the honor and pleasure of working with so many talented chefs, caterers and pitmasters from across the U.S who came in to help with those in need of a hot meal and shelter at George R. Brown.
Troy spent several weeks strategizing, prepping, and working on 24 hour shifts to make meals happen. It was this experience that sparked the idea of what is now 3rd Coast BBQ & Catering – their first brick and mortar.
In their capacity as owners of 3rd Coast BBQ, they continue to put the community as a top priority. Discounts are offered to veterans, public servants, and first responders. 3rd Coast is also a proud sponsor of several youth athletic clubs including ORWALL Baseball, SKSA Baseball and Allegiance Volleyball Club Foundation. 3rd Coast BBQ and Catering host Spirit Days to help raise funds for local schools and organizations. For the past two years, in honor of our veterans, they have donated to the College Park Cavalier Band – Salute to Veterans Program as well as Camp Hope. 3rd Coast supports local nonprofit and fundraising efforts by donating food or gift cards and hosting charity drives.
THE FAMILY'S FAVORITE DISHES
Troy: "Crawfish and an ice cold Lone Star during crawfish season. The rest of the time probably a moist brisket sandwich, mac and cheese, peach cobbler with vanilla ice cream, and an ice cold Lone Star."
Deidra: "My favorite meal at 3rd Coast has to be our BBQ boudin paired with a side of smoked collard greens. The preparation for both takes a few days and you can taste the passion in each bite! Dessert – any of our berry cobblers with a glass of sweet tea"
WHAT THE LOCALS ARE ORDERING
"Our 'Twisted Tray' has been a fan favorite since the beginning and our signature item," said Deidra. "It's a giant pretzel delivered fresh from Slough Dough Bakery in Houston, loaded with your choice of meats and our house made dipping sauces (beer cheese sauce, bbq sauce, stone ground mustard and Chipotle Ranch). So much fun and flavor."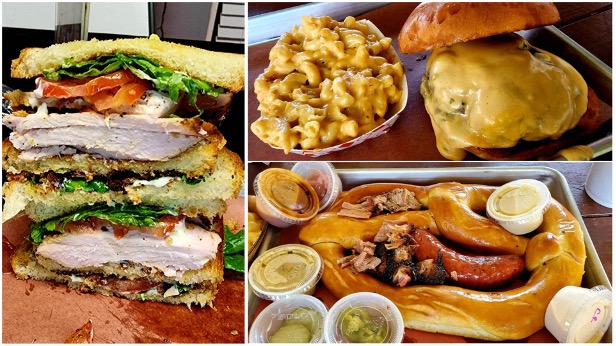 BEER & BBQ
3rd Coast BBQ and Catering has a large selection of beers to choose from. According to Troy, the crowd favorites to go with their menu of smoked meats, "This is Texas, so Shiner Bock and Lone Star Tall Boys are the number one sellers. We also keep a selection of craft beers and make a damn good michelada."
SAVE ROOM FOR DESSERT
Banana pudding is always available on the menu. On the weekends we have either a fruit cobbler or bread pudding available. The peach cobbler is the fan favorite, and recently 3rd Coast has introduced a smoked pineapple cobbler, which has been a big hit.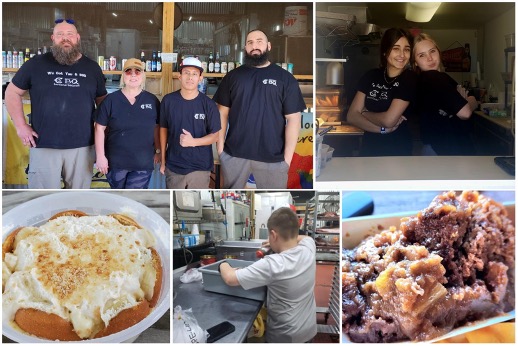 WRAPPING IT ALL UP
3rd Coast BBQ and Catering has become so much more than your local neighborhood BBQ joint. It's a family friendly destination with a laid back atmosphere, and a place to always find something special on the menu created by one local family, treating all their guests like family in a backyard atmosphere with excellent food and bbq.
When asked what are 5 words to describe 3rd Coast BBQ and Catering, the response was, "Craft BBQ & Good Home Cooking!"
Learn more about 3rd Coast BBQ and Catering at 3rdcoastbbq.com.
---
Nick Rama is a food writer, contributor to Hello Woodlands, and shares his restaurant experiences on Nick's Local Eats at NicksLocalEats.com and on the TX BBQ, Burgers, and Brew Facebook page. Nick enjoys helping small business owners, supporting his community by fundraising for food banks, and plans tasting events with locally owned mom and pop restaurants.