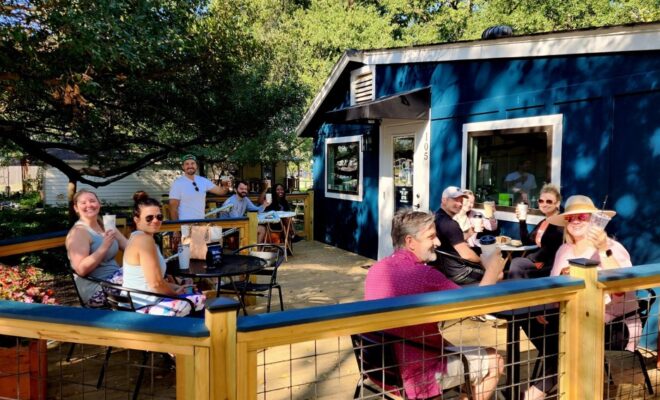 Food & Drink
Eat Local: Honor Society Coffee Co.
By |
The brand new Honor Society Coffee Co., located at 105 Houston St., Tomball, offers local baked goods, bagged coffee, a great coffee menu, and an indoor and outdoor space all next to a stunning, 200 year old oak tree. The beautifully renovated and quaint coffee shop is a partnership between Billy Schiel and Matt Brantner. The two have known each other for over a decade and have been working together to open a local coffee bar in the Tomball community for at least 4 years. Billy and Matt are Tomball natives, and after growing up in the community, they are now raising their families here.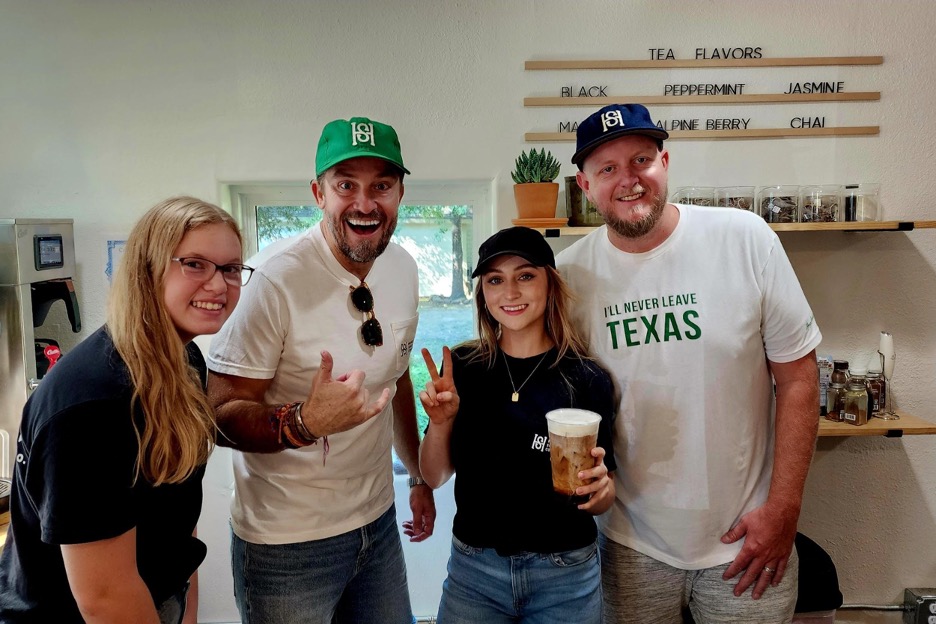 Located around the corner from Tejas Chocolate and BBQ and directly behind Graze Tomball, Honor Society offers indoor seating, as well as a front porch and back patio. The new community coffee shop is also family and dog friendly. The converted house was built in 1935 and remodeled for the coffee shop, with the outdoor decks added on.
Judging by the quickly moving line out the door, just two weeks after they opened, Honor Society Coffee Co. already has fans and repeat customers. The coffee shop might be a fast casual walk up place, but it is a place where locals are flocking to get away from the hustle and bustle of their everyday lives for cups of espresso, lattes, mochas, nitro coffee, cold brew, and a selection of teas. Coffee connoisseurs are enjoying cortardos, flat whites, and gibraltars with a "Tomball size cinnamon roll," blueberry scone, or one of their locally baked pastries.
THE INTERVIEW
What's your background in roasting and coffee?
In 2013, I began roasting coffee as a hobby out of my home. I had a friend encourage me to get my coffee to the local farmer's market. I did that under my previous company name Righteous Bros. Coffee Roasters. It began to really grow and then eventually in 2016 I felt compelled to step away from the company to pursue a calling as a pastor in the local church.

Matt has enjoyed craft coffee as well and we both began doing mobile coffee events together as a side hustle years ago. Matt is a superb self-taught barista and enjoys the nuance of crafting tasty coffee beverages. He oversees all day-to-day operations of the coffee bar on Houston St.
What sets your specialty coffee shop apart from the national chains?
Culture. At HS, we believe the soul of a neighborhood coffee bar is people. Every single detail has been thoughtfully curated and considered to ensure the customer experience is a stellar environment where creativity, culture, and craft all come together for the good of others.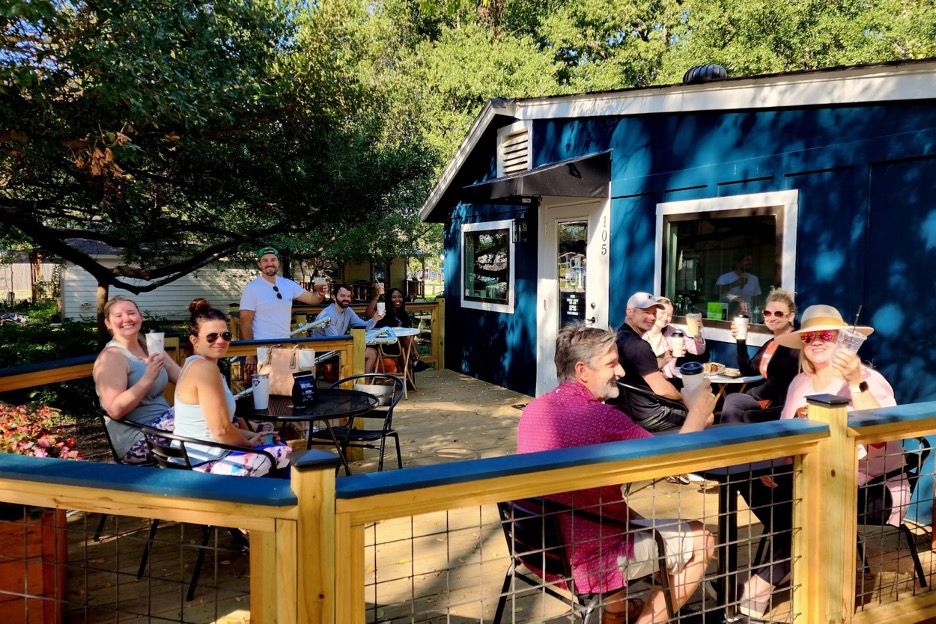 How is Honor Society Coffee involved in their local community and charity?
HS is involved in our community through collaboration with other local businesses in Tomball. Also, through area churches and local organizations. We source from other local businesses for baked goods, beverages, and coffee supplies. We're also kicking off our relationship with Nick's Local Eats Drink For Charity to help raise support for AAR – Abandoned Animal Rescue. 50 cents from each Nick's Irish Crème Latte – Irish cream Breve latte topped with cinnamon (available hot, Iced or cold brew) will be donated to AAR.
What traits make your Baristas great?
Having a passion for coffee and for people. It's who we are and what we do. Baristas at HS are great because they understand that first and foremost we exist for the community. As a coffee bar, we're here to provide a simple respite from the busy and craziness of everyday life. We get to do that through stellar coffee and a commitment to "honoring others above ourselves."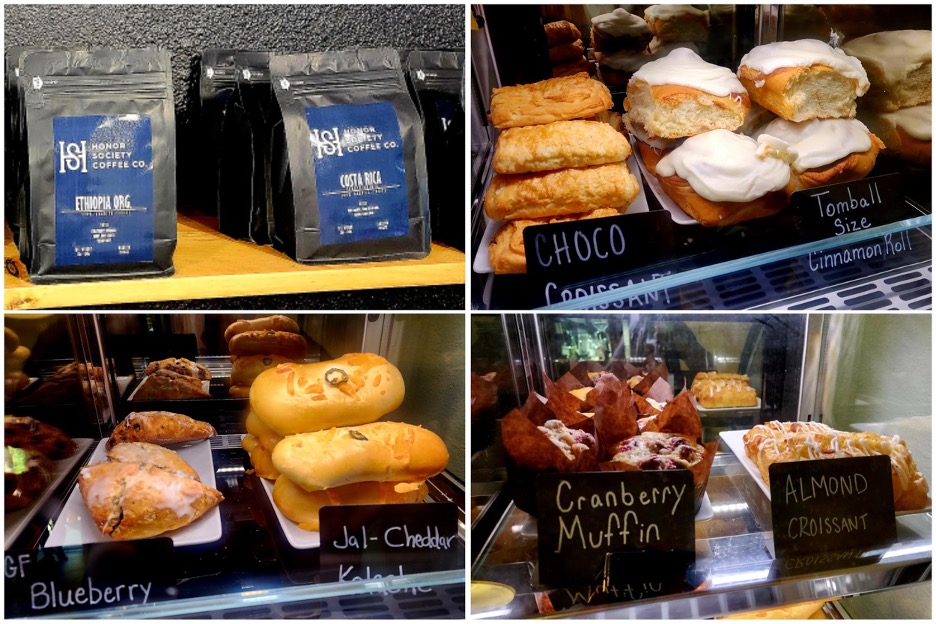 What kind/brand of coffee does Honor Society use?
We source green coffee from all of the major coffee growing regions through local importers. Our coffee is roasted in collaboration with some local roaster friends at Geva and Sharp.
Do you use a local bakery for your pastries? What are some of your popular baked goods?
We source from Tomball's very own Manna bakery. Their baked goods are next level heavenly. Some of the most popular items are the GF Blueberry Scone, Tomball-sized cinnamon roll, and the Almond Claw.
What are Honor Society Coffee signature beverages?
Our signature beverages are the Draft Latte. It's our exceptional Nitro cold brew coffee with your choice of milk.

Also, our Gibraltar. It's a double shot of espresso with steamed milk served in a Libbey Co. Gibraltar glass.
What are your crowd pleasers on the menu?
The vanilla latte is a winner. Also, the sip of the season is our "Flannel Weather." 2 shots of our Espresso, black walnut bitters, salted caramel, milk, topped with cinnamon, and nutmeg.

Also, the Tomball-sized cinnamon roll and GF blueberry scone.
What are the owners and baristas personal favorites?
Billy: Gibraltar, Matt: Iced Americano w/ cream, Staff: Flat white, Cold Brew with Oatmilk, Iced vanilla latte.
What do you have for non-coffee drinkers?
Hot cocoa. Matcha latte in both hot or iced. Agua De Piedra Mineral Water. Saint Arnold Root Beer. Whole leaf tea options that we steep and serve both hot or iced, Simply Orange juice, and Horizon Chocolate milk.
You have a historic tree on property, what is so special about it?
This Live Oak tree out back of the shop is literally the secret sauce to our entire property. We believe the tree to be at least 125+ years old. The reach of its branches provide shade and a serene backdrop to our back deck.
You are planning live entertainment called The Live Oak Sessions, let us know more about that.
Yes, Matt and I both enjoy music and the power it possesses to bring people together. Our hope is to try and bring in both local and national artists monthly to perform acoustic shows on the back deck in the shadows of the Live Oak tree. It's another opportunity to enjoy our neighborhood with the community.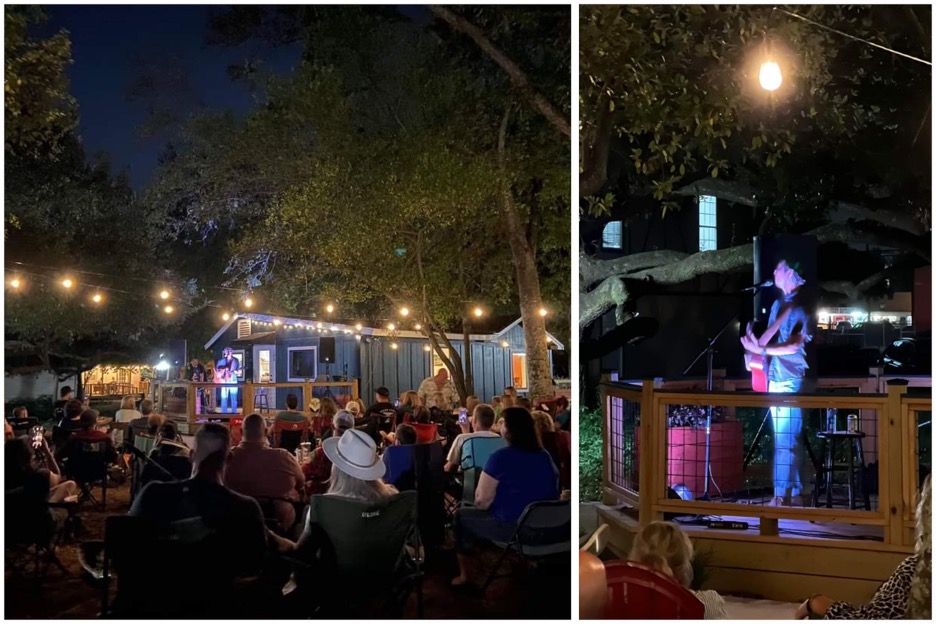 Is Honor Society Coffee kid friendly and what do you have for the younger ones?
We love families with littles! We have indoor and outdoor space for the families with kiddos. We have picnic tables set up in the "garden area" in the shade to the west side of our property. We have cookies, snack plates, hot cocoa, orange juice, soda, chocolate milk.
What are your hours?
7-6pm Monday – Friday, and Saturday 8-5pm. We are getting our hands around this young business still and are always open to expanding hours as needed.
How does Honor Society try to be environmentally conscious in their everyday operations? Do you use sustainable products?
We compost our coffee grounds with a local farmer, use reverse osmosis filtration for our water system, and try to use sustainable products as much as we can.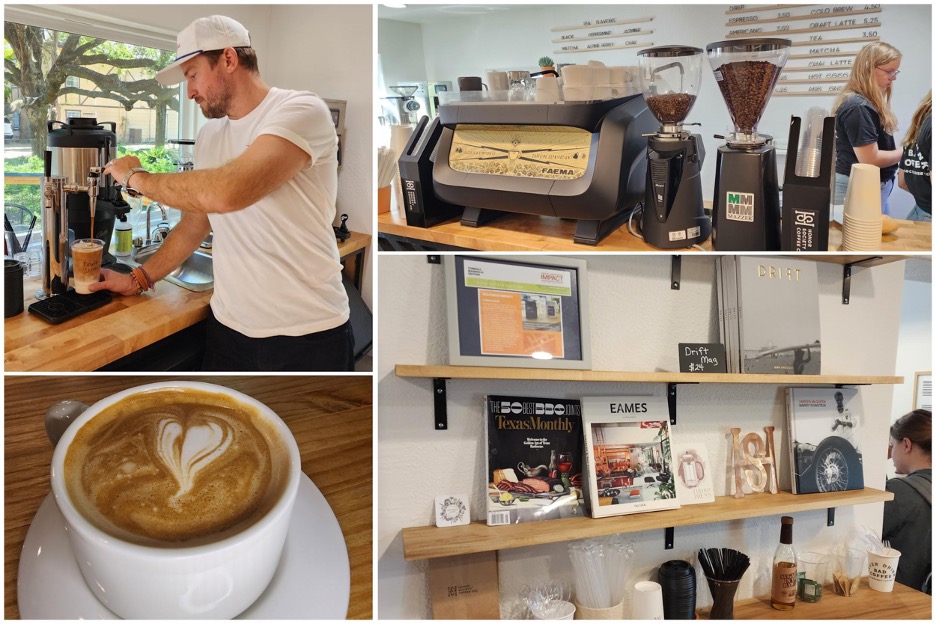 Do you have any organic options, gluten free options, alternative milks or vegan options?
We offer both GF and vegan pastries as well as oat milk, almond milk, and coconut milk alternatives.
What are your future plans for Honor Society Coffee? Expansion? More locations?
We dream of opening additional HS coffee bars when the time is right. We are committed to protecting the culture and vision and are open to expansion opportunities as they arise.
5 Words to describe Honor Society Coffee?
Honor one another above yourself.
---
Nick Rama is a food writer, contributor to Hello Woodlands, and shares his restaurant experiences on Nick's Local Eats at NicksLocalEats.com and on the TX BBQ, Burgers and Brew Facebook page. Nick enjoys helping small business owners, supporting his community by fundraising for food banks, and plans tasting events with locally owned mom and pop restaurants.